Dangerous Heat and Humidity Today: Feels Like 110F
The weather never repeats, but sometimes it rhymes. At the rate we're going this may be the hottest summer since 2012. That's a low-confidence prediction, but there's every indication we'll see our fair share of 90s this summer.
For the record, an average summer brings 13 days above 90F. 2012 brought 31 days of 90s. 1988 (you may remember the epic drought) saw 44 days above 90F.
The 1930s Dust Bowl years were some of the hottest ever recorded, but the heat was regional (confined
to Plains and Midwest) and dew points weren't nearly as high as they are now.
Today's heat will become dangerous, as an air temperature near 100F combines with a dew point of 73F to create a heat index close to 110F by late afternoon. The risk of heat exhaustion and heat stroke will be very high. Check in on older friends, neighbors (and complete strangers) to make sure they're keeping cool.
T-storms prowl the state Saturday into early Sunday with a merciful dip in temperature. But models show 90s returning next week, just in time for parades and fireworks on the 4th.
Enjoy our free summer sauna!
---
Second 100-Degree Day of 2018 for MSP? It'll be close. If the sun stays out (likely) and winds blow from the south/southwest there's at least a 50-50 shot at an air temperature of 100F at Twin Cities International Airport later today. Factor in a dew point in the low 70s and you wind up with a dangerous heat index of 105 to 110F by afternoon and evening. Be careful out there today. Map: AerisWeather and Praedictix.
---
---
---
84-Hour Rainfall Potential. NOAA's 12KM NAM prints out some 2″+ rainfall amounts for much of Minnesota between now and Sunday night, which seems realistic, based on 1). the slow movement of the next cool front and 2). the amount of water in the air – precipitable water levels are about as high as they ever get. Map: pivotalweather.com.
---
90 Degree Days in the Twin Cities. Expect an above-average summer when it comes to heat. Today is the 9th day of 90-degree heat so far in 2018. Details via the Minnesota DNR: "2012 was a warm summer in the Twin Cities, with the warmth extending into September. The average number of days in a year to reach at least 90 degrees is 12.9. 2012 had 31 days with a maximum temperature of 90 degrees or higher in the Twin Cities. This was enough to be in a three-way tie for the seventh most number of 90 degree high temperatures. The record number of 90 degree days in a year for the Twin Cities was 44 during the memorable summer of 1988…"
---
---
Heat Exhaustion vs. Heat Stroke. If the skin is dry, breathing and pulse is rapid and shallow, and the person is disoriented, these may be symptoms of heat stroke, which can be fatal if not treated in time. Try to cool  the person down (slowly) in a cool shower or bath and call 911 immediately.
---
Pet Safety. Don't forget that pets (including horses) feel the heat every bit as much as we do. Make sure they stay hydrated and as cool as possible later today and tonight.
---
---
America's Number One Weather Killer: Extreme Heat. Historically, the hottest weather of the year comes the second or third week of July. And according to NOAA statistics, heat is still the number one weather killer, followed by flooding, tornadoes and hurricanes.
---
---
Praedictix Briefing: Issued Thursday, June 28th, 2018:
A Moderate Risk of severe weather is in place today across portions of far eastern Montana, western and central North Dakota and far northern South Dakota.
Strong to severe storms will be possible this morning across the region, containing an isolated wind, hail and tornado threat.
The main batch of storms that we will be watching will form and move through the Moderate Risk area this evening and into the overnight hours. While the Moderate Risk of severe weather has been issued for potentially significant damaging winds, very large hail and a few tornadoes can't be ruled out, especially early in the evening.
---
Severe Weather Potential Today. Strong to severe storms are expected across parts of the Northern Plains Thursday and Thursday Night. The Storm Prediction Center has issued a Moderate Risk of severe storms across portions of far eastern Montana, western and central North Dakota and far northern South Dakota. This Moderate threat area includes the cities of Bismarck, Mandan, Dickinson, and Jamestown (ND). While a few strong to severe storms are possible through the morning hours across this region, the main event will be this evening into the overnight hours. The main threat with storms overnight will be damaging winds, with some potentially significant gusts possible. However, very large hail and tornadoes will also be possible this evening. Map: NOAA SPC and Praedictix.
---
Severe Threat This Morning. Before the main batch of storms tonight across the region, we are monitoring the potential for a few severe storms across parts of southern North Dakota through the morning hours. These storms may be capable of hail, wind, and tornadoes. Already storms have produced 3" in diameter hail 7 miles north of Hettinger, ND, at 7:58 AM and 2.5" in diameter hail 9 miles north of Haynes, ND, at 8:07 AM.
---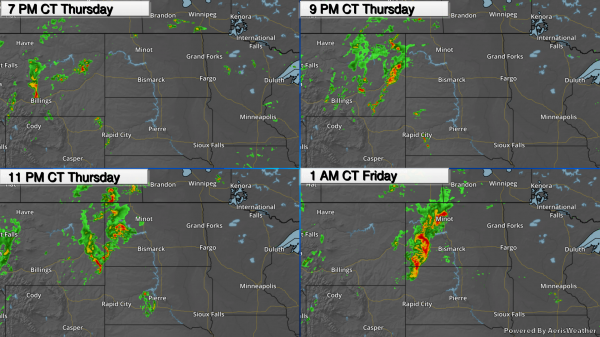 Forecast This Evening Into The Overnight. Storms are expected to form across eastern Montana and western North Dakota as we go in the evening hours, capable of very large hail, damaging winds, and a few tornadoes. As we go into the overnight hours, storms are expected to form into at least a line of fast-moving storms capable of damaging winds. It is during this timeframe that we are expecting the potential of significant wind gusts, potentially over 74 mph.
---
Main Threat: Damaging Winds. The Moderate Risk of severe weather is in place due to the potential of damaging wind gusts – some of which could be significant (74+ mph) – as we head into the overnight hours from eastern Montana into parts of the Dakotas. This Moderate Risk area is where there is a 45% probability of 58+ mph wind gusts later today. A larger "hatched" area exists, including the entire Moderate Risk area as well as parts of the Enhanced Risk, indicating at least a 10% probability of those significant, 74+ mph wind gusts.
---
Large Hail Possible. Storms that form later today across the Northern Plains will also be capable of very large hail of 2" in diameter or greater. The Storm Prediction Center has a 30% chance of hail of at least 1" in diameter from eastern Montana into central North Dakota. That is surrounded by a large "hatched" area, indicating a 10% chance of 2"+ diameter hail. The hail threat will be greatest before storms form into a line overnight.
---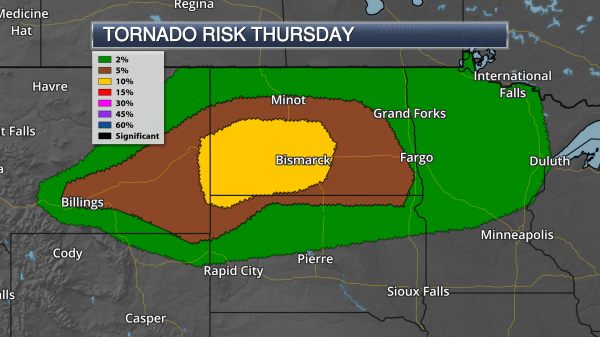 Potential Of A Few Tornadoes. We are also watching the potential of a few tornadoes across parts of the Dakotas and eastern Montana as storms form later today. Due to this threat, the Storm Prediction Center has a 10% probability of tornadoes across this region. The tornado threat will be greatest before storms form into a line overnight.
D.J. Kayser, Meteorologist, Praedictix
---
What Happened to Average? Rainfall at St. James, Minnesota, to date, reflects the extreme rainfall amounts much of southern Minnesota has experienced during the growing season – twice as much rain as normal, to date.
---
Extreme Rains. Average June rainfall is roughly 4″. Some sections of southwest and southcentral Minnesota and northwest Wisconsin have picked up 3 times the average amount of moisture in the last 30 days. Dopper-radar rainfall estimates: NOAA, AerisWeather and Praedictix.
---
Is Tornado Alley Shifting East? 10 years of data isn't nearly enough of a runway to make sweeping conclusions, but this graphic, compliled by Darrel Kingfield, made me scratch my head a little. The most Tornado Watches issued by NOAA SPC? Southern Mississippi.
---
Severe Storm Watch Frequence: 2007 to 2017. Severe Watches coincide with traditional Tornado Alley, with the greatest frequency from Nebraska into Kansas and Oklahoma, a second maxima near Washington D.C., based on data from 2007 to 2017.
---
---
Thinking Cold Thoughts. So just how cold can it get in Antarctica, the coldest continent on Earth? A story at Science Alert made Minnesota seem like Club Med: "…The new low point is officially minus 98 degrees Celsius (minus 144 degrees Fahrenheit), a temperature that "appears to be about as low as it is possible to reach" according to the international team of researchers who worked on the new study. "I've never been in conditions that cold, and I hope I never am," one of the team, Ted Scambos from the University of Colorado-Boulder, told Doyle Rice at USA Today. "I am told that every breath is painful, and you have to be extremely careful not to freeze part of your throat or lungs when inhaling…"
Photo credit: "The East Antarctic Plateau." (Ted Scambos/NSIDC/CU Boulder).
---
Power Plant Emissions Fall as Producers Shift From Coal. Here's a clip from The Houston Chronicle: "Natural gas overtook coal for the first time in 2016 as the nation's largest source of electricity, a shift that has reduced overall power plant emissions, according to a study released this week by Boston-based Ceres, a nonprofit group focused on energy sustainability issues. In 2006, coal-fired power plants accounted for nearly half of all power production while natural gas-fired plants contributed only 20 percent. Power plant emissions of carbon dioxide, a gas which contributes to global warming, have decreased 24 percent between 2005 and 2016 as more power plants replaced coal with natural gas and renewable energy sources, according to the report..."
Photo credit: "CPS Energy's coal plants Spruce 2, left, Spruce 1, center, and Deely are seen on Calaveras Lake near San Antonio." LISA KRANTZ, STAFF / SAN ANTONIO EXPRESS-NEWS.
---
Atlanta Charts a Path to 100% Renewable Energy. InsideClimate News explains: "If Atlanta can get to 100 percent clean electricity, then any city can, Al Gore said. Now that signature Southern city in a deep red state has a plan to do just that. On Tuesday, city officials took their new road map for a greener future to the Atlanta City Council, outlining options they say can fight climate change, improve health and bolster the economy all at once. They initially planned to recommend giving the city until 2050 to meet the goals. That would have been 15 years slower than the pace the council agreed to a year ago, but city officials wanted more time to make the kinds of changes needed for a homegrown energy transformation, rather than relying on buying credits from wind farms beyond Georgia's borders…"
Photo credit: "Atlanta city officials described 2035 deadline for shifting the city to all-renewable electricity. They have a blueprint for how to get there, but they can't do it alone." Credit: Mike Downey/CC-BY-2.0.
---
The New Arms Race Threatening to Explode in Space. WIRED.com takes a look at the next (military) frontier: "…Now, Shelton feared, all those satellites overhead had become so many huge, unarmored, billion-dollar sitting ducks. In the decade since China's first successful anti-satellite missile test, Shelton's premonition has largely come true: Everything has changed in space. A secretive, pitched arms race has opened up between the US, China, Russia, and, to a lesser extent, North Korea. The object of the race: to devise more and better ways to quickly cripple your adversary's satellites. After decades of uncontested US supremacy, multinational cooperation, and a diplomatic consensus on reserving space for peaceful uses, military officials have begun referring to Earth's orbit as a new "warfighting domain…"
Image credit: Sunday Büro.
---
Distracted Driving is Getting Worse. Too many buttons and options in our vehicles? The Washington Post explains that the problem seems to be getting worse: "It's illegal in 47 states, but too many people are addicted. It's restricted in 15 states, but it happens in broad daylight and hardly anyone gets caught in the act. It's condemned even by some of the people who do it. With that in mind, the AAA Foundation for Traffic Safety has been studying how to minimize the driving distractions that kill 3,500 people and injure 390,000 in U.S. crashes every year. What they found, in a study presented Wednesday, is that automakers aren't necessarily the best at deciding what to install in their vehicles. "What we've been studying for the last three or four years is the explosion to technology in the vehicle — hundreds of buttons, touch screens, gesture controls, heads-up displays, voice commands," said David Strayer, the author of the study…"
---
Distracted Driving Is Out of Control, and There's No Single Cure. Best thing I did was go into my settings and turn on the DO NOT DISTURB option. Now I don't get texts when the vehicle is moving; and people that text me receive a polite message that I'll return their inquiry as soon as safely possible. Highly recommended. WIRED.com follows up with more perspective on a growing problem: "…Overall, the researchers concluded, the Apple and Android systems do a better job managing their users' cognitive loads—that is, leaving room in drivers' brains to actually pay attention to driving. The built-in systems in the five models tested (a 2017 Honda Ridgeline RTL-E, a 2017 Ford Mustang GT, a 2018 Chevrolet Silverado LT, a 2018 Kia Optima, and a 2018 Ram 1500 Laramie) all demanded high or very high levels of attention from drivers as they made phone calls, sent text messages, fiddled with the audio, and entered and followed navigation directions. The Apple and Android platforms aren't perfect. CarPlay, for example, demanded more from drivers than Android Auto when it came to entering a destination; the reverse was true for sending text messages…"
---
The One Factor Causing Depression and Anxiety in the Workplace – And What To Do About It. Big Think has food for thought: "…Gallup did the most detailed study that's ever been done on this. What they found is 13 percent of us like our work most of the time. Sixty-three percent of us are what they called "sleepwalking" through out work. We don't like it. We don't hate it. We tolerate it. Twenty-four percent of us hate out jobs. If you think about that 87 percent of people in our culture don't like the thing they're doing most of the time. They did send their first work email at 7:48 a.m. and clock off at 7:15 p.m. on average. Most of us don't want to be doing it. Could this have a relationship to our mental health? I started looking for the best evidence, and I discovered an amazing Australian social scientist called Michael Marmot who I got to know who discovered, the story of how he discovered it is amazing, but I'll give you the headline. He discovered the key factor that makes us depressed and anxious at work: If you go to work and you feel controlled, you feel you have few or limited choices you are significantly more likely to become depressed or actually even more likely to have a stress-related heart attack…"
---
Safest Country on the Planet? Singapore. We are #35! Woo Hoo!! CNN.com has results of a recent Gallup poll: "...It asked citizens of 142 countries about their confidence in local policing, feelings of safety while walking alone and personal experiences of crime. So which is seen as safest? Perhaps it's no surprise that Singapore leads the way, with several Nordic nations also scoring highly. Some lesser known destinations also feature prominently: Fifth place goes to Uzbekistan. "We wanted to know whether or not people had fear in their society, and the way that we decided we would gauge that would be through asking people," Jon Clifton, global managing partner at Gallup, tells CNN Travel…"
* The actual (PDF) report is here.
---
Woman Rides Paddleboard from Cuba to Florida Keys. AP has the story: "A Florida woman has completed a more than 100-mile (160-kilometer) voyage from Cuba to the Florida Keys on a standup paddleboard. Victoria Burgess arrived in Key West on Wednesday, paddling across the Florida Straits in just under 28 hours. Burgess is believed to be the first woman to make the trip from Cuba to the Keys on a standup paddleboard. The 34-year-old said that she wanted to set a record and serve to inspire others to accomplish their goals. She says she hopes to have the feat sanctioned by Guinness World Records. Burgess is a Pompano Beach fire inspector, previously having served as a firefighter and paramedic."
Photo credit: "In this photo provided by the Florida Keys News Bureau, Victoria Burgess, 34, paddles the last few hundred feet to Key West, Fla., from Cuba Wednesday, June 27, 2018. It took Burgess nearly 28 hours to make the approximately 100-mile voyage. She is believed to be the first woman to make the trip from Cuba to the Keys on a standup paddleboard." (Carol Tedesco/Florida Keys News Bureau via AP).
---
---
The mercury topped 100F twice in 2012. Details on 100-degree heat in the Twin Cities here.
86 F. maximum temperature in the Twin Cities Thursday.
82 F. average high on June 28.
83 F. high on June 28, 2017.
June 29, 1969: Worthington picks up over 6 inches of rain in 24 hours.
June 29, 1930: Extreme heat develops in Minnesota. Canby got up to a sizzling 110 degrees.
---
FRIDAY: Excessive Heat Warning. Sizzling sun with a hot wind. Feels like 110F by late afternoon. Winds: S 15-30. High: 99
FRIDAY NIGHT: Sultry and very warm. Low: 76
SATURDAY: Tropical, few heavy T-storms likely. Winds: SW 8-13. High: 88
SUNDAY: Wet start, then clearing, less humid. The nicer day. Winds: W 8-13. Wake-up: 68. High: 82
MONDAY: Sticky sun, few T-storms north. Winds: SW 7-12. Wake-up: 66. High: 88
TUESDAY: Steamy again, isolated T-storm. Winds: S 8-13. Wake-up: 69. High: 91
4TH OF JULY: Firecracker hot. Spotty T-storms. Winds: S 7-12. Wake-up: 72. High: 94
THURSDAY: Dog Days of July. Still sweltering. Winds: SW 7-12. Wake-up: 75. High: 95
---
Photo credit: Pete Schenck on Lake Ossawinnamakee.
---
Climate Stories….
The World's Wine Industry is Adapting to Climate Change. A fine Minnesota wine? Don't laugh – at the rate we're going it may be inevitable. Here's a clip from CNBC.com: "…From South Africa's drought-stricken vineyards, to France's noble chateaus, to sunny vineyards in Australia and California, growers and winemakers say they are seeing the effects of climate change as temperatures rise, with swings in weather patterns becoming more severe. So they are taking action, moving to cooler zones, planting varieties that do better in the heat, and shading their grapes with more leaf canopy. As areas once ideal for certain grapes become less viable, causing earlier harvests and diminished wine quality as grapes ripen faster, once-iffy sites like the Van Duzer (pronounced van DOO-zer) Corridor are coming into their own…"
Photo credit: Andrew Selsky | AP. "Jeff Havlin, owner of Havlin Vineyard, drives through one of his vineyards in Dallas, Ore".
---
Trump's Skepticism Aside, the Navy Is Taking Climate Change Seriously. Considering seas are rising and arctic ice is melting, they don't have much of a choice. Here's an excerpt from USA TODAY: "The Trump administration has vigorously downplayed the threat of global warming, insisting that the science is still unproven. But an increase in the number of severe storms combined with rising sea levels and surface temperatures are forcing the U.S. Navy to adjust to the mounting threat of climate change. The 2018 National Defense Authorization Act has ordered the Pentagon to identify the top 10 military bases threatened by climate change for the Navy and the other service branches by November. The congressional mandate requires the Defense Department to examine each threatened military installation for the effects of rising sea tides, increased flooding, drought, desertification, wildfires and thawing permafrost over the coming 20 years…"
File photo: U.S. Navy.
---
A Huge Stretch of the Arctic Ocean is Rapidly Turning Into the Atlantic. That's Not a Good Sign. Chris Mooney explains at The Washington Post: "Scientists studying one of the fastest-warming regions of the global ocean say changes in this region are so sudden and vast that in effect, it will soon be another limb of the Atlantic Ocean, rather than a characteristically icy Arctic sea. The northern Barents Sea, to the north of Scandinavia and east of the remote archipelago of Svalbard, has warmed extremely rapidly — by 2.7 degrees Fahrenheit just since the year 2000 — standing out even in the fastest-warming part of the globe, the Arctic. "We call it the Arctic warming hot spot," said Sigrid Lind, a researcher at the Institute of Marine Research in Tromso, Norway…"
Photo credit: "The northern Barents Sea shifts over to an Atlantic climate and becomes sea-ice free." (Sigrid Lind).
---
"Atlantification" of Arctic Ocean Speeds Up: Headlines and links via Climate Nexus: "The Arctic ocean is warming so rapidly that it may soon transform into an upper arm of the Atlantic ocean, researchers say. A study published this week in Nature Climate Change shows how the Barents Sea in Scandinavia, where Atlantic waters enter the Arctic basin, has become a warming "hot spot," with temperatures spiking 2.7 degrees F since 2000. The changes and accompanying loss of sea ice have caused the sea to exhibit qualities more in common with the Atlantic ocean, including most notably a sharp upward tick in salinity. "Model simulations have indicated Atlantic-type conditions in the northern Barents Sea by the end of the century, but according to our results, this is likely to happen much faster," researchers write." (Washington Post $, Earther, Ars Technica)
---
Rising Seas. "Florida Is About To Be Wiped Off the Map". Here's an excerpt from the author of a new book focused on sea level rise impact on south Florida at The Guardian: "…According to Marco Rubio, the junior senator from Florida, rising sea levels are uncertain, their connection to human activity tenuous. And yet the Intergovernmental Panel on Climate Change expects roughly two feet of rise by century's end. The United Nations predicts three feet. And the National Oceanic and Atmospheric Administration estimates an upper limit of six and a half feet. Take the 6 million people who live in south Florida today and divide them into two groups: those who live less than six and a half feet above the current high tide line, and everybody else. The numbers slice nearly evenly. Heads or tails: call it in the air. If you live here, all you can do is hope that when you put down roots your choice was somehow prophetic…"
Photo credit: "Take the six million people who live in south Florida today and divide them into two groups: those who live less than six and a half feet above the current high tide line, and everybody else." Photograph: Milkweed Edition.
---