Thoughts On Latest National Climate Assessment
The language in the latest National Climate Assessment just released by the federal government is more strident than previous reports. The climate is changing and man-made greenhouse gases are the primary cause.
In 20/20 hindsight I probably went too far out on a limb talking about this 20 years ago. But I was seeing apparent symptoms showing up in Minnesota's weather. I felt compelled to try and connect the dots and say something (out loud).
Beyond the gloom and doom there is cause for optimism. Younger people are fired up, determined to turn
rhetoric into action. A rapidly changing climate is already impacting our economy; costs are mounting. We need to become more climate-resilient: storm-proof, flood-resistant and drought-tolerant. We can and will
figure this out.
It's been a bleak November for Minnesota snow-lovers, but the pattern is shifting, with more southern moisture flowing northward. An inch of slush is possible Wednesday, but a more significant storm may drop a few inches next weekend; maybe a BIG pile of snow for central Minnesota? It's way too early for details – but get ready for some snow.
---
More details on the latest National Climate Assessment below.
---
Climate Perspective. Here's an excerpt of what I discussed on WCCO Radio Monday afternoon with Jordana Green and producer Dan Cook: "…It's not like a heart-attack," said Douglas, "This isn't a killer stroke. It's death by a thousand cuts." Paul also thinks climate change will have an impact on our immigration debate. "My sense – and I hope I'm wrong – is that we're just seeing the tip of a tidal wave of immigration," Douglas said, "Many countries – especially near the equator – if you can't grow crops, if you can't be fed, if you don't have reliable water sources, if you can't go outside three months out of the year, what are you going to do? You're going to pick up, you're going to move." So does that mean we have to give up all of our modern conveniences in favor of being environmentally cautious? No, says Douglas "We can have everything we want. We just have to be smarter. I'm not a socialist, I'm a markets-guy. American ingenuity, American exceptionalism, we can figure this out. But we need to get past debating the science…"
---
A Link Between November Snow and the Winter to Come? I was a bit skeptical, but climatologist Brian Brettschneider has done extensive research suggesting a weak to strong positive correlation (across all but southeastern Minnesota) shows less snow in November often means less snow for the following winter.
---
---
Numbing November. Dr. Mark Seeley takes a look at a November running well below average in the temperature department across Minnesota. Here's an excerpt from Minnesota WeatherTalk: "Through the first three weeks of November observers around the state reported an average monthly temperature that ranges from 7 to 9 degrees F cooler than normal. Over 80 climate stations in Minnesota have reported at least one subzero temperature so far this month, topped by -20°F at Cotton (St Louis County) on November 20th. Though much of the state has been spared from a lot of snowfall, the northeastern area has received from 12 to 18 inches, topped by 18.5 inches at Grand Portage…"
---
---
---
Weather Model Porn. This far out it should be illegal to post stuff like this, but the rebel in me couldn't resist (hey, it's the ECWMF, which is wrong a little less often!) If (big if) the model comes close to verifying, a significant snowfall may push across the Dakotas into central Minnesota over the weekend. It's way too early to even speculate about inch amounts, but I'll be updating this as the week goes on. Euro: WeatherBell.
---
---
Sliding Into a Stormier Pattern? A much more active southern branch of the jet stream is predicted as we sail into December, increasing the potential of moisture from the Gulf of Mexico reaching our latitude, with – potentially – enough cold air in place for snow vs. rain or a mix. I'm still betting on a white Christmas for most of Minnesota and the Upper Midwest.
---
A Tale of Two Decembers? My confidence in NOAA's CFSv2 climate model is fairly low, but cook up some popcorn and place your bets. A milder west and colder east seems plausible, based on what's already happened. Map: WeatherBell.
---
Praedictix Briefing: Issued Monday, November 26th, 2018:
Snow is winding down across the Great Lakes as we go throughout the day after over a foot has fallen across parts of southern Iowa and northern Illinois. Blizzard conditions have also occurred.
An additional few inches of snow will be possible today in parts of Michigan, with the most (over a half a foot) expected to fall in The Thumb region.
Another low-pressure system will move up the East Coast, bringing heavy snow to parts of interior New England over the next couple of days. Over a foot of snow is possible in locations, including Greenville, ME.
Heavy lake effect snow will also be likely tonight into Wednesday downwind of Lake Erie and Ontario, with over a foot possible in spots.
---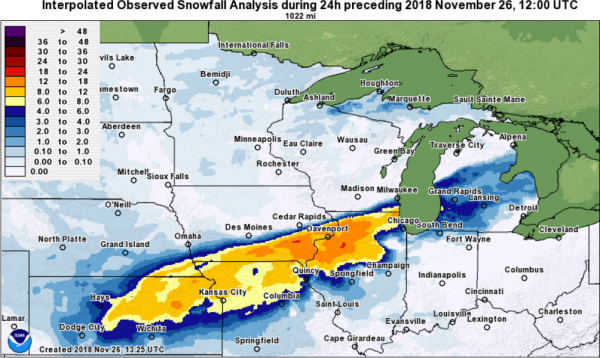 Snow Totals So Far. Heavy snow and blizzard conditions have occurred across parts of the Central Plains into the middle Mississippi Valley over the past 24 hours. Over a foot of snow has been reported across parts of Iowa and Illinois. Here are some of the heaviest snow totals so far:
17" – Oskaloosa, IA
16" – Osceola, IA
14" – Fulton, IL
13.8" – Moline, IL
11.7" – Rockford, IL
10" – Twin Lakes, WI
7.4" – Chicago-O'Hare Airport
Travel across the region has been greatly impacted by the snow across the region as roads remain snow and ice covered. Here are links to the latest road information from local DOT offices:
---
Snow Continues To Fall This Morning. Snow continues to fall across parts of Illinois and Michigan this morning, including in the Chicago metro.
---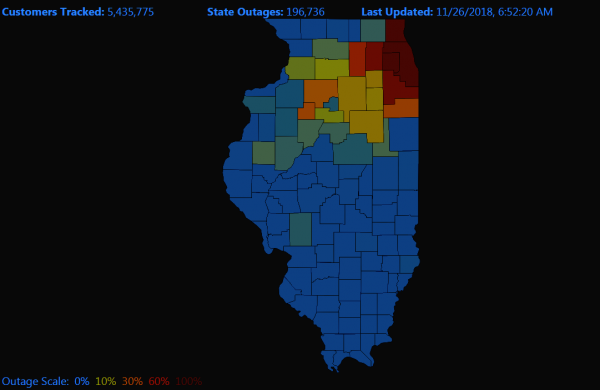 Power Outages. Over 196,000 power customers are without power this morning (as of 7 AM CT) in Illinois, with most of those occurring in the Chicago metro area. At the same time, ~32,000 in Indiana and ~22,400 in Michigan were without power. (Image and numbers: https://poweroutage.us/)
---
Tracking Wintry Weather. Snow associated with this system will slowly come to an end today as the low-pressure center moves across the eastern Great Lakes. A second low will move up the East Coast, helping to bring heavy snow to parts of New England through Tuesday. Significant lake effect snow will also accumulate downwind of Lake Erie and Ontario starting tonight, lasting through Wednesday.
---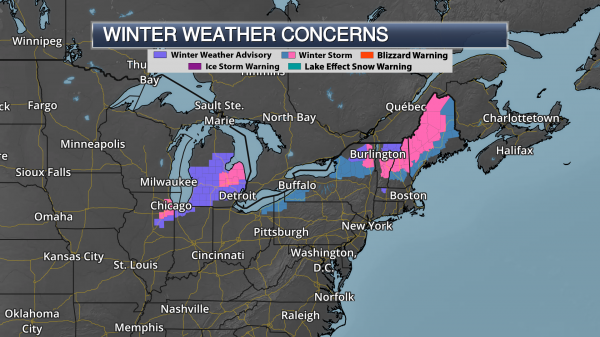 Winter Alerts Still In Place. Numerous winter weather alerts are in effect from the Great Lakes into New England for the potential of heavy snow the next few days. Some of the cities included in winter weather alerts are:
Chicago, IL: Winter Storm Warning until 9 AM for additional snow accumulations of up to 2".
Grand Rapids, MI: Winter Weather Advisory until 1 PM for total snow accumulation of 1-4".
Flint, MI: Winter Storm Warning until 3 PM for 5-8" of snow.
Erie, PA: Winter Storm Watch from 10 PM tonight to 7 PM Wednesday for 10-18" of snow in the most persistent lake effect snow bands.
Watertown, NY: Winter Storm Watch from 7 AM Tuesday to 6 PM Wednesday for 8-16" of snow.
Augusta, ME: Winter Storm Watch from 7 PM tonight to 7 PM Tuesday for 6"+ of snow.
---
Snow Forecast. The heaviest snow over the next couple days will fall downwind of Lake Erie and Ontario due to lake effect snow and across parts of interior New England. In these locations, some totals of at least a half a foot to a foot will be possible, which will impact travel across the region. Further west, only slight additional accumulations are expected in the Chicago area. A few more inches of snow will fall across parts of Michigan as well (with the most expected in east-central parts of the state).
D.J. Kayser, Meteorologist, Praedictix.
---
Disaster After Disaster, California Keeps Falling Short on Evacuating People From Harm's Way. The L.A. Times delves into the difficulties of alerting people in the path of rapidly-spreading wildfires: "…But when the worst fire in California history moved into Paradise this month, the evacuation plan fell short, with officials using an older alert system that reached only a fraction of the town instead of the federal government's Wireless Emergency Alert system, known as WEA, which would have reached far more people. "In both the [wine country] fire and the [Paradise] fire, if you look at the growing number of fatalities — they were people who were in their house or running to their car. That's indicative of a population that was never alerted. They didn't see anything on their TV, radio, nothing," said Thomas Cova, director of University of Utah's Center for Natural and Technological Hazards. "We are not using all the tools we could to communicate with people..."
Photo credit: "A bus that many people had to abandon to make it out of the Camp fire area, on Skyline Drive in Paradise, Calif." (Carolyn Cole / Los Angeles Times).
---
Why It's So Hard to Issue a Fire Warning. Andrew Freedman reports for Axios: "…But there's a catch: such a warning must be requested by someone outside of the National Weather Service, such as an emergency manager, rather than being initiated by Weather Service staff themselves. That's the rule even if forecasters can see on Doppler radar or by looking out the window that a fire is headed for a populated area. "It's really up to the emergency management community," Heffernan said of the fire warning product, which she says has been used at least once by the NWS forecast office in Norman, Oklahoma, in response to requests from officials in that state.
But if it originates outside the government, then the fire warning depends on awareness that it exists.
Private sector meteorologists, including one in Northern California, told Axios they did not know that there is an option for such a warning, although it's on a weather.gov website…"
Illustration credit: Aïda Amer/Axios.
---
The New Industrial Revolution. The Wall Street Journal takes a look at the macro-trends rapidly shaping the New World Order: "The first three industrial revolutions were driven by coal and steam, then electricity and the automobile, then computing. Now we may be witnessing the rise of the fourth: an economy powered by the mobile internet, automation and artificial intelligence. That was the assessment of Klaus Schwab, founder of the World Economic Forum, who made the fourth industrial revolution the theme of his annual meeting in 2016. Each of these earlier revolutions is easy to measure in hindsight—tons of steel produced, number of automobiles on the road, the proportion of homes with a PC. Since we're just at the start of this latest transformation, we can only try to find clues to the future by looking at the trends of the past decade, with the rise of the smartphone, the Internet of Things and cloud computing…"
Illustration credit: Lincoln Agnew.
---
Neil deGrasse Tyson: Why Elon Musk is The Most Important Tech Giant of Today. Here's an excerpt of an interview at Big Think: "…What's significant, points out the astrophysicist, is that Musk is not "simply giving us the next app that will be awesome on our smartphone" but is "thinking about society, culture, how we interact, what forces need to be in play to take civilization into the next century." Indeed, Musk's efforts have taken him to re-imagining human travel both in space and on Earth, as well as how humans interact with their machines overall. The fact that Musk, as the CEO of the revolutionary SpaceX, centers much of his effort on space colonization is the biggest selling point for Tyson. He thinks that space will provide "unlimited resources" and reduce our reliance on war as a method of distributing them..."
---
Humans Are Actually Better At Remembering Names Than Faces. I'm skeptical, but I'll play along. Here's a clip from Quartz: "…Remembering a face, the researchers noted, is a matter of recognition. This is a largely unconscious function of the brain, an association of experience with other things that have happened in our lives (like seeing someone every day at the school gates.) But remembering a name requires recall, a different system entirely. When recalling something, the brain "replays" a pattern of neural activity that was first laid down when the mind was given the original stimulus. This process is one reason why it's sometimes possible to remember something if you think hard enough about it…"
Photo credit: "Quick, someone, remind me of his name." Reuters/Javier Barbancho.
---
How Did Netflix Get Started? Legend has it that the Netflix founder and CEO came up with the idea for the DVD-by-mail rental business that would go on to shutter video-rental stores nationwide and upend the world of media 20 years ago today because he was late returning a videotape. Turns out the "creation story" may have been embellished just a bit. Quartz explains: "In the mid-Nineties, he was said to have rented Apollo 13 from his local Blockbuster Video store and lost it. The penalty for such an infraction was a $40 fine. I remember the fee because I was embarrassed about it. That was back in the VHS days, and it got me thinking that there's a big market out there. So I started to investigate the idea of how to create a movie-rental business by mail. I didn't know about DVDs, and then a friend of mine told me they were coming. I ran out to Tower Records in Santa Cruz, California, and mailed CDs to myself, just a disc in an envelope. It was a long 24 hours until the mail arrived back at my house, and I ripped them open and they were all in great shape. That was the big excitement point..."
---
Ford Can Bake the New-Car Smell Right Out of Your Vehicle. Detroit Free Press explains: "Ford Motor Co. has filed a patent application for an odor-removal process that eliminates the new car smell after a vehicle has been purchased. This is the latest attempt in an industry effort to accommodate consumer tastes in different parts of the world: Consumers in China say they hate the new car smell. "Unpleasant interior smell/odor remains the top industry problem in that market," said Brent Gruber, senior director, global automotive, at J.D. Power. "To put that in context, it is nearly double the problem rate of the second most prevalent problem, excessive fuel consumption." Americans seem to like it, though…"
---
Politics Isn't Pretty. But Politicians Are. God help us – here's a clip from a New York Times Op-Ed: "…From a very early age, we're drawn to more attractive faces — even babies prefer that," Deborah Rhode, a Stanford University law professor, told me. She's the author of "The Beauty Bias: The Injustice of Appearance in Life and Law." It explains that better-looking defendants fare better with juries. But the advantages of attractiveness aren't confined to any one situation or goal, she noted. They're cumulative. "Teachers give less attention to less attractive children," Rhode said. "Children ascribe intelligence to good-looking individuals and prefer them as friends." So good-looking people wind up with more encouragement, broader social networks and more confidence, all of which beget success. "Attractiveness sets off a chain of consequences," she added..."
Photo credit: "Andrew Gillum, who was the Democratic nominee for governor in Florida. "Research suggests that people read such positive characteristics as competence, trustworthiness and vigor into someone's attractiveness," Frank Bruni writes." Credit: Charlotte Kesl for The New York Times.
---
Secret Service Uses Turbocharged Golf Carts to Protect the President. Here are a few clips from a Quartz story: "The Secret Service needs to rent as many as 84 golf carts for US president Donald Trump's upcoming stays at four of his Florida properties, according to federal acquisitions data. Several Secret Service agents follow Trump in the carts every time he plays golf—approximately 149 times, or more than 20% of the days since he took office in January, 2017…Standard golf carts have a top speed of about 14 mph. All of the golf carts required by the Secret Service must be able to reach a "ground speed" of up to 19 mph…In September, TMZ reported that golf cart rentals at Trump's US clubs have cost taxpayers $300,675, and his total golf expenses—including the cost of his Secret Service detail—currently stand at an estimated $77 million…"
Photo credit: "Then-presidential candidate Donald Trump on his golf course in Aberdeen, Scotland." REUTERS/Carlo Allegri.
---
Amazon Alexa Can Now Talk Like a Newscaster. Uh oh. Here's a clip from….Amazon: "When people speak, they use different speaking styles depending on context. A TV newscaster, for example, will use a very different style when conveying the day's headlines than a parent will when reading a bedtime story. Amazon scientists have shown that our latest text-to-speech (TTS) system, which uses a generative neural network, can learn to employ a newscaster style from just a few hours of training data. This advance paves the way for Alexa and other services to adopt different speaking styles in different contexts, improving customer experiences…"
---
Reality Show Idea: Make Flat-Earthers Search For The World's Edge. I'd watch that. My laughter turned to alarm after seeing some of the stats in this Big Think post: "…Notably, according to the Flat-Earthers, the 150-foot-tall wall is guarded by NASA. The agency's real mission is to keep the truth away from regular citizens while being an embezzlement front and faking space travel. Although these beliefs are certainly not supported by the ample evidence to the contrary, provided by people who have experienced the planet's curvature from above — or those who have been to Antarctica — the number of Flat-Earthers is likely to grow. According to a 2018 survey, about a third of millennials are willing to entertain doubts about the Earth being round. Not all of these believe in the planet being flat, but it's easy to envision their ranks expanding, as such memes tend to acquire new converts by their sheer scope and intellectual frivolity…"
---
---
24 F. maximum temperature yesterday in the Twin Cities.
35 F. average high on November 26.
51 F. high temperature on November 26, 2017.
November 27, 2005: In the early morning a home in Mower County is hit by lightning and burned to the ground, but no one is injured.
November 27, 1994: A low pressure system produces the first winter storm of the season for Minnesota. By the early morning hours of the 28th, a swath of snow in excess of 6 inches had blanketed much of southwest through central into northeast Minnesota. Snowfall of 6 inches or more occurred south of a line from Gunflint Lake in Cook County to near Ortonville in Big Stone County, and along and north of a line from near Blue Earth in Faribault County to Red Wing in Goodhue County. The snow closed the Minneapolis-St. Paul International Airport for a short time on the 27th, and contributed to hundreds of accidents and at least three fatalities. In addition, the build-up of ice and snow in combination with strong winds resulted in numerous downed power lines in southeast Minnesota.
November 27, 1985: Extreme cold hits northern Minnesota. A low of 30 below zero is reported at Crookston.
November 27, 1971: Heavy snow falls in southwest Minnesota, with Redwood Falls receiving a foot.
Source: Twin Cities National Weather Service.
---
---
TUESDAY: Few clouds and flakes. Winds: NW 8-13. High: 22
WEDNESDAY: Coating to 1 inch of light snow? Winds: SE 7-12. Wake-up: 13. High: near 30
THURSDAY: Flurries taper, clouds linger. Winds: S 5-10. Wake-up: 26. High: 35
FRIDAY: Mostly cloudy and milder. Winds: E 7-12. Wake-up: 28. High: near 40
SATURDAY: Rain/snow mix. Few slushy inches? Winds: E 10-20. Wake-up: 33. High: 37
SUNDAY: Wet snow or mix slowly tapers. Winds: SE 7-12. Wake-up: 33. High: 37
MONDAY: Flurries taper, better travel weather. Winds: NW 10-15. Wake-up: 29. High: 31
---
Climate Stories…
Fourth National Climate Assessment. Here's a link to the government report that came out on Black Friday; an excerpt: "…The impacts of climate change are already being felt in communities across the country. More frequent and intense extreme weather and climate-related events, as well as changes in average climate conditions, are expected to continue to damage infrastructure, ecosystems, and social systems that provide essential benefits to communities. Future climate change is expected to further disrupt many areas of life, exacerbating existing challenges to prosperity posed by aging and deteriorating infrastructure, stressed ecosystems, and economic inequality. Impacts within and across regions will not be distributed equally. People who are already vulnerable, including lower-income and other marginalized communities, have lower capacity to prepare for and cope with extreme weather and climate-related events and are expected to experience greater impacts…"
---
Trump Admin Drops Dire New Climate Report…: Climate Nexus has headlines and links: "Human-caused climate change is already causing irreparable harm to communities across the United States and will continue to impact millions of lives and cost the country billions of dollars, a major new federal report finds. The 1,656-page Fourth National Climate Assessment Volume II, prepared by 300 different authors at 13 federal agencies, analyzes the existing body of science to get a comprehensive picture of how climate change is affecting the United States. Among the congressionally-mandated report's findings: climate impacts could slash 10 percent of the US GDP, the Midwest is projected to see an additional 2,000 heat deaths per year, average acreage burned by wildfires could increase as much as six times, all by the end of the century. "While Americans are responding in ways that can bolster resilience and improve livelihoods, neither global efforts to mitigate the causes of climate change nor regional efforts to adapt to the impacts currently approach the scales needed to avoid substantial damages to the US economy, environment, and human health and well-being over the coming decades," the report's overview reads." (New York Times $, Washington Post $, AP, The Guardian, WSJ $, USAToday, CBS, InsideClimate News, Axios, CNN, Reuters, The Hill, Bloomberg, Huffington Post, LA Times $, Time. Commentary: CNN, Michael Mann interview)
---
Federal Climate Report Paints Grim Picture For Midwest. Chicago Tribune takes a look at implications close to home: "Rising temperatures in the Midwest are projected to be the largest contributing factor to declines in U.S. agricultural productivity, with extreme heat wilting crops and posing a threat to livestock, according to a sweeping federal report on climate change released Friday. Midwest farmers will be increasingly challenged by warmer, wetter and more humid conditions from climate change, which also will lead to greater incidence of crop disease and more pests and will diminish the quality of stored grain. During the growing season, temperatures are projected to climb more in the Midwest than in any other region of the U.S., the report says. Without technological advances in agriculture, the onslaught of high-rainfall events and higher temperatures could reduce the Midwest agricultural economy to levels last seen during the economic downturn for farmers in the 1980s…"
Photo credit: "John Kiefner checks soybean plants on his farm near Manhattan, Ill., on July 24, 2018. Midwest farmers will be increasingly challenged by warmer, wetter and more humid conditions from climate change, according to a federal report released Nov. 23, 2018." (Zbigniew Bzdak/Chicago Tribune)
---
A Grave Climate Warning, Buried on Black Friday. A story at The Atlantic provides more details on the latest NCA report: "…Where the president has insisted that fighting global warming will harm the economy, the report responds: Climate change, if left unchecked, could eventually cost the economy hundreds of billions of dollars per year, and kill thousands of Americans to boot. Where the president has said that the climate will "probably" "change back," the report replies: Many consequences of climate change will last for millennia, and some (such as the extinction of plant and animal species) will be permanent. The report is a huge achievement for American science. It represents cumulative decades of work from more than 300 authors. Since 2015, scientists from across the U.S. government, state universities, and businesses have read thousands of studies, summarizing and collating them into this document. By law, a National Climate Assessment like this must be published every four years…"
File Photo credit: "Firefighters battle the King Fire near Fresh Pond, California, in September 2014." Noah Berger / Reuters.
---
Government Climate Report Warns of Worsening U.S. Disasters. Star Tribune has more perspective on last Friday's report: "…We are seeing the things we said would be happening, happen now in real life," said another co-author Katharine Hayhoe of Texas Tech University. "As a climate scientist it is almost surreal." And Donald Wuebbles, a co-author from University of Illinois climate scientist, said, "We're going to continue to see severe weather events get stronger and more intense." What makes the report different from others is that it focuses on the United States, then goes more local and granular. "All climate change is local," said Pennsylvania State University climate scientist Richard Alley, who wasn't part of the report but praised it. While scientists talk of average global temperatures, people feel extremes more, he said. "We live in our drought, our floods and our heat waves. That means we have to focus on us," he said…"
Photo credit: Gerald Herbert – Associated Press FILE. "This Oct. 12, 2018 aerial file photo shows devastation from Hurricane Michael over Mexico Beach, Fla. A massive new federal report warns that extreme weather disasters, like California's wildfires and 2018's hurricanes, are worsening."
---
Does NASA Have Any Climate Change Skeptics? Big Think has a video interview clip; here's an excerpt of the transcript: "…So your question is how widespread is it within NASA that scientists are convinced that human activity is responsible for climate change? And this is something that is important to say very, very clearly. I have known and worked with hundreds of earth scientists at many different locations in NASA, all of them, all of them believe that human activity is responsible for the current climate change that we see going so fast it's almost unprecedented. I want you to think about that.One thing that I take really seriously and I'm very proud of is that NASA is not a political organization. We are scientists that work for the American people. We're funded by taxpayer's money. And what we do is we make measurements. We have many, many different satellites that are orbiting the earth right now they're looking at things like ice on the oceans and at the poles, they're looking for things like vegetation growth and the change of that, ocean level, is the ocean level rising? Yeah it turns out that it is…"
---
Climate-Heating Greenhouse Gases At Record Levels, Says UN. Here's the intro to a summary at The Guardian: "The main greenhouse gas emissions driving climate change have all reached record levels, the UN's meteorology experts have reported. Carbon dioxide, methane and nitrous oxide are now far above pre-industrial levels, with no sign of a reversal of the upward trend, a World Meteorological Organization report says. "The last time the Earth experienced a comparable concentration of CO2 was 3-5m years ago, when the temperature was 2-3C warmer and sea level was 10-20 metres higher than now," said the WMO secretary general, Petteri Taalas…"
---
Will We Survive Climate Change? Yes, but things may look a little different within 20-30 years. Here's an excerpt from The New York Times: "…Dr. Marvel agreed. "It's worth pointing out there is no scientific support for inevitable doom," she said. "Climate change is not pass-fail," she added. "There is a real continuum of futures, a continuum of possibilities." So yes, things will be bad. And yes, we need to do more, so much more, to head off what could come. But how awful things get, and for how many people, depends on what we do. And although humans famously avoid acting on long-term problems, the species does possess a capacity for looking ahead. "We do think about the future," Dr. Marvel said. "We plant trees," and "we have children…"
---
Generation Climate: Can Young Evangelicals Change the Climate Debate? Here's an excerpt from a post at InsideClimate News: "…It can be tough to be an evangelical who cares about climate change, Chelsey said, "because the environmental activists don't trust you and the evangelicals hate you." Or they could hate you; she was quick to point out that the evangelicals she knows personally are generally tolerant of her views. "I'm not encountering anyone at Wheaton, even among my most conservative friends, who disagree with climate change," she told me. She's having some trouble with her father, though, who's troubled by her YECA work. He holds a Harvard law degree, works at a company that invests in resource-rich properties, and associates Chelsey's transformation into a "climate activist" with a liberal agenda he finds suspect. "For a man who has such well-reasoned opinions, I just feel like there's so much emotion for him that it's not about the science at all," she said…"
---
Are Wildfires and Climate Change Related? Dr. Kevin Trenberth explains at The GlobePost: "…The extra heat from global warming accumulated over a month is equivalent to about 720 Watts per square foot over 6 minutes. 720 Watts is equivalent to full power in a small microwave oven. Hence, after one month, the extra heat stored up is equivalent to 1 microwave oven at full power every square foot for 6 minutes. No wonder things catch on fire! In reality, there is moisture in the soils, and plants have root systems that delay the effects before they begin to wilt, and it may take more than two months for the effects to be large enough to substantially increase the risk of wildfires. The effect is generally small enough to be lost in the normal weather variability but after a month or so, the fire risk creeps inexorably higher..."
---
Climate Solutions: Is It Feasible to Remove Enough CO2 From the Air? Yale E360 looks at the technologies available today: "…First of all, in the last 15 years, wind and solar went from extremely expensive green luxury items maintained by subsidy to the cheapest forms of energy ever. That happened because government subsidized wind and solar, made a market for it that companies competed over, and they relentlessly drove the cost down. It's a remarkable achievement – that conservatives should relish – of market success, but through government subsidy. What else happened during the same time? Natural gas, 15 years ago, had an uncertain supply and we didn't know how to do carbon capture and storage, really. We had done the tiniest bit of it. Since that time, the whole fracking and unconventional gas thing happened. Whether or not you like that, the fact of the matter is that fuel is now super-abundant and would last centuries. Carbon capture and storage has gone from, "Well, maybe it's possible to do," to a big business. Sixty-one million tons of CO2 are going into reservoirs and staying there this year in the Lower 48 [U.S. states] alone. That's a big number…"
---
U.S. Fleet's Threatened by Storms and Rising Seas. Yes, the Navy is taking climate change and rising seas seriously. Here's an excerpt from InsideClimate News: "...Rising seas will likely engulf the shipyard by century's end, but the reckoning for Norfolk and nearby military installations could come much sooner. "They're going to disappear" unless the Pentagon acts quickly to protect them, said Ray Mabus, Navy secretary under President Barack Obama. The most immediate worry is a direct hit from a major storm. "It would have the potential for serious, if not catastrophic damage, and it would certainly put the shipyard out of business for some amount of time," Mabus said. "That has implications not just for the shipyard, but for us, for the Navy." The shipyard is among the American military sites most vulnerable to climate change. Because of its role in maintaining the fleet, damage to the aging facility could undermine the Pentagon's ability to respond to military and humanitarian crises and to counter China's growing naval ambitions…"
---
Is Climate Change Only Contributing "A Little Bit" to California's Fire Season? A story at Pacific Standard offers up some perspective on the contributing factors: "...Since the 1980s, climate change has doubled the area of forest in the U.S. considered vulnerable to fire—and research shows this will only grow. Projections suggest that carbon emissions, poor air quality, and a drying landscape will lead to more frequent fires across a greater expanse of land. One 2007 analysis projected heavy fire damage from warming in the Bay Area and the Sierra Nevada foothills, where two destructive fires—Camp and Woolsey—have burned hundreds of thousands of acres. Despite Trump's doubts, climate change's role in this endless fire season has been widely accepted in the scientific community for years and has prompted calls for new suppression strategies among land management agencies. "Although numerous factors aided the recent rise in fire activity, observed warming and drying have significantly increased fire-season fuel aridity, fostering a more favorable fire environment," wrote a pair of researchers in a 2016 study published in the Proceedings of the National Academy of Sciences..."