Like Flicking On a Light Switch: Instant July
No chance of hitting a cool lake, pool or air conditioned movie theater? Consider a drive up to the North Shore. One of the biggest (natural) air conditioners on the planet is Lake Superior. Chilly water sparks a cooling onshore breeze, that can drop temperatures 20-30 degrees.
Peter Harris at Wolf Ridge Environmental Center informs me there are still a few piles of snow and ice nearby! For the record, Cook County, Minnesota has the lowest frequency of tornadoes in the state, due to a cool breeze that helps to inhibit extreme storms.
A T-storm may temporarily cool things off today, but the atmosphere is "capped" Saturday and Sunday (too
hot and dry aloft for convection). That should mean low-90s Saturday and mid-90s Sunday. For the first time since 2006 Memorial Day should bring 90s and a slight thunder risk.
MnDOT warns of pavement buckling from the heat, and don't even think about leaving a kid in an overheating car, for even a few minutes.
Our instant summer may spawn Tropical Storm or even Hurricane "Alberto", impacting New Orleans to Pensacola by Monday.
No frost in sight anytime soon.
---
Damage Reports. Winds gusted to 61 mph at MSP International Airport with 1″ hail near Minneapolis from Thursday evening's severe storms – numerous reports of minor wind damage. Damage reports courtesy of IEMBot.
---
---
---
---
Memorial Day Sizzler? This may turn out to be one of the hottest Memorial Day weekends in recent memory. Here's some perspective from Bring Me The News: "…As for Memorial Day, it could be the hottest we've had in a decade and maybe one of the five hottest on record. According to the NWS, it hasn't been 90 degrees on Memorial Day in the Twin Cities since MSP Airport reached 94 degrees in 2006. The five warmest Memorial Day temps in the Twin Cities are: 
95 degrees, 1939
94 degrees, 2006
91 degrees, 1988, 1994
88 degrees, 1944, 2011…"
---
---
---
Praedictix Briefing: Issued Thursday, May 24th, 2018:
We continue to watch an area of low pressure near the Yucatan Peninsula that could become a classified tropical or subtropical system as it slowly organizes while moving into the Gulf of Mexico as we head into the Memorial Day weekend. This system has a medium (40%) chance of becoming a classified system in the next two days by the National Hurricane Center and a high chance of formation (80%) in the next five days.
Whether or not this becomes a classified system, the main threat will be copious amounts of rain across the Southeast – and especially across the central Gulf Coast – through the middle of next week as this system will be slow to move. Numerous rainfall amounts of 3-12"+ are expected across the region, which will lead to both flash flooding and river flooding.
---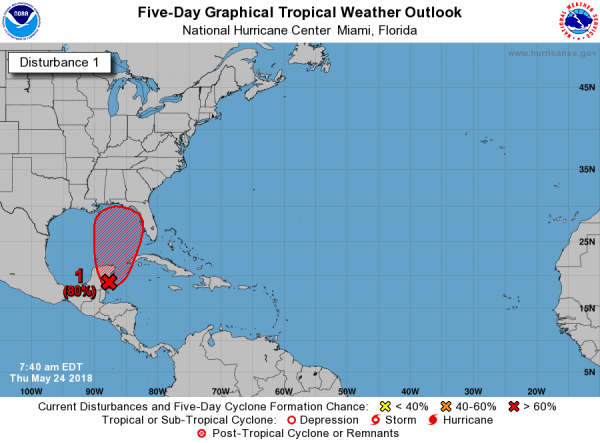 Watching A Potential Gulf System. The National Hurricane Center (NHC) continues to watch an area of low pressure near the Yucatan Peninsula that is slowly becoming better defined. This system will drift north into the Gulf of Mexico as we head into the weekend, and it is expected that a tropical or subtropical depression will form by late Saturday. The NHC is giving this system a 40% (medium) chance of formation in the next two days, and an 80% (high) chance of formation over the next five days.
---
Potential Track Of This System. This system is expected to slowly move over the next several days. By Saturday evening, this system is expected to be in the southeastern Gulf of Mexico, reaching the central Gulf Coast by early Monday morning.  This system is expected to remain fairly weak, so while some gusty winds are expected, the main story will be heavy rain into next week.
---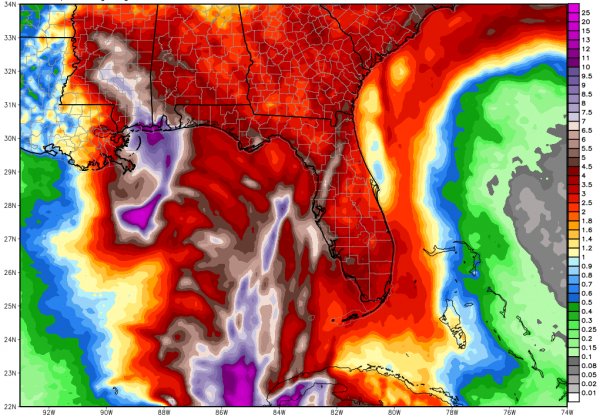 The Biggest Threat Is Heavy Rain. No matter whether or not this system becomes a named tropical or subtropical system, heavy rain will be the main story as this system slowly approaches the coast and makes landfall this weekend into early next week. This looks to be a prolonged heavy rain event as this system is likely to persist across the region through at least the middle of next week. Forecast models are indicating the potential of 3-12"+ of rain across the region through the middle of next week, especially along areas of the Gulf Coast. This heavy rain will bring the threat of widespread flash flooding across the region. (Graphic: Rain through next Wednesday evening. Source: WeatherBell)
---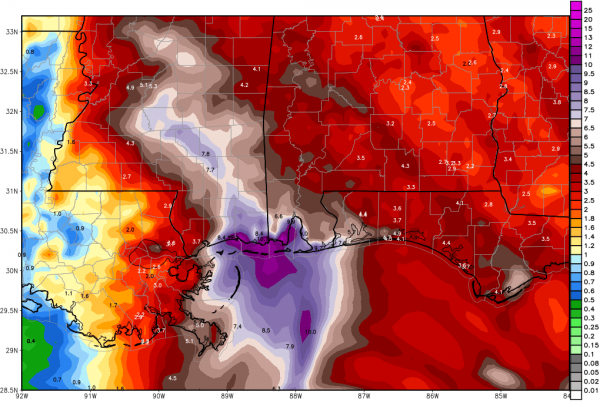 Heaviest Rain From Pensacola to Gulfport. The heaviest rain – and therefore potentially highest flood threat – though the middle of next week with this system will along parts of central Gulf Coast from Pensacola to Gulfport. These are the areas that have the best likelihood of seeing at least six inches of rain over an extended period of time, which will bring that elevated flood concern. Along these coastal areas we will also have to watch the potential of coastal flooding at and around high tide beginning Saturday morning. (Graphic: Rain through next Wednesday evening. Source: WeatherBell)
---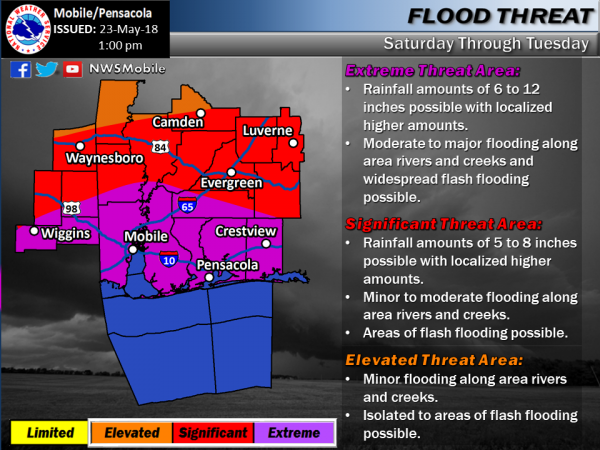 "Extreme" Flood Risk. The National Weather Service in Mobile has included Mobile and Pensacola in an "extreme" flood risk for the weekend into early next week due to the potential of 6-12"+ of heavy rain that will lead to flash flooding and river flooding. It must be stressed that heavy rain and flooding appears to be the main threats with this system at this time. NWS Mobile also notes that "a Flash Flood Watch will almost certainly become necessary." (Graphic: NWS Mobile)
Summary. We continue to watch the potential of a tropical or subtropical system forming in the next several days in the Gulf of Mexico. As of Thursday morning, probabilities sat at 40% of this happening in the next two days, and 80% of this occurring in the next five days. As this system approaches the Gulf Coast by Monday morning, the main story will be heavy rain that could lead to flooding starting this weekend and lasting into the middle of next week. Rainfall amounts of 6-12"+ are possible, especially along the Gulf Coast from Gulfport to Pensacola. This heavy rain will lead to the potential of flash flooding and river flooding into next week.
D.J. Kayser, Meteorologist, Praedictix
---
---
---
Natural Disasters Cost $306 Billion Last Year. Congress Can No Longer Ignore Flood Insurance. Again, how many times do you have to get clubbed over the head with a (soggy) 2X4 before you sit up, take notice, and demand action? Here's an Op-Ed from TheHill: "…
A quick review of the facts shows just how important NFIP is to Americans' physical safety. Last year, the tab for all natural disasters came in at a record $306 billion while 4.7 million Americans — more than the combined populations of Philadelphia, San Diego, Boston and Austin —applied for disaster aid. Most of the worst disasters involved flooding. Hurricane Maria destroyed Puerto Rico's power grid and devastated the island, while Hurricane Harvey broke a rainfall record for a single tropical storm, and record floods hit at least five states with California ending a drought with its wettest winter ever. Increasing populations in flood-prone areas, sinking coastlines and climate change will all make things worse in the future
…"
Image credit: Climate Signals.
---
Incredible New NASA Images Show Puerto Rico's Forests Still Scarred from Hurricane Maria. Here's a clip from a story at Earther.com: "We're 10 days out from the 2018 hurricane season, but if a new NASA-led aerial survey is any indicator, Puerto Rico's forests and wetlands still have a long way to go before they've recovered from the last one. In April, a NASA science plane flew across a vast swath of Puerto Rico's ecosystems, from tropical rainforests in the northeast to dry forests in the southwest. A follow-on to a similar mission conducted last spring, the goal was initially to track long-term forest regrowth after land abandonment. Hurricane Maria changed all that. Instead of focusing on land use change, the research flights—whose G-LiHT instrument system included LiDAR and more—became the first large-scale, multi-sensor aerial survey of the island after the Category 4 storm that struck last September..."
Image credit: "A hard-hit area of coastal forest and mangrove swamp near Laguna Grande in northeastern Puerto Rico." Photo: NASA
---
Minnesota Native Leading Weather Warning Revolution
. A story at
KSTP.com
caught my eye: "…
What we're trying to do here is minimize the false alarm," Rothfusz said. "And you get to the point that when the message that this tornado or hail storm is coming to you, it is you we're talking about and not another part of the county that you don't have to worry about." The information would stream in much earlier too. Rothfusz wants to better alert people during the watch period, before a warning is issued and a tornado becomes more imminent. Rothfusz said the information would be targeted down to every two miles, updating every two minutes, creating a constant flow of data for specific locations. He realizes that could lead to an overwhelming amount of information, so researchers are trying to find a balance
…"
---
Lava Enters Hawaii Power Plant, Rising Deadly Gas Release. The Daily Beast has harrowing details: "Lava from Hawaii's Kilauea volcano entered the grounds of a nearby geothermal power facility Monday, threatening the plant's sealed-off wells and potentially triggering a catastrophic explosion and an "uncontrolled release of hydrogen sulfide or other potentially dangerous volcanic gases," the Honolulu Star Advertiser reports. Workers were particularly concerned about a deep geothermal well that was difficult to seal off as lava advanced within a few hundred yards of a well pad area. Facility employees have been attempting to "quench" the wells—or pumping cold water into them to trap the gases—but the contents of one close to the lava were heating up despite their efforts…"
Photo credit: Handout/Reuters.
---
NOAA Addressing Performance Issue on New Weather Satellite. Can we get someone up there (stat) to fix this? KGAN-TV has details: "During on-orbit testing, the National Oceanic and Atmospheric Administration (NOAA) has encountered a problem with the cooling system on the Advanced Baseline Imager (ABI). The ABI is the 'camera' that takes the satellite images from geostationary orbit over 22,000 miles overhead. The cooling system is necessary, and without it, the infrared and near-infrared channels will be impacted. Those channels make up 13 of the 16 products on the ABI. The visible channels are not impacted…"
Image credit: "GOES-17, formerly known as GOES-S, is experiencing a cooling issue on the imager."
---
What Are Weather Models, Exactly, And How Do They Work? Capital Weather Gang has a great explainer; here's an excerpt: "…The foundation for models are mathematical equations based on physics that characterize how the air moves and heat and moisture are exchanged in the atmosphere. Weather observations (pressure, wind, temperature and moisture) obtained from ground sensors and weather satellites are fed into these equations. The observations are brought into the models in a process known as data assimilation. In a model, the atmosphere is divided into a three-dimensional grid and each grid point is given the assimilated data. These are called initial conditions.  Then at each grid point, the mathematical equations are applied and stepped forward in time. The outputs over many time steps specify future weather at all grid points. The two most well-known weather models are the European Center for Medium-Range Weather Forecast (ECMWF) model and the National Weather Service's Global Forecast System (GFS) model…"
Image credit: "European model showing a simulation of Hurricane Sandy in October 2012." (WeatherBell.com).
---
Wind Power Poised for Record Year, Despite Initial Tax Law Concerns. Utility Dive has the post: "The number of contracts signed for wind power projects hit a record of 3,500 MW in Q1 2018, according to the American Wind Energy Association, signaling that 2018 should be a strong year for the renewable resource. There are now 33,449 MW of wind projects under construction or in advanced development in the U.S., a 40% increase from last year and the highest level since AWEA began compiling the metric at the beginning of 2016. Despite fears that changes in the tax code would slow wind power development, the tax equity market, the key financing vehicle for wind projects, appears to have adapted and survived intact…"
Map credit: locations of wind turbines, U.S. Wind Turbine Database.
---
Xcel Energy Cuts Carbon Emissions by 35% Here's a clip from a press release at Business Wire: "Xcel Energy is a step closer to achieving one of the most aggressive carbon-reduction goals in the industry. Today, the company announced it cut carbon emissions 35 percent, according to its newly released Corporate Responsibility Report. This puts Xcel Energy on track to reach or exceed its ambitious goal of reducing carbon emissions 60 percent by 2030 from 2005 levels. "We're on a path to provide a more sustainable, prosperous energy future and believe reducing carbon emissions while enhancing affordability is a tremendous benefit for the customers and communities we serve," said Ben Fowke, chairman, president and CEO of Xcel Energy. Xcel Energy surpassed the U.S. commitment under the Paris Climate Accord in 2016, which called for a 26 to 28 percent reduction in carbon emissions by 2025. It's now working to achieve a 50 percent reduction in carbon emissions by 2022 from 2005 levels..."
---
Leveraging Global Air Quality for Business. I wrote a post for one of the weather-tech businesses I'm involved with, AerisWeather. Here's an excerpt: "An old joke insists that Californians don't trust air they can't actually see. Unfortunately, air pollution is no laughing matter. According to recent research, more than 95% of the world's population breathes unsafe air, contributing to more than 6 million deaths worldwide in 2017. In the US alone studies suggest 7,000 to as many as 200,000 premature deaths occur annually as a result of unhealthy air. At this rate, a conservative estimate can state that air pollution claims as many lives as traffic accidents each year. The statistics are staggering, but the first step is understanding. Air pollution is measured by what is generally known as an Air Quality Index (AQI). This measurement is an overall assessment and weighting of 6 main pollutants pm2.5, pm10, no2 (nitrogen dioxide), co (carbon monoxide), so2 (sulfur dioxide), and o3 (ozone). If you don't know what these mean you are not alone…"
---
EPA Bars AP, CNN From Summit on Contaminents. AP has the latest: "The Environmental Protection Agency is barring The Associated Press, CNN and the environmental-focused news organization E&E from a national summit on harmful water contaminants. The EPA blocked the news organizations from attending Tuesday's Washington meeting, convened by EPA chief Scott Pruitt. EPA spokesman Jahan Wilcox told the barred organizations they were not invited and there was no space for them, but gave no indication of why they specifically were barred. Pruitt told about 200 people at the meeting that dealing with the contaminants is a "national priority." Guards barred an AP reporter from passing through a security checkpoint inside the building. When the reporter asked to speak to an EPA public-affairs person, the security guards grabbed the reporter by the shoulders and shoved her forcibly out of the EPA building…"
Photo credit: Andrew Harnick, AP.
---
Is Technology's Impact on our Brains Overblown? So you're saying I'm not addicted to my iPhone? Here's a clip from Quartz at Work: "How concerned should people be about the psychological effects of screen time? Balancing technology use with other aspects of daily life seems reasonable, but there is a lot of conflicting advice about where that balance should be. Much of the discussion is framed around fighting "addiction" to technology. But to me, that resembles a moral panic, giving voice to scary claims based on weak data. For example, in April 2018, television journalist Katie Couric's "America Inside Out" program focused on the effects of technology on people's brains. The episode featured the co-founder of a business treating technology addiction..."
Photo credit: "Technology addiction" is scary, but unfounded, argues a psychologist." Eugene Hoshiko, AP.
---
Amazon is Selling Real-Time Facial-Recognition Technology to Police for Wide-Net Surveillance. Big Brother, brought to you by Big Think: "The North Carolina Civil Liberties Union has obtained documents that show Amazon has been nearly giving away facial recognition tools to police departments in Oregon and Orlando in an effort to essentially beta test the tools, which live in the cloud via Amazon Web Services. The package is called Rekognition and has been deployed in some capacity—including alpha and beta testing—since late 2016. Today, a coalition of civil rights groups has jointly signed a letter that calls for Amazon to stop selling this technology…"
Image credit: "Amazon's website says: 'When using Rekognition to analyze video, you can track people through a video even when their faces are not visible, or as they go in and out of the scene.' (Image: Amazon).
---
Sleeping In on Weekends Can Compensate for Lack of Sleep During the Week, Study Suggests. Here are a couple of snippets from a Washington Post story: "Sleeping in on a day off feels marvelous, especially for those of us who don't get nearly enough rest during the workweek. But are the extra weekend winks worth it?…Previous sleep studies asked people to count their hours of sleep for an average night, without distinguishing between workdays and days off. Not in the new study. People under the age of 65 who slept for five hours or less every night, all week, did not live as long as those who consistently slept seven hours a night. But weekend snoozers lived just as long as the well-slept. People who slept for fewer than the recommended seven hours each weekday, but caught an extra hour or two on weekends, lived just as long as people who always slept seven hours, the authors reported…"
File photo: JM Guyon/AP.
---
Television's Future is Data-Driven. A story at MediaVillage caught my eye: "ANA and Forrester Research have just released a new report, "The Digital Transformation of Video Advertising Arrives," based on research among ANA members.  The research indicates that television advertising is at the cusp of significant change as marketers are incorporating the data-driven approaches of addressable and advanced TV into their plans. Addressable and advanced TV are defined as follows:
Addressable TV enables advertisers to deliver ads to specific households through their cable or satellite set-top box, with enhanced targeting as a result.  Advertisers use rich data about the households including income, product/brand usage and family composition to select households that most closely match their target audience..."
Photo credit: campaignlive.com.
---
FDA Approves New Drug That Prevents Migraines. But is the price worth it? Big Think has a post: "The Food and Drug Administration has approved a drug designed to prevent migraines, marking a first for the pharmaceutical industry and the millions of Americans who suffer from the chronic, debilitating disorder. The new drug, Aimovig, is a once-monthly self-injection, and biopharmaceutical company Amgen will sell it for $6,900 a year. "Aimovig provides patients with a novel option for reducing the number of days with migraine," said Eric Bastings, M.D., deputy director of the Division of Neurology Products in the FDA's Center for Drug Evaluation and Research. "We need new treatments for this painful and often debilitating condition…"
Image credit: "Aimovig could help the four million Americans who suffer from at least 15 migraine days per month." (Image: Aimovig, manufactured by Amgen.)
---
Slack Founder: "70% of Office Work is Wasted Output". Do you agree? Here's an excerpt from Business Insider: "Slack founder Stewart Butterfield has a dim view of office life. "Think about the tropes of culture around office work, the TV show 'The Office,' the movie 'Office Space,' and 'Dilbert' the cartoon … they involve long meetings, too much email, those have been a constant for decades," he said today at VivaTech, the giant tech conference in Paris. "People tend to not see that as part of their work," he said, referring to the way that meetings get in the way of the actual tasks people's jobs consists of. "Over the last 20 or 30 years in most occupations people have become more productive," he said. As an example he talked about recruiters. Today, they have LinkedIn, email, "tools for auto-sorting and scoring resumes as they come in." But "in 1991, all they had was the White Pages…"
---
An Actual Sinkhole Has Opened on the White House Lawn. It's Growing. A sinkhole is growing on the north lawn of the White House grounds. How's that swamp-draining thing going? Quartz explains: "…Often described as a "swamp" of corruption, parts of the city of Washington, DC, are also literally built on a swamp. The city's geological issues also include "forebulge collapse," a post-Ice Age condition that means the city could sink as much as six inches this century. Sinkholes have opened up across the city in recent years. They forced two residents to abandon their homes in March, and swallowed up a school bus last year. This is the first report of one on the White House lawn. Last year, a giant hole opened in the earth in front of Donald Trump's Florida resort, but that was due to a new water main, not a geological condition…"
---
Weather Nerd Chic. No, I didn't invent these – I went online and bought them. Check out the meteorological footwear at Helicity Designs.
---
"Extreme Zombie Activity". Can't make this stuff up. AP reports: "Residents of a Florida city who received alerts about a power outage were also warned to look out for zombies. That's right — zombies. The Palm Beach Post reports that Lake Worth residents received the message during a power outage Sunday. The alert warned that more than 7,000 customers lost power "due to extreme zombie activity." City spokesman Ben Kerr later posted a Facebook message saying officials were investigating the bogus alert and that he wanted to "reiterate that Lake Worth does not have any zombie activity currently." Kerr says 7,880 customers lost power, but it was restored within 30 minutes. He did not mention what really caused the outage…"
---
---
---
FRIDAY: Sticky sun, few T-storms possible. Winds: SW 8-13. High: 91
FRIDAY NIGHT: Spotty storms nearby. Low: 69
SATURDAY: Hot sun, feels like 95-100F by late PM. Winds: W 8-13. High: 93
SUNDAY: Steamy sun, may be the hottest day. Winds: E 3-8. Wake-up: 70. High: 95
MEMORIAL DAY: Still tropical, few PM T-storms? Winds: S 7-12. Wake-up: 72. High: 92
TUESDAY: Muggy with scattered T-storms. Winds: S 7-12. Wake-up: 71. High: 90
WEDNESDAY: No real relief yet. A few PM T-storms. Winds: W 7-12. Wake-up: 69. High: 87
THURSDAY: Drier and hotter again. Winds: W 5-10. Wake-up: 68. High: 92
---
Climate Stories…
White House Mulled "Ignoring" Climate Science: Headlines and links via Climate Nexus: "The Trump administration debated whether it should attack or simply ignore federal research on climate change, the Washington Post reported Wednesday. A memo obtained by the Post written last September by former top White House energy and environmental aide Michael Catanzaro presented three pathways for the administration to approach climate science. The menu of options: conducting a red team/blue team exercise to "highlight uncertainties"; using the Administrative Procedure Act to formally attack scientific findings; or "ignor[ing], and not seek[ing] to characterize or question, the science being conducted by Federal agencies and outside entities." The memo did not present an option for endorsing federal climate science." (Washington Post $, The Hill, Axios, Huffington Post, Newsweek, Slate).
File image: Wikipedia.
---
NASA Chiefs Lays Out Lunar-Exploration Goals, Commits to Climate Change Research. The Wall Street Journal reports: "NASA chief James Bridenstine unequivocally told a Senate panel that human activity is the primary cause of climate change, reversing his earlier skepticism, and sketched out a five-year, $52-billion lunar-exploration program. In his first testimony on Capitol Hill following a lengthy confirmation process during which critics attacked him for controversial environmental positions, Mr. Bridenstine on Wednesday received bipartisan support for many policy priorities. Under his direction, the National Aeronautics and Space Administration seeks to pursue various private-public partnerships to develop a family of spacecraft intended to return astronauts to the Moon by the early 2020s…"
File image of Hurricane Patricia: Scott Kelly, NASA ISS.
---
Young Conservatives Like Me Care About Climate Change. The GOP Needs to Take Notice. Vox has an Op-Ed worth reading; here's an excerpt: "As a young conservative woman in my early 20s, I'm often met with surprise when people learn that environmentalism is a top political concern for me. Conservatives have been slow to address environmental challenges, even though many environmental solutions fit well within a belief in free market solutions. The economic and national security benefits of prioritizing climate change are issues that the GOP can and should embrace; they're consistent with their ideology. While the left and right may have different reasons behind prioritizing eco-friendly reforms, such reforms are in our collective best interest. I am not alone in this thinking. It's no secret that young voters, including young conservative voters, are increasingly concerned about environmental issues. A new poll from Pew Research confirms it, finding that along with holding opinions on climate change that differ from previous generations', upward of 80 percent of millennial voters favor increasing alternative forms of energy like wind and solar…"
File image: NASA ISS.
---
Meeting Paris Climate Goals Could Save Save the World Trillions of Dollars. Axios explains: "…Why it matters: The study, published Wednesday in the journal Nature, is the first to look at how global economic output would be affected under different amounts of global warming, providing policymakers with the "benefits" side of a cost-benefit analysis.
The study examines the historical tie between climate and economic output in 165 countries during the period from 1960 to 2010, and uses this to project future changes in economic development.
What they found: The study found that the more that the climate warms due to increasing amounts of greenhouse gases in the air, then the more that economic output in many countries would drop. Even some of the world's biggest economies — China, the U.S., and Japan — would be significantly affected if global average temperatures were to increase by two, three, or four degrees Celsius relative to preindustrial levels..."
---
How Warmer Temps Will Impact World Food Staple: Climate Nexus reports: "Climate change could make rice less nutritious, according to new research. A study published Wednesday in the journal Science Advances finds that growing rice in high atmospheric levels of CO2–including levels expected by 2100 under some emissions scenarios–resulted in a decline of levels of various key vitamins and iron, zinc and protein. "About two billion people rely on rice as a primary food source and among those that are the poorest, often the consumption of rice in terms of their daily calories is over 50%," study coauthor and USDA scientist Lewis Ziska told The Guardian. "Anything that impacts rice in terms of its nutritional quality is going to have an impact." (New York Times $, Washington Post $, The Guardian, AFP)
File image: Rob Koch.
---
Meet NASA's New Dynamic Duo: A Pair of Climate Change-Tracking Satellites. Smithsonian Magazine has the story: "Today, NASA successfully launched a pair of satellites collectively known as GRACE-FO (Gravity Recovery and Climate Experiment Follow-On mission) as a replacement for the two GRACE satellites currently in orbit. Launched in 2002, GRACE helped provide a better understanding of many of Earth's most pressing conditions, including rising sea levels, melting ice sheets and droughts. But last year, after 15 years of service, the original GRACE duo completed its mission. The new satellites will continue GRACE's work, but feature updated tech, including improved batteries and an extra camera. The pair will map out changes in Earth's gravitational field, which scientists use to monitor distribution of water on the planet's surface…"
Illustration credit: "An illustration of GRACE-FO in orbit." (NASA/JPL-Caltech)
---
Something Stirs: What Will Happen as Permafrost Melts? Discover Magazine has the post; here's an excerpt: "…And the worst is yet to come. Organic matter trapped in permafrost — everything from mammoth carcasses to ancient fruit — contains massive stores of carbon, an estimated 1,500 billion tons, or nearly twice the carbon currently in the atmosphere. As the ground warms, the long-frozen material will decay and release the carbon as greenhouse gases. "The more carbon we have in the atmosphere, the more warming we have, and that creates a feedback," says Northern Arizona University ecologist Christina Schädel, who coordinates a global network of scientists studying the impact of permafrost thaw. As researchers scramble to predict the effects of climate change on permafrost, Arctic people are already witnessing it, right beneath their feet…"
Photo credit: "Erosion along the Arctic coast in Alaska's Teshekpuk Lake Special Area lays bare pale permafrost just beneath the ground's surface. Caused by the disappearance of sea ice, the rapid erosion is one of several problems in the area caused by climate change." Brandt Meixell/USGS.
---
Former EPA Head Gina McCarthy: The Climate Change Message Is All Wrong. At the end of the day this isn't about polar bears. This is about our kids, and their kids. What responsibilities do we have today? Here's an excerpt from a Boston Globe post: "…In addition to declaring war on confusing jargon, she calls for a wholesale recasting of the climate-change argument, which is clearly not reaching the people it needs to persuade. She wants to move the focus away from plants, animals, and the health of the planet, and toward the dire threat that global warming and pollution pose to the well-being of children. "I'm tired of climate change being projected as polar bears, or EPA being looked at as the birds-and-bunnies agency," she says. "I work for children, for human beings." Earth, she says, will be fine no matter what happens. Planets are survivors. Our main concern should be the ability of our descendants to thrive here…"
Photo credit: Webb Chappell for The Boston Globe. "Whoever wins in the clean energy race is going to be the strongest country in the world," says Gina McCarthy, a Massachusetts native who headed the EPA during the Obama administration."
---
Harvard Overseer Resigns in Protest Over University Endowment, Fossil Fuel Investments. HuffPost has the story: "A member of one of Harvard University's governing bodies resigned Tuesday over ethical concerns surrounding the school's multibillion-dollar endowment, including investments in fossil fuels, an action that some environmentalists described as a "powerful act of conscience." With just one day left on her six-year term on Harvard's Board of Overseers, Kathryn A. "Kat" Taylor resigned in protest over what she described as the university's failure to adopt ethical commitments tied to its endowment, according to a letter she sent on Tuesday to the university's leadership, including incoming president Lawrence S. Bacow..."