Predicting Rainfall is Harder Than Temperatures
"It is best to read the weather forecast before we pray for rain" wrote Mark Twain.
A good friend, Mark Anderson, owns Gull Dam Brewery in Nisswa. Note to self: you get bonus points having a buddy who brews his own beer. "You guys do a pretty good job with temperatures out 7 days. Precipitation? Not so much" he told me.
Mark brings up a good point: meteorologists, as a profession, have better luck predicting temperatures than rainfall amounts or timing. It's especially true in summer, when random pop-up T-storms may soak one town, while 5 miles down the road the sun is shining.
Rain (and snow) from October through April tends to be "stratiform"; more widespread. Nearly everyone gets wet as a storm or front passes through.
The approach of a (much) cooler front ignites T-storms today; a few may be severe close to the Iowa border. Tomorrow will feel more like late September with an annoyingly-cool breeze, showers and highs stuck in the 60s.
A comfortable weekend gives way to 80s next week, maybe 90s by mid-August? With record highs being reported, worldwide, I'm feeling fairly fortunate.
---
Slight Severe Storm Risk Far Southern Minnesota. According to NOAA SPC a few storms near the Iowa border may spawn damaging hail and straight-line winds – the primary risk south and west of Minnesota.
---
Rainfall Potential. NOAA's 3 KM NAM/WRF model prints out somme .2 to .4″ rainfall amounts today, with locally heavier amounts possible as a cool front approaches. The 00z 12 KM NAM model predicts .39″ rain today and early tonight. Your results may vary. Map credit: pivotalweather.com.
---
---
Warming Trend Second Week of August? This far out confidence levels are low, but GFS model data suggests heat and humidity building north again after August 5-7. I still don't believe we've seen the last of the 90s this summer.
---
First Faint Whiff of Autumn. NOAA model ensembles show a sharp cooling trend for much of the nation from late July into early August. That said, it would be premature to write off summer heat just yet.
---
---
"Life-Threatening" Flood Threat: Here's How Much Rain Has Fallen and What Comes Next. Capital Weather Gang provides perspective on the slow-motion storm producing extensive flooding across the Mid Atlantic region: "…Some of the heaviest rain is probably still to fall. A water hose in the sky, known as an atmospheric river, will blast the Mid-Atlantic, including the D.C.-Baltimore urban corridor, for the next 48 to 72 hours. An additional three to five inches or more of rain may come down, which, if it materializes, would make this the wettest July on record in Washington. Problematically, the ground is saturated and rivers and streams are swollen, so they cannot take on much more water before flooding occurs. "A potentially dangerous, even life threatening, situation is setting up for much of the Mid-Atlantic," the National Weather Service Middle Atlantic River Forecast Center tweeted..."
Map credit: "Forecast rainfall this week from the National Weather Service."
---
---
At Least 10 Million at Risk as Relentless Rain Will Bring "Dangerous, Life-Threatening" Floods to East Coast. USA TODAY brings us up to speed on the stalled trough of low pressure producing an extreme flood threat: "The weekend deluge was only the beginning. Several more onslaughts of heavy rain are expected in the East this week, especially in the mid-Atlantic region, leading to "potentially dangerous, even life-threatening flooding," the National Weather Service warned. Flood watches and warnings have been posted from Pennsylvania to North Carolina. At least 10 million people are under flood watches or warnings.  Additional rainfall totals of 5 to 10 inches are possible in the central Appalachian Mountains to the coasts of the mid-Atlantic and North Carolina, AccuWeather meteorologist Kristina Pydynowski said. Over the weekend, record-setting rainfall triggered flash flooding in Virginia and Maryland, stranding vehicles and forcing water rescues and road closures. Saturday was one of the wettest July days ever recorded in Washington and Baltimore…"
Photo credit: "Floodwaters took over Spring Street in Tremont, Pennsylvania during a flash flood watch." USA TODAY.
---
Praedictix Briefing: Issued Tuesday morning, July 24th, 2018:
As a stalled out system continues to linger across the Eastern United States, rounds of heavy rain will be possible in parts of the Mid-Atlantic and Northeast states.
Rainfall amounts of at least 2-4″, with isolated 6″+ amounts, are likely through the middle of the week. This heavy rain will lead to the potential of dangerous flash flooding, especially in areas that have already received heavy rain the past several days. Numerous Flash Flood Watches are in effect from northern South Carolina to New York State.
Excessive heat continues today and into the middle of the week across parts of the southern and western United States. Some areas of the Southwest could see highs in the 120s later today.
---
Past 24 Hour Rainfall. Over the past 24 hours, a wide swath of 2-4″+ of rain has fallen across parts of the Mid-Atlantic and Northeast. Pennsylvania has reported some of the heavy rain, with 4.5″ in Herndon and 3.5″ in Muncy. This heavy rain has already led to reports of flash flooding.
---
Flood Concerns This Morning. Flood concerns continue this morning with ongoing showers and storms from the D.C. metro north into parts of far southern New York State. Across these areas, flash flood guidance shows that only an inch to an inch and a half of rain is needed within a three hour time frame to potentially cause flash flooding. Rainfall rates of 1-2″ per hour will be possible in the heaviest rain bands.
---
Flash Flood Watches. As we head through the next couple days, the same stalled out system across the East Coast will continue to transport tropical moisture northward. This will lead to continued rounds of showers and storms across parts of the Northeast and Mid-Atlantic, some of which will produce heavy rain. Since the ground is already saturated due to recent heavy rains over the past several days, not as much rain will be necessary to cause flash flooding across the region. Flash Flood Watches are in effect from northern South Carolina north into southern New York State, including the following locations:
Charlotte, NC: Until

Midnight

tonight

.
Raleigh, NC: Until

2 AM

Wednesday

.
Wilmington, NC: Through

Noon

Wednesday

.
Norfolk, VA: Until

Midnight

tonight

.
Washington D.C.: Until

6 PM

Wednesday

.
Baltimore, MD: Until

6 PM

Wednesday

.
Philadelphia, PA: Until

8 AM

Wednesday

.
State College, PA: Until

8 PM

Wednesday

.
Binghamton, NY: Until

8 PM

Wednesday

.
---
Excessive Rainfall Outlooks. Due to the potential of heavy rain on top of already saturated soil, the Weather Prediction Center has placed a Moderate Risk of excessive rainfall that could lead to flash flooding across parts of the East Coast today and Wednesday. Today the highest potential of flash flooding is found from southern New York State south though the D.C. metro to the North Carolina coast. Wednesday the highest flood threat moves north, stretching from eastern Pennsylvania into parts of New York, New Jersey, Connecticut and Massachusetts.
---
Southeast Rain Through 7 PM Thursday. Heavy rain will be possible today into Wednesday across parts of the Carolinas, where an additional 1-3" of rain can be expected with locally higher amounts. The heaviest amounts are expected to fall near the coast, where an additional 3-6″+ of rain is possible over the next couple days. The areas of greatest concern are urban and flood prone areas over the next couple days.
---
Northeast Rain Through 7 PM Thursday. Rainfall amounts of at least 2-4" will be possible through the middle of the week across parts of the Northeast, particularly from Virginia into New York State. Some of the heaviest amounts of rain are expected to fall from eastern Pennsylvania into northern New Jersey. This additional rainfall will cause the potential of flash flooding, especially in areas that have received heavy rain over the past several days. Map credit: AerisWeather and Praedictix.
---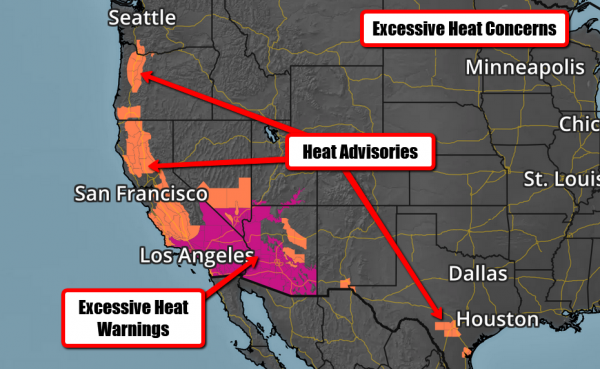 Heat Concerns. We're also tracking another day of excessive heat across parts of the southern and western United States. Temperatures across Texas will be a bit cooler today (90s to low 100s) versus yesterday when Waco broke their all-time record high as the thermometer climbed to 114. However, the heat ramps up in the Southwest, with some areas expected to see highs in the 120s. Numerous Heat Advisories and Excessive Heat Warnings are in effect from Texas up to the Portland, OR, area. Here's a look at some of the expected highs across the southern and western United States today:
Dallas, TX: 98 – No Advisories or Warnings in effect
San Antonio, TX: 102 – Heat Advisory Today
Corpus Christi, TX: 93 – Heat Advisory Today
Phoenix, AZ: 116 – Excessive Heat Warning through

Wednesday

Tucson, AZ: 112 – Excessive Heat Warning through

Wednesday

Yuma, AZ: 118 – Excessive Heat Warning through

Wednesday

Las Vegas, NV: 111 – Excessive Heat Warning through

Thursday

Los Angeles, CA: 98 – Excessive Heat Warning through

Thursday

Palm Springs, CA: 120 – Excessive Heat Warning through

Thursday

Redding, CA: 107 – Heat Advisory through

Thursday

Portland, OR: 96 – Heat Advisory through

Thursday
D.J. Kayser, Meteorologist, Praedictix.
---
Rainfall Amounts Out East. Over a foot of rain for parts of Maryland? Updated totals from NOAA NCEP.
---
Flood Frequency and Intensity Are Increasing – Are You Factoring the Latest Trends? Here's an excerpt of a post I wrote for AerisWeather: "A tropical storm named "Agnes" flooded my home in Lancaster, Pennsylvania in 1972; a traumatic event that ultimately led me to pursue a degree in meteorology at nearby Penn State. Many of us have a flood-related story or close encounter, and rising water is impacting more Americans with every passing year. There is precedent for concern: according to NOAA only extreme heat has claimed more American lives over the last 30 years. In fact, flooding is the costliest natural disaster in the United States. It accounted for more than $268 billion in damage in 2017, a number that has risen steadily over the past two decades, and it affects the entire country, including areas well inland. Every state has experienced at least two major floods in the past 10 years.[i] According to Pew Charitable Trust, flood-related events, including hurricanes, severe storms and downpours accounted for 7 out of 10 presidential disaster declarations in the United States over the last decade…"
Graphic credit: Climate Signals.
---
What You Need to Know About the Deadly Fires Near Athens, Greece. Fortune frames the fire threat facing portions of Greece: "Greece is burning. Wildfires flanking Athens have killed at least 49 people in Greece and injured more than 150. The fires are the worst the country has seen in a decade, the BBC reports. The Attica Region of Greece, which includes the capital of Athens, is home to more than 3.8 million people. It's peak tourism season in Greece, where the sector accounts for $16.2 billion annually, 8% of GDP. Prime Minister Alexis Tsipras has declared a state of emergency, mobilizing firefighters and military to stop the fires. Italy, Germany, Poland and France have sent planes, vehicles and firefighters to help…"
---
---
Greece Wildfires: Dozens Dead in Attica Region. BBC News reports: "At least 74 people have died in wildfires in the Attica region around Athens, in Greece's worst fire disaster in more than a decade. Flames fanned by strong winds devastated the seaside village of Mati, devouring homes and cars. The coastguard said it and other ships rescued almost 700 people who had fled to the coast, and pulled 19 survivors and four bodies from the sea. A local mayor told the BBC there are fears the death toll could rise to 100. Mati is located in the Rafina region which is popular with local tourists, especially pensioners and children attending holiday camps..."
---
---
---
Peak Summer. Althought Minnesota is past-peak and average temperatures are starting to (slowly) fall, much of the south central USA, south Florida, the west coast and Pacific Northwest doesn't experience the hottest weather until August, even September. Source: NOAA.
---
The Japanese Government is Tweaking Its Heatwave Index for People with Colorblindness. Is this an issue in the United States? That was my first question after reading a post at Quartz; here's an excerpt: "…The Ministry of Environment's Wet Bulb Globe Temperature (WBGT) index, which gives citizens a daily color-coded predictor of their location's temperatures, currently marks heat stroke danger zones with the color red, and safe zones with the colors blue and green. But this can cause confusion for people who have color vision impairments. For instance, for those who have trouble seeing the color red, the index and color scale appear like a mess of mustard and brown hues. An estimated 3 million Japanese—5% of men and 2% of women—have some form of colorblindness or shikikaku ijo. Japan's Ministry of Environment announced on Wednesday (July 18) its plans introduce new colors to its heat map index next year, specifically for the purpose of making sure these people are getting the right information, at-a-glance…"
Image credit: "How people with red-green colorblindness (deuteranopia) sees the index, generated with Adobe Illustrator's Color Blind Proof Setup Mode." (Quartz).
---
---
South Dakota Hail Storms Caused So Much Damage, You Can See It From Space. Springfield News-Leader has the details: "Hail pounded through western and central South Dakota last month, as storm-hurled balls of ice blasted car windows and shredded crops. How bad was it? NASA can help. Because you can see the damage from space. That's right. The space agency's satellites can see the damage left by the late-June hail, a light-brown tear stretching across more than half the state. In some spots, the hail scar is 6 miles wide. "Crops and grasslands can present a very uniform and green background when observed from space. With wind-driven hail capable of shredding the vegetation, the storm damage becomes visible in satellite imagery," said Jordan Bell, a research meteorologist with NASA's Short-term Prediction Research and Transition Center (SPoRT), in a NASA news post…"
Image credit: "This July 7 image captures the light-brown hail scars across western and central South Dakota, as seen by NASA's Moderate Resolution Imaging Spectroradiometer (MODIS) aboard NASA's Terra satellite." (Photo: NASA image, annotations by USA TODAY).
---
---
RENEWABLES: Climate Nexus has the links: "Milestone for offshore wind as $3.4 billion facility starts producing power (CNBC), the $3 billion plan to turn Hoover Dam into a giant battery (New York Times $), China's silk road fund to buy 24% of UAE solar thermal plant (Bloomberg), eastern states vie for expected offshore wind boom (Wall Street Journal $), Britain to hand out 557 million pounds of renewables funding via auctions (Reuters), judge tosses challenge of order halting wind turbines (AP), harnessing the enemy: as crops dry, Malawi turns to solar irrigation." (Thomson Reuters Foundation)
---
Beyond Elon Musk's Drama, Tesla's Cars Are Thrilling Drivers. WIRED.com reports: "…Potential electric car buyers are often worried about how the machines will hold up over time. EVs haven't been around long enough, in large enough numbers, to convince them one way or another. And while they come with simpler drivetrains that reduce maintenance costs over internal combustion engines, they also carry enormous battery packs that can make the uninitiated nervous. But some evidence from taxi service Tesloop should help assuage concerns. The company, which offers rides between cities in southern California and Nevada, published a blog post this week saying its Model S 90D had passed 400,000 miles and transported thousands of passengers. That certainly makes it one of the world's best-traveled Teslas, and Tesloop says the seats and interior have held up well…"
Photo credit: "While Elon Musk lights the world on fire via Twitter, his cars are setting range records and impressing analysts." Stephen Lam/Reuters.
---
Russian hackers infiltrated US electric companies. The Wall Street Journal reports: "The Department of Homeland Security said the Russian state-sponsored group targeted utility control rooms repeatedly (paywall) since spring 2016, and could be responsible for a number of blackouts. The Russian hackers, who worked for a shadowy state-sponsored group previously identified as Dragonfly or Energetic Bear, broke into supposedly secure, "air-gapped" or isolated networks owned by utilities with relative ease by first penetrating the networks of key vendors who had trusted relationships with the power companies, said officials at the Department of Homeland Security. "They got to the point where they could have thrown switches" and disrupted power flows, said Jonathan Homer, chief of industrial-control-system analysis for DHS. It isn't yet clear whether the hackers used their access to prepare the battlefield for some future, devastating blow, investigators said…"
---
Mobile Phone Radiation May Affect Memory Performance in Adolescents, Study Finds. New research highlighted at Science Daily caught my eye: "Radiofrequency electromagnetic fields may have adverse effects on the development of memory performance of specific brain regions exposed during mobile phone use. These are the findings of a study involving nearly 700 adolescents in Switzerland. The investigation, led by the Swiss Tropical and Public Health Institute (Swiss TPH), will be published on Monday, 23 July 2018 in the peer-reviewed journal Environmental Health Perspectives. The rapid evolution of information and communication technologies (ICT) goes along with an increase in exposure to radiofrequency electromagnetic fields (RF-EMF) in our daily life. The most relevant exposure source to the brain is the use of a mobile phone close to the head. Several studies have been conducted to identify potential health effects related to RF-EMF, though results have remained inconclusive…"
File image: iStock and University of California.
---
The Hidden Dangers of Flavored Yogurt. I had no idea there was this much sugar, but a story at Quartz set me straight: "…Today, yogurt is an $8.5 billion market in the US, and supermarket shelves are stocked with all kinds of yogurt peddled to children—from Dannon's Danimals to Stonyfield's YoKids, Yoplait Trix and Chobani Champions. A 2015 study published in the journal Pediatrics showed that flavored yogurt was among the three food and beverage products most commonly marketed to parents on US cable networks. But what parents may not realize is that one seemingly innocent carton of yogurt can contain about as much sugar, at around 10 grams, as that contained in a Pillsbury cinnamon bun. A recent study, published in the International Journal of Obesity and highlighted by Gretchen Reynolds in the New York Times, suggests that many parents are unaware of just how much sugar their children eat…"
Photo credit: "Deceptively sweet." (REUTERS/Pierre Albouy)
---
People Don't Buy Products. They Buy Better Versions of Themselves. Self-medicating via consumption, right? Food for thought from Medium: "…Consider Apple. To be an Apple user — at least in the era of Jobs — was to "think different." Critics might laugh at that characterization of an Apple user now, given the homogeneity and ubiquity of Apple products, especially among the wealthy. But those critics would miss what Apple didn't: people don't buy products because of what those products do, they buy products because of what they can do — or what they imagine they can do — with them. This idea even permeates Apple's retail strategy. Apple employees will never show you how a product works, rather they will let you use it, forcing you to familiarize yourself with the product, yes, but more importantly, yourself in its presence. A diverse range of product options to choose from, after all, will never be as captivating as a homogenous product that turns you into a superhero — and Apple has the latter in spades..."
Image credit: Apple.
---
Caution to Late Eaters: New Study Links Meal Times to Cancer. Big Think has (real) food for thought: "For decades, you've probably heard the advice to eat hours before heading off to bed. This folk wisdom has mostly been applied to losing weight, avoiding acid reflux, and getting a good night's sleep. Now a new study offers an even more profound piece of evidence as to why an early dinner is essential: it reduces the risk of breast and prostate cancer. The study, conducted at the Barcelona Institute for Global Health—if you've ever been to Spain, you know that most restaurants don't open for dinner until 8 pm—found that those who eat dinner before 8 pm (or at least two hours before bedtime) experience a 20 percent reduction in the likelihood of developing the types of cancer listed above…."
---
A Little Radiation with Your Red Wine? CNN has the story that made me switch to a fine (cheap) white wine: "There might be an unexpected ingredient in your glass of California red wine. If your bottle of choice was made after 2011, it could have small amounts of radioactive particles from a major nuclear accident: Japan's Fukushima meltdown. Years after the 2011 disaster, a group of French nuclear physicists wanted to see whether cesium-137, a radioactive isotope, was more present in wines made after the disaster than those made before. They tested bottles of two well-known types of California wines — rosé and Cabernet sauvignon — that were made from 2009 and 2012. And their study, submitted to the Cornell University Library on July 11, highlights what they found. The bad news: Some wines from after 2011 had twice as much radioactive material. The good news: The levels are still too low for you to worry about…"
---
The 4-Day Work Week Works. So Why Aren't We Using It? Great question! Food for thought from Big Think: "A study conducted by a New Zealand business confirmed what many of us have felt on Friday afternoons: a 5-day work week really isn't that effective. The study went one further and gave credence to slackers everywhere: a 4-day work week is actually more productive than a 5-day work week.  Perpetual Guardian, a wealth management firm in Wellington, New Zealand ran the experiment for 8 weeks and hired two researchers to report back on the findings of the study. According to the New York Times, employees saw a 24% increase in productivity and a better work-life balance. That's not all: all meetings were truncated from two hours to half an hour each. Sound like heaven in an office setting?…"
---
Inside the World's New Luxury Airline with Glass Floors and Private Rooms. This looks pretty amazing – as long as you're not in a great hurry. Lonely Planet has details: "...The airbus was originally designed for commercial and military use but Hybrid Air Vehicles (HAV), the UK aerospace company behind the airship, announced that it's planning to take on passengers by launching "luxury expeditionary tourism". Passengers will embark on a three-day journey and visit some of the most exciting corners of the globe while travelling in complete luxury. Earlier this week, the company teased photos of what life on board its tourist-focused aircraft would look like. Designed by award-winning UK firm, Design Q, the passenger cabin will be capable of accommodating up to 19 passengers, plus crew. Speed isn't its thing (the airbus can only reach max speeds of 91 mph / 146 kph) so expeditions will take up to three days, which is actually part of its appeal…"
Photo credit: "Newly-released images of what the interior of the Airlander 10 could look like." Image by DesignQ/Airlander.
---
85 F. maximum temperature in the Twin Cities Tuesday.
83 F. average high at MSP on July 24.
79 F. high on July 24, 2017.
July 25, 2000: An F4 tornado hits the town of Granite Falls. One person is killed and there is 20 million dollars in damage.
July 25, 1915: Frost hits northeastern Minnesota.
---
WEDNESDAY: Few heavy T-storms. Winds: SW 7-12. High: near 80
WEDNESDAY NIGHT: Showers taper. Low: 59
THURSDAY: Hello September! Windy, PM showers. Winds: NW 10-20+ High: 69
FRIDAY: A little nicer: more sun, less wind. Winds: NW 10-20. Wake-up: 56. High: 75
SATURDAY: Sunny start, late-day shower possible. Winds: W 5-10. Wake-up: 60. High: 78
SUNDAY: Dry early, more numerous PM showers. Winds: W 5-10. Wake-up: 62. High: 76
MONDAY: Partly sunny, close to average again. Winds: NW 5-10. Wake-up: 63. High: near 80
TUESDAY: Plenty of sun, mild breeze. Winds: W 7-12. Wake-up: 64. High: 83
---
Climate Stories….
Record-Breaking Summer Marches On to the Beat of Climate Change. CNN examines the intensity and duration of record heat; here's an excerpt: "…Much of Europe has been baking under a massive high-pressure ridge that is allowing tropical heat to climb all the way to the Arctic and blocking cooling rainfalls from ending the stretch of hot weather. Temperatures above 32 C extended to the northern reaches of Scandinavia, setting records in Sweden, Finland and Norway for stations above the Arctic Circle. The result has been a string of unprecedented wildfires in Sweden that have prompted the country to request assistance from other nations such as Italy, with more resources to fight wildfires. The United Kingdom is off to its driest start to a summer, according to the Met Office, and it has been one of the hottest on record, coming in just 0.1 C behind the average temperature during the hottest summer on record in the UK, which averaged 21 C in 1976…"
Temperature anomaly map: Climate Reanalyzer.
---
Curbelo's Carbon Pricing Plan: Headlines and links via Climate Nexus: "Rep. Carlos Curbelo (R-FL) yesterday formally introduced his bill to put a price on carbon, the first GOP-led carbon pricing legislation proposed in over a decade. The proposal pairs a $24-per-ton tax on carbon with a series of environmental rollbacks, including limiting the EPA's authority to regulate emissions under the Clean Air Act. Following last week's symbolic vote in the House against a carbon tax, conservative groups and representatives are already gearing up to oppose the measure and voicing their opposition. "While there are still some deniers out there, most Americans today understand that climate change caused by human activity is a reality that must be addressed," Curbelo said in remarks at the bill's introduction. "I remind my conservative colleagues who often decry our nation's growing debt; saddling young Americans with a crushing environmental debt – meaning an unhealthy planet where life is less viable – is at least as immoral as leaving behind an unsustainable fiscal debt." (The Guardian, Reuters, Washington Post $, Washington Examiner, Greenwire, ThinkProgress).
Image credit: Bill Clark, CQ Roll Call.
---
Batters Hot, but Baseballs Hotter? Is a warmer climate increasing the number of home runs? WRAL.com has the story: "Increasing temperatures from ongoing climate change – which are boosting water vapor contained in the air and thus raising average humidity – may be having an impact on America's national pastime, making home runs more likely. This spring, Major League Baseball officials announced that teams must store their baseballs in enclosed, air-conditioned rooms as the league studies whether to require storage in humidity-controlled facilities. "Warm, humid air is less dense than cooler, less humid air, so it is easier to hit a home run on a hot, humid night," said Art DeGaetano, a professor of atmospheric science at Cornell University..."
---
An Evangelical's Journey to Climate Leadership. Check out the interview at Yale Climate Connections: "…As he learned more about his brother's reasons, Meyaard-Schaap's own interest in climate change grew. And he was inspired to educate others – especially evangelicals like himself. Today, he's the national organizer of Young Evangelicals for Climate Action. This network of Christians attends rallies, signs petitions, and speaks out for a cause they feel at heart is a moral calling. Meyaard-Schapp's goal for the group is to do what his brother did for him. Meyaard-Schaap: "For a lot of people across the U.S., they're not going to take climate change seriously unless their friends and their families start talking about it with them."
Image credit: "Kyle Meyaard-Schaap leads a lobby training workshop in Washington D.C. in 2017."
---
Capitalism Will Solve the Climate Problem. I couldn't agree more – let the markets work to come up with (cheaper), low-carbon alternatives. Here's an excerpt from an Op-Ed at The Wall Street Journal: "…This brings us back to capitalism. Climate change is a byproduct of the prosperity created by the market economy, but the market similarly can be an engine to generate cost-effective solutions. Clean-energy technologies such as wind and solar power already have developed immensely in the past two decades. Public policy that puts a price on carbon emissions would speed the adoption of clean energy by exposing the market to the costs this pollution puts on society. This will accelerate adoption of and private investment in clean-energy technologies. Though climate change presents American industries a daunting challenge, market-based policies can unleash innovation from investors, inventors and entrepreneurs, who will work to build a more prosperous and safer future. Working with accurate scientific facts and the right incentives, the market will find winning solutions. So let's follow the data and get this done."
---
Gazette Editorial: The Existential Threat of Climate Change. An Op-Ed from the Editorial Board of the Charleston Gazette-Mail caught my eye; here's a clip: "…Anybody who says they can tell you with certainty what the political impacts are, put your hand on your wallet and back away," he said. "That is unknowable, but the chances are it will be pretty bad." "These are changes the likes of which human civilization — not the earth, but human civilization — have not seen before," Titley said. "The question is how are we going to deal with them?" This doomsday picture doesn't have to be the future for the grandchildren of today's adults, they both say. When people talk about renewable energy sources or of cutting greenhouse gas emissions, it is this worst-case scenario they are trying to prevent."
---
Global Warming Risk: Rising Temperatures from Climate Change Linked to Rise in Suicides. Coincidence, correlation or causal connection? Naples Daily News has the story: "Rising temperatures linked to human-caused climate change could lead to increasing suicide rates in the U.S. and Mexico, a study suggested Monday. By comparing historical temperature and suicide data going back decades, researchers found a strong correlation between warm weather and increased suicides, according to new research published in Nature Climate Change, a peer-reviewed British journal. Researchers have known for centuries that conflict and violence tend to peak during warmer months. "Now we see that in addition to hurting others, some individuals hurt themselves," said Solomon Hsiang, study co-author from the University of California-Berkeley. "It appears that heat profoundly affects the human mind and how we decide to inflict harm..."
---
Tokyo is Boiling. Will it Be Too Hot for the 2020 Summer Olympics? The Daily Beast takes a look at summer temperature trends in Japan; here's an excerpt: "…One of the prescient scribes to warn of the perils of Japan's 2020 Olympics deserves credit now for what was dismissed as alarmist nitpicking a few years ago. Robert Whiting, author of Tokyo Underworld and an expert on Japanese baseball, in a series of articles penned for the Japan Times was the first to ring the warning bell. He noted in his article "Negative impact of 1964 Olympics profound" in 2014, that the Tokyo Olympic bid submitted was incredibly disingenuous. He noted the likely temperature posed an "extreme risk for athletes" and was "particularly dangerous for marathoners." The one bright spot he found was that, "Luckily for many, track and field events would be held in the fully air-conditioned new National Stadium…"
Image credit: Sarah Rogers/The Daily Beast.
---
The World's Biggest Farms Pollute More Than Any Oil Company. Here's an excerpt of a post that has some surprising perspective on carbon emissions, courtesy of Quartz: "The world's biggest meat and dairy operations combined pump more greenhouse gas into Earth's warming atmosphere than any one of the largest fossil-fuel giants. A report published this week by the nonprofit Institute for Agriculture and Trade Policy (IATP) shows the top five animal agriculture companies emit more greenhouse gases than Exxon-Mobil, Shell, or BP…As the researchers point out, massive meat and dairy companies have for years managed to escape much criticism of their collective environmental impact, unlike petroleum companies such as Exxon-Mobil and Shell. That's, in part, because most of them don't make public data on their greenhouse gas emissions…"
Photo credit: "An industry that leaves its mark." (Reuters/Jeff Green).
---
Why Nuclear Power Must Be Part of the Energy Solution. Here's a clip from an Op-Ed at Yale E360: "…Like all energy sources, nuclear power has advantages and disadvantages. What are nuclear power's benefits? First and foremost, since it produces energy via nuclear fission rather than chemical burning, it generates baseload electricity with no output of carbon, the villainous element of global warming. Switching from coal to natural gas is a step toward decarbonizing, since burning natural gas produces about half the carbon dioxide of burning coal. But switching from coal to nuclear power is radically decarbonizing, since nuclear power plants release greenhouse gases only from the ancillary use of fossil fuels during their construction, mining, fuel processing, maintenance, and decommissioning — about as much as solar power does, which is about 4 to 5 percent as much as a natural gas-fired power plant..."
---
Climate Change is a Top Spiritual Priority for These Religious Leaders. The Washington Post has the story; here's an excerpt: "…For humans to cause species to become extinct and to destroy the biological diversity of God's creation; for humans to degrade the integrity of Earth by causing changes in its climate, by stripping the Earth of its natural forests, or destroying its wetlands; for humans to injure other humans with disease, for humans to contaminate the Earth's waters, its land, its air, and its life, with poisonous substances," he told a crowd that included ­then-Interior Secretary Bruce Babbitt. "These are sins." Pope Francis has likewise drawn global attention to environmental activism: On the same day Bartholomew was concluding his conference in Greece, the pope brought the leaders of multinational energy and investment firms to the Vatican to discuss the path forward on climate change…"
Photo credit: "Orthodox Ecumenical Patriarch Bartholomew of Constantinople releases a falcon rehabilitated by Anima in Spetses, Greece." (Sean Hawkey).