Weather Modification is Still Junk Science
It's not nice to fool Mother Nature. For centuries man has tried to modify the weather, with lousy results. Cannons were fired into storms to try and create a shock wave capable of reducing hail.
There's no evidence it ever worked.
Cloud seeding can,on occasion, help to enhance snowfall over western mountains, and clear cold, foggy
airport runways, but it's still hit and miss.
Will we ever be able to weaken hurricanes? From 1962 to 1983 the U.S. Government ran "Project Stormfury", seeding hurricanes with silver iodide to try and weaken the destructive donut of wind surrounding the "eye". It was eventually determined that most hurricanes don't contain enough supercooled water for cloud seeding to be effective.
Tinkering with the weather is the rough equivalent of spitting into the wind. Your results may vary.
While Hurricane Lane hammers Hawaii with flooding rains today, Minnesota should salvage sunshine and 80s. I see a warm and wet bias into early September. More T-storms ignite Sunday PM, and spill over into Tuesday. The only dry day next week may come Wednesday.
Hey, shorter lines at the State Fair beer concessions?
---
Photo credit: Science Magazine.
---
More Like Late June. Friday's 2 separate waves of strong T-storms dumped out 1-2″ of rain on much of the north metro (along with penny-size hail in some spots). The heaviest amounts fell east of the St. Croix with as much as 3-5″ estimated on KMPX Doppler radar from just south of Hudson to Baldwin, Wisconsin.
---
Climate Signatures in 2018. Dr. Mark Seeley always has good insight and interesting nuggets; here's a clip from this week's Minnesota WeatherTalk: "…But for the May-August period this year ranks as the 2nd warmest historically, trailing only the growing season of 1988. And this is mostly thanks to very warm nights. Though the statewide May-August rainfall has been near normal, there is great disparity across the state. The southwestern counties have had the 2nd wettest May-August period in history with an average of nearly 23 inches (2nd only to 1993), while the south-central counties have reported the 8th wettest May-August period with an average of nearly 22 inches. Conversely, northwestern counties, which are in a moderate drought, have reported an average of less than 10 inches for the May-August period, ranking as the 12th driest in history back to 1895…"
---
---
Warm Start to September for Much of the USA. No sign of emboldened cold fronts anytime soon as a lingering ridge of high pressure straddles much of the USA, from California to the East Coast, meaning above normal temperatures for most of the USA by the second week of September, with the possible exception of Pacific Northwest and northern Rockies.
---
---
---
Catastrophic Hurricane Lane Pounds Hawaii.
Andrew Freedman has updates at
Axios
: "…
However, the biggest danger with this storm has been, and will continue to be, water. According to the National Weather Service, "catastrophic flooding" is occurring on the Big Island of Hawaii, where a persistent flow of moisture from the Southeast is running up against the island's 10,000-foot-high peaks, wringing out torrential rains.
What we're watching: As weather.com notes, no hurricane has come within 65 nautical miles of Maui and Oahu in decades. The storm's slow movement means the islands will be on the right quadrant of the storm, where the strongest winds and heaviest rains are located. This presents a significant threat of damage from flooding and high winds..."
---
---
Praedictix Briefing: Friday, August 24th, 2018
Lane continues to be a dangerous hurricane moving toward Hawaii early

Friday

morning, containing sustained winds of 120 mph. Lane is slowly moving to the north at 5 mph.
While the track of Lane does not currently indicate landfall occurring on any of the Hawaiian Islands, the state is still positioned on the stronger and wetter side of the system. Excessive rainfall and flooding will be the greatest risk over the next couple days from Lane, along with damaging wind gusts and high waves/storm surge.
Already some areas of the Big Island have received over 30" of rain from Lane, and there have been evacuations and closed roads due to flooding and landslides.
Hurricane Warnings are in effect for Maui County and Oahu, with Tropical Storm Warnings for the Big Island and Hurricane Watches for Kauai.
---
Morning Radar. Rain continues to fall across the Hawaiian Islands as Lane slowly approaches from the south this morning. As of the 2 AM HST update from the Central Pacific Hurricane Center, Lane was still classified as a major Category 3 hurricane with 120 mph winds. Lane was located about 160 miles southwest of Kailua-Kona, or about 200 miles south of Honolulu, moving to the north at 5 mph.
---
Heavy Rain Leading To Flash Flooding. Rain bands from Lane have been significantly impacting parts of the Hawaiian Islands over the past 24-48 hours, with rainfall amounts of over two feet reported across parts of the Big Island. So far the highest rainfall total has been at Hakalau Station on the Big Island, which has received 31.21" of rain. Other rainfall amounts so far include:
Waikea Experimental Station: 23.67″
Hilo Airport: 17.05"
Near Honokaa: 16.72"
This heavy rain has led to numerous reports of flash flooding and landslides across parts of northern, eastern and southern Hawaii County, with Saddle Road closed due to a landslide near mile marker 10.5 above Hilo. Hawaii DOT is keeping a list of roads that have been blocked from Hurricane Lane – you can get to that webpage by clicking here.
---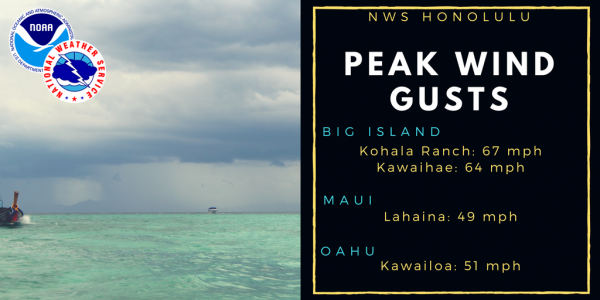 Recent Wind Gusts. Wind gusts recently have reached up to 67 mph at Kohala Ranch on the Big Island, with a gust of 49 mph in Lahaina. There was also a wind gust up to 74 mph at the Oahu Forest National Wildlife Refuge Thursday Night. These wind gusts are causing some power outages across the region with reports of tree branches falling onto power lines. Local electric companies are reporting power outages mainly on their Twitter accounts as of early Friday. Here are links to those local outlets:
---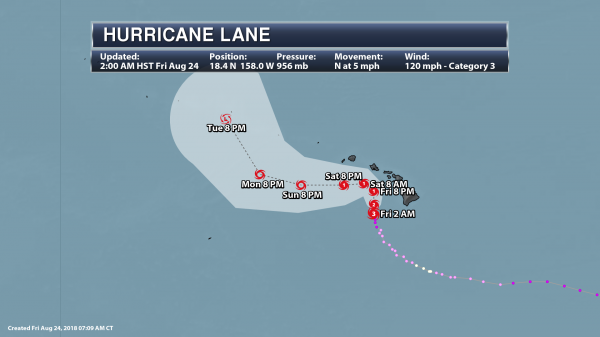 Forecast Track. Lane will continue to slowly move north over the next day or so, dangerously close to the Hawaiian Islands. This system is then expected to turn to the west on Saturday and pick up forward speed, moving it away from Hawaii into Sunday. While Lane is not currently expected to make landfall on any of the islands, there is still the potential that this could happen. It is important to not directly focus on the exact path of the system, as dangerous weather conditions from Lane will extend further out from the center of the storm. Impacts from Lane – including heavy rain which could lead to flash flooding, damaging winds, and storm surge – are still expected across all of the main Hawaiian Islands into the weekend. We should see Lane continue to weaken over the next several days, especially late in the weekend into early next week.
Here are local county websites which include the latest information including any open emergency shelters:
Hawaii County: http://www.hawaiicounty.gov/active-alerts
Maui County: https://www.mauicounty.gov/
Honolulu County: http://www.honolulu.gov/
Kauai County: https://www.kauai.gov/
---
Tropical Watches and Warnings. Due to the threat of hurricane force winds from Lane, Hurricane Warnings are in effect for Maui County and Oahu. Tropical Storm Warnings are now in effect for the Big Island with a Hurricane Watch for Kauai.
SUMMARY OF WATCHES AND WARNINGS IN EFFECT:
A Hurricane Warning is in effect for…
* Oahu
* Maui County…including the islands of Maui, Lanai, Molokai and Kahoolawe
 A Tropical Storm Warning is in effect for…
* Hawaii County
 A Hurricane Watch is in effect for…
* Kauai County…including the islands of Kauai and Niihau
Local Hurricane Statements: http://forecast.weather.gov/wwamap/wwatxtget.php?cwa=usa&wwa=Hurricane%20Local%20Statement
Local Hurricane Warning Statements: http://forecast.weather.gov/wwamap/wwatxtget.php?cwa=usa&wwa=Hurricane%20Warning
Local Hurricane Watch Statements: http://forecast.weather.gov/wwamap/wwatxtget.php?cwa=usa&wwa=Hurricane%20Watch
---
Heavy Rain Threat. The greatest threat from Lane will be continued heavy rain across the Hawaiian Islands over the next couple days. Additional rainfall amounts of a foot or more are likely across parts of Hawaii as Lane slowly moves past the state into the weekend. This rain will cause the potential of more significant, life-threatening flash flooding and landslides over the next few days. Image: AerisWeather.
---
Flash Flood Watches. Due to the continued threat of heavy rain with Lane that could lead to flash flooding (some of which could be significant), Flash Flood Watches remain in effect for the state of Hawaii through late Friday Night. The Honolulu National Weather Service office says in their watch that "In addition to flood prone areas, heavy rain events of this size may cause flooding in areas outside of designated flood zones. Low spots in roads will become dangerous and impassible due to severe runoff. High amounts of debris in streams and gulches may clog bridges and culverts resulting in dangerous flooding outside the normal channels and significant property damage."
---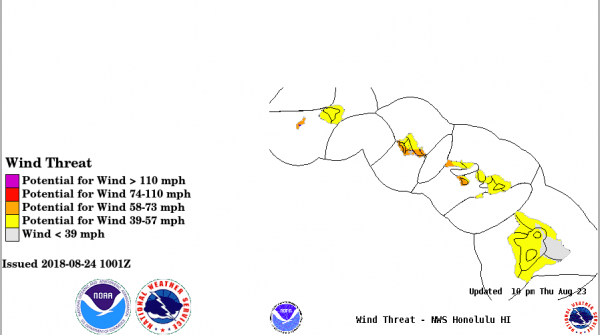 Wind Threat. The greatest wind threat will continue to be across western/southern parts of the Big Island, as well as Maui County and Oahu over the next couple days as winds gusts in the higher end of tropical storm force are possible. Some isolated areas could still see some hurricane-force wind gusts at times, especially in typical windy locations.
---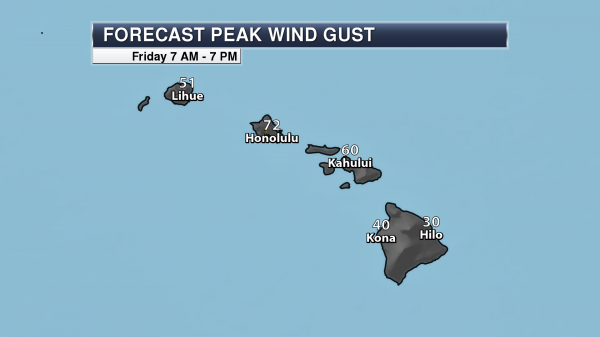 Forecast Peak Wind Gusts Friday. Winds are expected to be the strongest today across parts of Maui County and Oahu, where wind gusts could top 60-70 mph at times throughout the day. Parts of Kauai County could see gusts topping 50 mph. These wind gusts would have the potential to cause power outages and downed trees and power lines.
---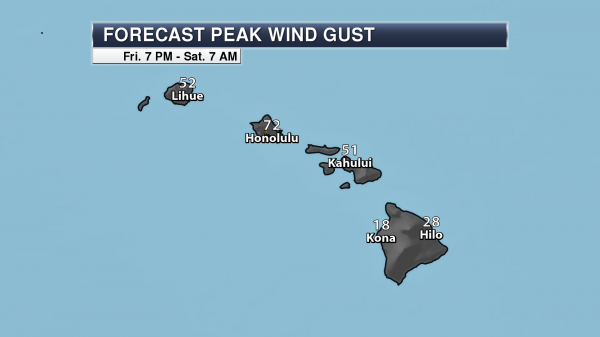 Forecast Peak Wind Gusts Friday Night. Winds will decrease into the overnight hours across the Big Island, but continue to be strong at times across parts of Maui County, Oahu, and Kauai County. In these areas, wind gusts could top 50 mph at times.
---
Forecast Peak Wind Gusts Saturday. Some strong wind gusts will still be possible Saturday for locations like Honolulu and Lihue, but these winds should be on the decrease throughout the day as Lane continues to weaken and eventually starts to push away from Hawaii.
---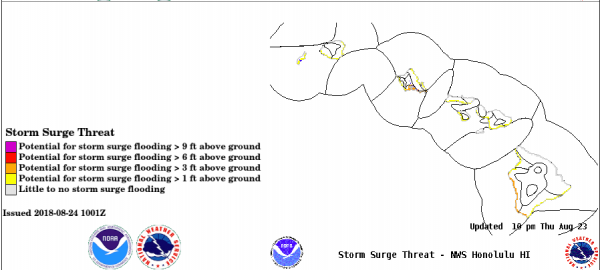 Storm Surge Threat. We will also be watching the threat of storm surge flooding with Lane. The greatest storm surge threat continues to be across parts of western Hawaii County and southern Oahu, where storm surge flooding of at least three feet above normally dry ground will be possible. However, most south and west-facing coastlines could see storm surge flooding of at least a foot.
D.J. Kayser, Meteorologist, Praedictix
---
On Harvey Anniversary, Texans Still Struggle: Headlines and links via Climate Nexus: "One year after Hurricane Harvey, 30 percent of Texans are still recovering from the storm, and 42 percent of that group say they are not getting the help they need, according to a new survey. Texans who are still dealing with the hurricane's aftermath are more likely to be people of color living in lower-income counties, the Kaiser Family Foundation-conducted survey found: 40 percent of Latinx Texans and 60 percent of black Texans report that they are struggling to rebound from the storm. Special Spanish language-focused sections of the survey also revealed fears in the Latinx community of asking for aid in the context of immigration status. "I heard that if you applied without papers or documents, they were registering you or recording you," an undocumented woman said, as recorded in the survey report. "We were afraid it was like a trap. That they were getting that information to locate you." (Washington Post $, Wall Street Journal $, ThinkProgress, Corpus Christi Caller-Times, KHOU, Houston Public Media).
Hurricane Harvey radar loop: NOAA and AerisWeather.
---
---
---
In 1973, an MIT Computer Predicted the End of Civilization. So Far It's On Track. 2040? OK, we may have a few relatively good years left. I'm dubious/cautious/skeptical, but in the spirit of full disclosure here's a clip from Big Think: "In 1973, a computer program was developed at MIT to model global sustainability. Instead, it predicted that by 2040 our civilization would end. While many in history have made apocalyptic predictions that have so far failed to materialize, what the computer envisioned in the 1970s has by and large been coming true. Could the machine be right? What World One showed was that by 2040 there would be a global collapse if the expansion of the population and industry was to continue at the current levels…As reported by the Australian broadcaster ABC, the model's calculations took into account trends in pollution levels, population growth, the amount of natural resources and the overall quality of life on Earth. The model's predictions for the worsening quality of life and the dwindling natural resources have so far been unnervingly on target..."
---
How Microsoft Tackles Russian Hackers – And Why It's Never Enough. A digital game of whack-a-mole, right? Here's an excerpt from WIRED.com: "…Specifically, Microsoft has used a technique known as sinkholing, a way to divert network traffic from its planned destination to a different server. Microsoft combines its broad visibility into its billions of users, and the chops of its internal Digital Crimes Unit, to get a jump on phishing sites like the ones Fancy Bear established, get legal permission to take over those domains, and then send any traffic that heads their way to oblivion instead. "It's not a gimmick, but it's also not an innovation," says David Kennedy, CEO of the threat tracking firm Binary Defense Systems, who formerly worked at the NSA and with the Marine Corps' signal intelligence unit..."
---
No One at General Motors Is Allowed to Walk Around on their Smart Phone. Fast Company has a story that resonated: "At General Motors, employees are not allowed to walk around on their phones. That's pretty standard behavior for warehouses and manufacturing facilities, but this rule extends to the office. That means no looking at a phone on the way to a meeting. No taking calls while en route to the bathroom. No checking email while you're going to the kitchen to get a coffee. "We have asked people not to text and walk or walk and talk on phones because it takes your attention away from potential hazards," says Jim Glynn, GM's vice president of Global Workplace Safety..."
---
Even Teens Are Worried About Too Much Smartphone Use. CNN.com has the story: "More than half of all teenagers think they use their phones too much, according to a Pew Research Center survey released Wednesday. A quarter of teens reported feeling anxious, lonely and upset without their phones. Girls were more likely to report feeling that way.  Screentime and phone addiction have received increasing attention from the companies selling them. Google, Facebook and Apple have created tools to help people cut down on the amount of time they spend using their devices. Doctors and other experts worry that phones, tablets and other screens might affect everything from cognitive development to social skills. The Pew study is the latest in its series of inquiries focusing on kids aged 13 to 17…"
---
The Life-Changing Benefits of Living with a Random Roommate in College
. Food for thought, courtesy of Q
uartz
: "
Meeting your freshman-year roommate has long been a suspense-filled rite of passage for new college students. But these days, there's a lot less mystery about who you'll be bunking with: Many colleges let students pre-select roommates using Facebook or other matching platforms. Now the trend seems to be undergoing a reversal as colleges recognize the value of randomized roommate assignments. Their reasoning? It's become all too easy to pre-select a roommate online who shares the same religion, political views, class background, or living habits as you. The hope is that random pairings will foster connections between students of different backgrounds, helping to expand their perspectives—which, colleges argue, is what the undergraduate experience is all about
…"
Photo credit: "Everyone has a good freshman year roommate story." REUTERS/Brian Snyder.
---
Safest Level of Alcohol Consumption is None.
The Washington Post
has sobering news: "
To minimize health risks, the optimal amount of alcohol someone should consume is none. That's the simple, surprising conclusion of a massive study, co-authored by 512 researchers from 243 institutions, published Thursday in the prestigious journal the Lancet. The researchers built a database of more than a thousand alcohol studies and data sources, as well as death and disability records from 195 countries and territories between 1990 and 2016. The goal was to estimate how alcohol affects the risk of 23 health problems. The number that jumped out, in the end, was zero. Anything more than that was associated with health risks.
.."
---
1.05″ rain fell at MSP International Airport on Friday.
72 F. high in the Twin Cities yesterday.
79 F. average high on August 24.
73 F. high on August 24, 2017.
August 25, 1976: The Roy Lake Fire results in 2,600 acres burned during a drought.
August 25, 1875: A tornado strikes near Hutchinson.
---
SATURDAY: Sunnier, drier day of the weekend. Winds: SW 5-10. High: 84
SATURDAY NIGHT: Partly cloudy. Low: 69
SUNDAY: Sticky with a few T-storms around. Winds: SE 7-12. High: 87
MONDAY: Humid, unsettled, another T-storm or two. Winds: SW 10-15. Wake-up: 73. High: 89
TUESDAY: What else? Showers & T-storms. Winds: NW 8-13. Wake-up: 68. High: 76
WEDNESDAY: Nice day at the fair. Comfortable sunshine. Winds: W 5-10. Wake-up: 58. High: 76
THURSDAY: Dry start, T-storms possible late? Winds: SE 10-15. Wake-up: 59. High: 79
FRIDAY: Some sun, few T-storms in the area. Winds: W 8-13. Wake-up: 63. High: 82
---
Climate Stories…
"Loading the Dice". Scientists Say Biblical Storms Like Hurricane Harvey Could Strike More Often. Data suggests we won't necessarily see more hurricanes, but the storms that do form may be wetter and stronger. Here's a clip from The Dallas News: "…Was it merely a cyclical climate event, an act of God or a man-made catastrophe? Scientists across the world started trying to answer those questions almost immediately after the storm. At least five peer-reviewed scientific papers have been published in the last year looking at how global warming has affected and changed the probability of a storm of this scale. And more research is in the pipeline seeking to provide the broadest possible understanding of Harvey. So far, a couple of things are becoming clearer: Harvey-like storms are likely to happen more often and hurricanes in general are expected to cause more damage as a result of climate change. And that could put more lives at risk in the nation's fifth largest metro area that is also home to more than a fourth of the country's petroleum refining capacity..."
---
Big Oil Asks Government to Protect Its Texas Facilities from Climate Change. Wait, wasn't it just fairly recently the big oil majors were still disputing the science and denying the trends? CBS News has one of the more ironic headlines I've read recently: "…But the idea of taxpayers around the country paying to protect refineries worth billions, and in a state where top politicians still dispute climate change's validity, doesn't sit well with some. "The oil and gas industry is getting a free ride," said Brandt Mannchen, a member of the Sierra Club's executive committee in Houston. "You don't hear the industry making a peep about paying for any of this and why should they? There's all this push like, 'Please Senator Cornyn, Please Senator Cruz, we need money for this and that.'" Normally outspoken critics of federal spending, Texas Sens. John Cornyn and Ted Cruz both backed using taxpayer funds to fortify the oil facilities' protections and the Texas coast. Cruz called it "a tremendous step forward..."
---
Climate Change is Melting the French Alps. A story at The Guardian caught my eye: "…One of the consequences of climate change is the ongoing retreat of glaciers. "In the Alps, the glacier surfaces have shrunk by half between 1900 and 2012 with a strong acceleration of the melting processes since the 1980s," says Jacques Mourey, a climber and scientist who is researching the impact of climate change on the mountains above Chamonix. The most dramatic demonstration of glacial retreat is shown by the Mer de Glace, the biggest glacier in France and one of Chamonix's biggest tourist hotspots which would now be unrecognisable to the Edwardian tourists who first flocked there…"
File image: NASA.
---
---
Fighting Climate Change is Not Just a Cause, It's Also a Business. CNBC.com reports: "Amid growing awareness about climate change and a consequent shift in consumer behavior, brands are increasingly selling more sustainable goods. From vegan footwear to recycled denim and organic toothpaste, the offer to consumers is growing — but such items are often more expensive than their non-sustainable equivalents. "As a fair trade business and the only retailer to be certified by the World Fair Trade Organization, it is important to us that we know the true cost of the product so that the people making the goods are paid a fair price and a 'living' wage," Melanie Traub, managing director at online retailer People Tree, told CNBC via email..."
---
More Hurricanes for Hawaii? Will warming oceans increase the risk for the Hawaiian Island Chain? Here's an excerpt of a study done in 2013, highlighted at EurekAlert: "…In our study, we looked at all tropical cyclones, which range in intensity from tropical storms to full-blown category 5 hurricanes. From 1979 to 2003, both observational records and our model document that only every four years on average did a tropical cyclone come near Hawaii. Our projections for the end of this century show a two-to-three-fold increase for this region," explains Murakami. The main factors responsible for the increase are changes in the large-scale moisture conditions, the flow patterns in the wind, and in surface temperature patterns stemming from global warming. Most hurricanes that might threaten Hawaii now are born in the eastern Pacific, south of the Baja California Peninsula..."
---
Sea Level Rise is Eroding Home Value, and Owners May Not Even Know It. The Washington Post reports: "…Boineau is one of many homeowners on the front lines of society's confrontation with climate change, living in houses where rising sea levels have worsened flooding not just in extreme events like hurricanes, but also heavy rains and even high tides. Now, three studies have found evidence that the threat of higher seas is also undermining coastal property values as home buyers — particularly investors — begin the retreat to higher ground. On a broad scale, the effect is subtle, the studies show. The sea has risen about eight inches since 1900, and the pace is accelerating, with three inches accumulating since 1993, according to a comprehensive federal climate report released last year. Scientists predict the oceans will rise an additional three to seven inches by 2030, and as much as 4.3 feet by 2100…."
---
---
Feeling Sick? You May Have a Case of Climate Change. Some interesting statistics and trends highlighted in a post at HuffPost: "Climate change is, quite literally, making us ill.  The Centers for Disease Control and Prevention reported this spring that diseases from mosquito, flea and tick bites tripled in the U.S. between 2004 and 2016, with more than 640,000 cases seen during that period of time. Maine alone saw a 20-fold increase in cases of the tick-borne illness Lyme disease. The danger showed no sign of abating this year, with ticks crawling into Mainers' lives as early as May.  Their premature arrival was largely a product of warmer temperatures in the region ― temperatures that reflect the broader trend of global climate change. It is perhaps for this reason that Lyme disease—once a regional problem largely confined to New England—has now been detected in all 50 states.…"
Graphic credit: CDC. "Disease cases from infected mosquitoes, ticks, and fleas have tripled in 13 years."
---
---
Toxic Sludge Chokes Florida: Climate Nexus reports: "Florida's red tide outbreak is continuing to choke miles of coastline in five counties in Florida, nearly two weeks after Gov. Rick Scott first declared a state of emergency for the crisis. Manatee, Lee, and Sarasota Counties have collectively reported cleaning up more than 2,000 tons of dead fish since the start of August. The natural phenomenon, supercharged by nutrient runoff and climate change, has ballooned into a crisis over the past ten months. County chambers of commerce along the coast are estimating millions in lost revenues due to tourist cancellations from the outbreak, while some local businesses report a more than 50 percent cut in revenues and employees in Fort Meyers Beach are estimated to have lost nearly $600,000 in wages." (CNN, AP, BBC, Quartz, Sarasota Herald-Tribune, Bradenton Herald, Fort Myers News-Press)
---
Florida's Red Tide Crisis Shows That Climate Change Isn't Just Dangerous – It's Ugly. Quartz has the story: "All the water birds—pelicans, egrets, cormorants—are gone. Flies swarm the coast of the seaside city of Sarasota, Florida. Crows caw. The air stinks of death. Carpets of fish, belly-up, mouths gaping, line the shore. This is the putrid new world created by a toxic red algae bloom spanning 130 miles of the state's west coast, which has so far killed masses of fish, 12 dolphins, more than 500 manatees, 300 sea turtles, countless horseshoe crabs, a whale shark, and the local economy. The docks behind otherwise desirable condo buildings are surrounded by fish carcasses. The waters of the bay are dotted with them, silver and white, glinting in the hot sun, looking from a distance like the crests of thousands of small waves. At least 100 tons of sea creatures have fallen victim to the toxic bloom known as "red tide…"
Photo credit: "The shore isn't charming anymore." Ephrat Livni.