All Eyes on Florence
Hurricane Florence is still on track to impact the East Coast later this week. The image below showed Florence on Wednesday morning when it was a major category 4 storm with sustained winds of 130mph. More on Florence in the blog below…
________________________________________________________________________
Praedictix Briefing:
Key Messages:
Hurricane Florence is a Category 3 hurricane as per the latest NHC update with maximum sustained winds of 120 mph. This is still classified as a MAJOR hurricane.
Hurricane Florence remains a very concerning hurricane that will be a life-threatening, catastrophic event for the Carolinas. The slowing/stalling pattern the models are suggesting is increasing the risk considerably for the storm surge and inland flooding. Note that over half of hurricane deaths are related to water/flooding, so this is an incredibly disheartening scenario. Florence could dump up to 40 inches of rain.
Hurricane Florence will be a prolonged high-impact weather event. It is currently expected to sit offshore for about a day before moving inland. The worst elements of the storm could be felt for as long as 2 to 2.5 days in total. This is a very rare circumstance and makes this storm even deadlier.
Hurricane Florence is a LARGE hurricane and the wind field has expanded considerably in the last 24 hours. Hurricane-force winds extend outward up to 70 miles from the center with tropical-storm-force winds extending outward 195 miles, which is astonishing. Over 25 million are within the forecast cone, which extends from Virginia to Alabama.
Florence will leave a lasting impact on the Mid-Atlantic. Severe impact to infrastructure is expected, which will make travel impossible in many areas. It is imperative to be ready for a long-duration power outage for locations along within the impact zones.
Emergency Declarations continue for North Carolina, South Carolina, and Virginia. FEMA urges all in the path to complete their preparations and heed evacuation orders. For the latest resources and information provided by FEMA, go to https://www.fema.gov/hurricane-florence
Tropical Storm Joyce has formed in the Atlantic but is not a concern for land.
Tropical Storm Isaac continues to track west into the Caribbean and is expected to struggle to intensify. Tropical Storm Warnings are in effect for Martinique, Dominica, and Guadelupe. A Tropical Storm Watch is in effect for Antigua, Montserrat, St. Kitts and Nevis, Saba and St. Eustatius, and St. Martin and St. Maarten.
A tropical low in the Gulf of Mexico is likely to become our next tropical cyclone with a tropical depression expected 

tomorrow

. Locations in northeastern Mexico, Texas, and Louisiana need to monitor the development of this system.
Tropical storm conditions are currently occurring in Hawaii as Tropical Storm Olivia moves through the islands. Weather conditions will improve throughout 

Thursday

 as Olivia tracks out to sea.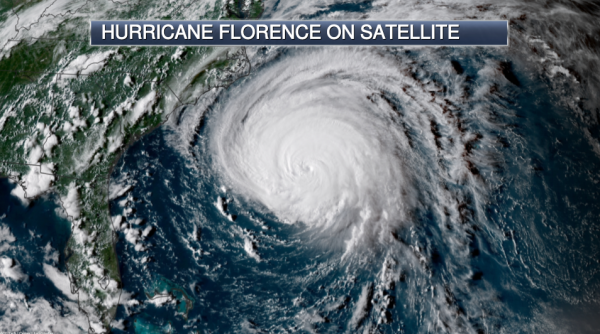 Hurricane Florence Afternoon Update. While Florence has weakened to a Category 3, it is still considered a large and life-threatening hurricane. The wind field has continued to expand, which will make its impact far and wide. This, along with a tremendous slowing pattern, also elevates the threat of a significant storm surge event. There is a narrow window left for further strengthening with Florence during the next 24 hours as warm sea surface temperatures and deep waters may aid in development. After that, Florence will begin to slow, which will likely churn up cooler waters to the ocean surface, weakening the hurricane. It will also begin to move over shallower water in roughly 48 hours, resulting in weakening. Regardless, Florence will be pounding the Carolinas with torrential rain and will push an onslaught of water into the coast and sounds with a significant, catastrophic storm surge event expected.
Florence 5 PM Forecast Track. Hurricane Florence continues to move northwest at 16 mph. By tomorrow, the outer bands of Florence will begin to impact the Carolina coast. By late tomorrow, as Florence nears the North Carolina coast, a significant decrease in speed is expected. A very slow west turn into the South and North Carolina coast will occur Friday into Saturday. This will be a LONG duration event for the Mid-Atlantic. The size, intensity, and slow track of the storm make this a recipe for catastrophic impacts. For Local Weather Service Office statements on Florence, follow this link: https://www.nhc.noaa.gov/text/refresh/index_hls1+shtml/111230.shtml
High Winds Arrive Tomorrow. Weather conditions will rapidly deteriorate tomorrow for the Carolina coasts. Hurricane Florence is a very large hurricane with tropical-storm-force winds extended 195 miles from the center and hurricane-force winds extending 70 miles from the center. The strongest of winds will be felt along the North and Carolina coasts, but tropical storm conditions are expected to extend well inland.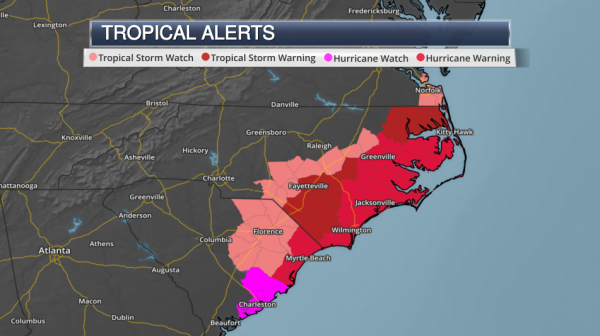 Hurricane and Tropical Storm Warnings and Watches. Damaging hurricane-force winds are likely along the coasts of the Carolinas. Winds will begin to increase tomorrow with tropical-storm-force winds expected at first. Hurricane conditions are then expected to reach the Carolina coasts by late tomorrowand Friday for areas under the Hurricane Warning.
A Hurricane Warning is in effect for…
* South Santee River South Carolina to Duck North Carolina
* Albemarle and Pamlico Sounds
A Hurricane Watch is in effect for…
* Edisto Beach South Carolina to South Santee River South Carolina
A Tropical Storm Warning is in effect for…
* North of Duck North Carolina to the North Carolina/Virginia border
A Tropical Storm Watch is in effect for…
* North of the North Carolina/Virginia border to Cape Charles Light
Virginia
* Chesapeake Bay south of New Point Comfort
Warnings indicate that either hurricane-force winds (74+ mph) or tropical-storm-force winds (39-73 mph) are expected within 36 hours. Watches means those conditions are possible within 48 hours.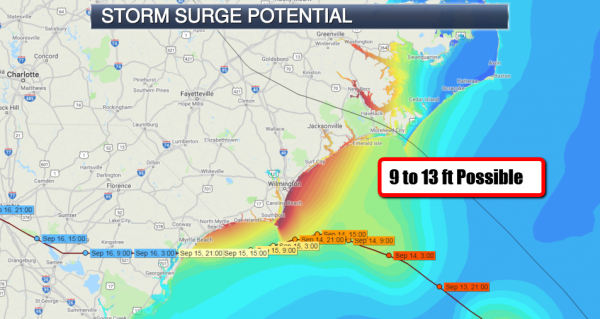 Catastrophic Storm-Surge. We have been very concerned with the projected rapid decrease in speed with Hurricane Florence. As we have been mentioning, this truly is a worst-case-scenario for those along the coast as a long-duration storm surge event is expected as walls of water will push onshore into the sounds of the Carolinas. This in combination with the high tide will result in exceptional flooding with peak surges occurring around the time of the high tide. The deepest water is expected to occur along the immediate coasts with large swells and waves expected.
Cape Fear NC to Cape Lookout NC, including the Neuse, Pamlico, Pungo, and Bay Rivers…9-13 ft
North Myrtle Beach SC to Cape Fear NC…6-9 ft
Cape Lookout NC to Ocracoke Inlet NC…6-9 ft
South Santee River SC to North Myrtle Beach SC…4-6 ft
Ocracoke Inlet NC to Salvo NC…4-6 ft
Salvo NC to North Carolina/Virginia Border…2-4 ft
Edisto Beach SC to South Santee River SC…2-4 ft
A STORM SURGE WARNING IS IN EFFECT FOR…
* SOUTH SANTEE RIVER SOUTH CAROLINA TO DUCK NORTH CAROLINA
* ALBEMARLE AND PAMLICO SOUNDS…INCLUDING THE NEUSE AND PAMLICO
RIVERS
A STORM SURGE WATCH IS IN EFFECT FOR…
* EDISTO BEACH SOUTH CAROLINA TO SOUTH SANTEE RIVER SOUTH CAROLINA
* NORTH OF DUCK NORTH CAROLINA TO THE NORTH CAROLINA/VIRGINIA BORDER
Torrential Rainfall. Florence will bring a torrent of rainfall to the Mid-Atlantic coast. The highest precipitation is looking to fall in coastal North Carolina and northeastern South Carolina with many communities in this region receiving between 20 and 40 inches of rainfall. In many cases, this amount will be a half a year's worth or more of rainfall in a matter of a few days. This, in combination with the storm surge, will make way for deadly flooding. This type of rain event is expected to produce catastrophic flash flooding and significant/historic river flooding. A Flash Flood Watch has been issued for the coastal North Carolina and northeastern South Carolina. Note that even Appalachia and the rest of the Mid-Atlantic region could see between 3 and 6 inches of rain with isolated amounts up to 12 inches.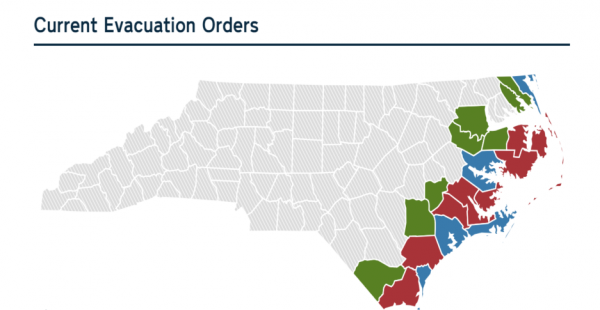 Florence Preparations. FEMA urges ALL preparations and evacuations to be completed today. Traffic remains heavy as evacuation orders are in place for 1 to 2 million. Ferry services have ceased along the Carolina coasts.  In North Carolina, officials said between 4,000 and 5,000 evacuees are already using shelters throughout the state. 300,000 people in South Carolina have already evacuated. The Charleston International Airport is closing tonight. Thousands of flight are being canceled in the Mid-Atlantic region.
State emergency management offices have more on how states are preparing for the storm and what areas are under evacuations:
South Carolina: https://www.scemd.org/ 
North Carolina: https://www.ncdps.gov/florence 
Virginia: https://www.vaemergency.gov/
Georgia: http://www.gema.ga.gov/Pages/default.aspx
An Active Atlantic. It is incredible to see the current cyclone activity in the Atlantic with 4 named storms as of 5 PM this evening. Tropical Storm Joyce has formed in the Atlantic but does not pose a threat to land. Helene is not an issue either. We are currently monitoring Tropical Storm Isaac, who continues its westward track through the rest of the week. Little intensification is expected at this time as it continues to battle a high shear environment. The following is a summary of the watches and warnings in effect related to Tropical Storm Isaac:
A Tropical Storm Warning is in effect for…
* Martinique
* Dominica
* Guadeloupe
A Tropical Storm Watch is in effect for…
* Antigua
* Montserrat
* St. Kitts and Nevis
* Saba and St. Eustatius
* St. Martin and St. Maarten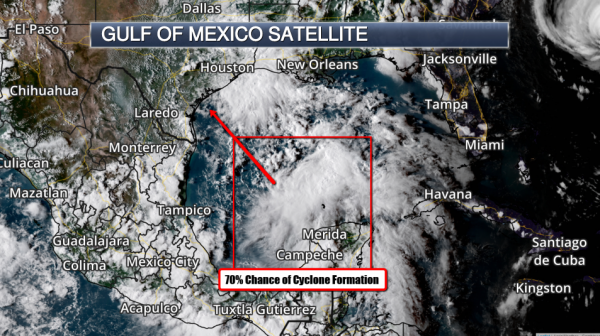 Tropical Depression in the Gulf Expected Tomorrow. There is a 70% chance of tropical cyclone formation with the low in the Gulf of Mexico. This is a system that we have been monitoring for the last few days. It is expected to become a tropical depression sometime tomorrow before reaching the Gulf coast. Those in northeastern Mexico, Texas, and Louisiana will need to closely monitor the system as it continues to develop.
Tropical Storm Olivia. Hawaii is currently feeling the impact of Tropical Storm Olivia. It made a brief landfall over northwest Maui with a second landfall in Lanai as it continues to track west. Flooding and winds up to 45 mph have been reported. Flooding and high surf will continue to be a problem into tomorrow. Power outages have been reported for the islands. Olivia will be departed to the west in the next 12 to 24 hours with weather conditions improving greatly by tomorrow. A Tropical Storm Warning remains in effect for Oahu and Maui County.
Susie Martin, Meteorologist, Praedictix
____________________________________________________________________
Tropical Climatology
This is neat map from NOAA's NHC, which shows where we typically see tropical cyclones develop during the middle part of September. Keep in mind that September 10th is the average peak of the Atlantic Hurricane Season, so this is typically the most active time for the Atlantic.
______________________________________________________________________
Average Peak of Atlantic Hurricane Season
According to NOAA, the average peak of the Atlantic Hurricane Season is on September 10th. Note that activity (on average) in late June and early July remains pretty tame. Things really start to heat up in August and September though!
_____________________________________________________________________________
2018 Lightning Fatalities – EIGHTEEN
Did you know that lightning ranks as one of the top weather related killers in the U.S.? An average of nearly 50 people are killed each year in the United States and so far this year, 18 people have died from lightning; 14 have been males and only 4 have been females. Interestingly, from 2008-2017, 234 males have died, while only 65 females have died.
See Lightning Safety Tips From NOAA HERE:
__________________________________________________________________________
PRELIMINARY Tornado Count This Year
According to NOAAs SPC, the PRELIMINARY tornado count across the US this year stands at 809 (through September 10th). Note that this is less than the last couple of years, but more than what we had in 2013. Keep in mind that the short-term average (2005-2015) suggests an average of more than 1,202 tornadoes.

_________________________________________________________________________
Average Tornadoes in August By State
Here's the average number of tornadoes during the month of September by state. Florida sees the most with 8, while Minnesota averages only 2 tornadoes.
_____________________________________________________________
3-7 Day Hazard Forecast
1.) Heavy rain across south Texas, Fri-Sat, Sep 14-Sep 15.
2.) Heavy rain across the Pacific Northwest, Fri-Sat, Sep 14-Sep 15.
3.) Heavy rain across portions of the upper Midwest, Sat-Mon, Sep 15-Sep 17.
4.) Heavy rain across the Southeast, Mid-Atlantic, and central and southern Appalachians, Fri-Tue, Sep 14-Sep 18.
5.) Heavy rain across the interior northeast, Mon-Tue, Sep 17-Sep 18.
6.)Flooding possible across portions of the Southeast, Mid-Atlantic, and Appalachians.
7.) Flooding occurring or imminent across portions of the Upper and Middle Mississippi Valley, the Central Plains, the Mid-Atlantic, and southern Texas.
8.) Flooding likely across portions of the South Texas.
9.) High winds across southeast Texas, Fri-Sat, Sep 14-Sep 15.
10.) High winds across portions of the Southeast and the Mid-Atlantic, Fri-Sun, Sep 14-Sep 16.
11.) Much below normal temperatures across portions of the Northern Plains and the Northern Rockies, Tue, Sep 18.
12.) High significant wave heights for coastal portions of the Southeast and the Mid-Atlantic, Fri-Sun, Sep 14-Sep 16.
13.) Slight risk of much below normal temperatures for portions of the Northern Plains, the Northern Rockies, and portions of the Upper Mississippi Valley and Western Great Lakes, Wed-Thurs, Sep 19-Sep 20.
14.) Slight risk of much below normal temperatures for the interior northeast and New England, Thurs-Tue, Sep 20-Sep 25.
15.) Slight risk of heavy precipitation for portions of the Central Plains and parts of the Upper and Middle Mississippi Valley, Wed-Thu, Sep 19-Sep 20.
16.) Slight risk of heavy precipitation for the Mid-Atlantic and Northeast, Wed-Thu, Sep 19-Sep 20.
17.) Severe Drought across portions of the Great Plains, the Southwest, the Central and Southern Rockies, parts of southern California, the Pacific Northwest, the northern intermountain region, the Middle and Lower Mississippi Valley, and parts of the northeast.
_______________________________________________________________________
 Temperature Anomaly on Wednesday
The temperature anomaly across North America on Wednesday showed temperatures above avearge across much of the Intermountain West through the eastern half of Canada. However, cooler than average weather was across the central and southern US and the western of Canada.
Temperature Trend
Here's the temperature anomaly as we through the middle part of the month. Note that much warmer than average temperatures will take over much of the Lower 48 with the exception of those along the West Coast. These warmer than average temps will likely stick around over the next few days. However, we're getting indications of cooler than average temps across the northern tier of the nation during the 3rd full week of September.
8 to 14 Day Temperature Outlook
According to NOAA's CPC, September 19th – 25th will be warmer than average across much of the nation, while, slightly cooler than average temps will be found in the Great Lakes Region.
________________________________________________________________
Weather Outlook Ahead
The weather loop below shows active weather across the Eastern US as Hurricane Florence nears the coast at the end of the week. This will create life-threatening conditions for folks there with strong winds, storm surge and flooding rains. There will also be continued heavy rains for folks along the Texas Coastline, while much of the rest of the nation will be fairly quiet. Isolated showers and storms will rumble across the International border while some in the northern Rockies could see a little wet snow at times.
___________________________________________________________________
7 Day Precipitation Outlook
YIKES – According to NOAA's WPC, the 7-day precipitation outlook suggests areas of very heavy rain along the Mid-Atlantic coastine as hurricane Florence moves in. Some forecasts are suggesting up to as much as 40″ in spots, which could be life-threatening! Another area of heavy rain will be found in Texas, where several inches of tropical moisture will be found.
_______________________________________________________________________________
US Drought Outlook
Here is the national drought map from September 4th, which shows extreme and exceptional drought conditions across much of the Four-Corners region and for a few areas in the Central and Southern Plains. The good news is that several locations in the Central and Southern US have had some fairly good rains over the recent days/week and there is more on the way so some improvement is being seen there.
_______________________________________________________________________
"How Does The Weather Affect Our Mental Health?"
"There's a difference between SAD and simply feeling 'groggy' when summer ends. The other day, a straw poll of my closest friends revealed the majority have been feeling groggier, more lethargic and generally "pretty crap" (as summarised by one particular friend) since the Mediterranean-style summer came to an abrupt halt and British weather returned to business-as-usual. After temperatures in the late 30s were reached across the UK in July and August, the beginning of September has seen greyer skies, rain and conditions resuming to the cooler high teens and early 20s. So, could the end of summer be behind this apparent change in mood? The answer is, of course, that it's not quite that simple. Below, we explore the relationship between the weather and how it makes us feel."
"Why mandatory evacuations don't always chase away everybody"
"With Hurricane Florence spinning through the Atlantic Ocean and threatening to slam into South Carolina later this week, Gov. Henry McMaster ordered mandatory evacuations for the state's entire coastline beginning at noon Tuesday. All lanes on multiple roadways will lead to safety, too. The Palmetto State, for the third straight storm season, will reserve lanes on multiple major highways – including Interstate 26 between Charleston and Columbia – to push all vehicle traffic away from an approaching hurricane that could be poised to become the southeastern United States' next Hurricane Hugo. "We are not going to gamble with the lives of the people of South Carolina," McMaster said. While evacuation orders are issued by states as a protective action in disaster events such as hurricanes and wildfires, they are sometimes ignored by people – whether it's because they didn't believe the warnings, didn't have the financial means or refused to abandon friends, family or pets."
______________________________________________________________________________
"The Colorado River is evaporating, and climate change is largely to blame"
"An hour's drive from Las Vegas stands America's Hoover Dam, a commanding barrier of concrete holding back the trillions of gallons of Colorado River water held inside Lake Mead. The dam is a proud place, built by thousands of hands and with 5 million barrels of concrete. Its golden elevator doors, Gotham-esque pillars, and stoic guardian angel statues line the lofty walkways atop the structure. A U.S. flag beating patriotically over the desert gets swapped out every few days, and then put out for sale in the visitor center. Yet, in the 80 years since the great dam's completion, the 1,450-mile Colorado River – which sustains some 40 million Americans in places like Phoenix, Las Vegas, and Los Angeles — has been gradually growing weaker, and the water level beyond the noble dam has fallen considerably over the last two decades. The writing is easily spotted on the steep rocky walls of the Lake Mead reservoir, where a bathtub-like ring shows where the water once sat during more fruitful times."
______________________________________________________________________________
"The rooms in your house you should avoid during an electrical storm"
"A meteorologist has revealed what people should do during an electrical storm. Sydney was battered by a horrific storm on Friday, with the city's southern part copping the brunt of the weather leaving the Pacific Highway blanketed in a white layer from hail. Severe thunderstorm warnings were also issued across NSW by the Bureau of Meteorology. Dr Ian Shepherd, the manager of the Northern Territory Severe Weather section at BOM, told Yahoo7 the safest places to be and where to avoid during a severe electrical storm. He said the safest place would be any room inside the house, preferably one without windows. "Even if lightning strikes the outside of your house, it could blow bits of wood or debris towards the window," Dr Shepherd said. He also recommended not getting "caught out in the open" and to find shelter inside, "even if it's in your car".  "As long as you are not touching the outside metal sections of your car you will be safe in there," Dr Shepherd said. He told the ABC people should avoid standing near trees because lighting can be attracted to them."
_____________________________________________________________________________
"This Is the Future of Hot-Weather Marathoning"
"Participants in this year's Boston Marathon may beg to differ, but there's no greater impediment to running success than hot weather. Last November, the New York Times published an analysis of how rising temperatures impact marathon performance. Comparing almost five million finishing times over the course of the 20 years, the Times article found that when temperatures are in the 60s, recreational runners ran an average of 12.5 minutes slower over 26.2 miles than when temps were in the 40s—the meteorological sweet spot. On days over 70 degrees, the difference was 19 minutes. For professionals, the impact was less severe: even on days in the 70s, elites averaged a slowdown of only four minutes.
But even the pros aren't impervious. Just ask Scottish marathoner Callum Hawkins who, in April, appeared certain to win the Commonwealth Games marathon before heat exhaustion caused him to collapse just past the 40K mark. Meanwhile, an ill-timed heat wave at last week's European Athletics Championships in Berlin turned the marathon and 10,000-meter races into brutal contests of attrition. Local favorite Richard Ringer, who in May ran the fastest 10,000 of any European in 2018, ended up dropping out of the race in Berlin."
Thanks for checking in and don't forget to follow me on Twitter @TNelsonWX