Quiet Here – Wild Extremes Around the World
Wild swings in weather are a perverse source of job security for Minnesota meteorologists. Rarely is there a shortage of things to babble about. Unusually cool weather in late July and early August will put a lid on any severe threat – we won't be chatting up drippy dew points or hideous heat indices anytime soon.
An unusually high-amplitude pattern (a much wavier jet stream pattern than usual) is creating amazing extremes across the northern hemisphere.
After 70-inch rains and historic flooding, Japan just experienced their hottest temperature ever recorded: 106F. Severe heat has pushed temperatures across Scandinavia, Europe and Russia as much as 20-40F warmer than average, sparking raging wildfires. And the east coast of the USA is enduring an extended deluge, with widespread flash flooding.
Enjoy a dry, delightfully-boring Tuesday with mid-80s. T-storms Wednesday mark the leading edge of an autumnal airmass. Behind the front readings may not climb out of the 60s Thursday with gusty winds.
Cool weather spills into early August but I daresay we haven't seen the last of "stinking hot".
---
First Whiff of Autumn. NOAA model ensembles show a sharp cooling trend for much of the nation from late July into early August. That said, it would be premature to write off summer heat just yet.
---
---
Cool, Comfortable Start to August. At least in Minnesota and much of the Upper Midwest  and Great Lakes. The rest of the USA, not so much, as intense heat lingers from the Desert Southwest into New England.
---
---
---
---
Peak Summer. Althought Minnesota is past-peak and average temperatures are starting to (slowly) fall, much of the south central USA, south Florida, the west coast and Pacific Northwest doesn't experience the hottest weather until August, even September. Source: NOAA.
---
Praedictix Briefing: Issued Monday morning, July 23rd, 2018:
After very heavy rain this weekend across parts of the Northeast and Mid-Atlantic – including in the D.C. area, where 4-6" of rain fell

on Saturday

– additional rain is expected through the first half of the week across these regions. This will be due to a stalled out system with tropical moisture streaming northward.
Several more inches of rain will be possible through the first half of the week due to multiple rounds of rain. This heavy rain will bring the renewed chance of more flash flooding across the region.
Heavy Rain On The Way. As we enter the new work week, we are tracking a stalled out frontal boundary across parts of the Southeast and Mid-Atlantic. This front is helping to bring a plume of tropical moisture northward, leading to numerous rounds of showers and storms through the middle of the week for the Mid-Atlantic and Northeast. Unfortunately, this rain will be falling in some areas that received heavy rain this past weekend, meaning that the ground is already saturated and river levels are elevated. Due to these conditions, flash flooding will be possible over the next several days from North Carolina into Pennsylvania and New York State. Numerous Flash Flood Watches are in effect across these regions, including the following locations:
Raleigh, NC: Until

2 AM

Wednesday

.
Washington D.C: Until

4 AM

Tuesday

.
Baltimore, MD: Until

4 AM

Tuesday

.
Philadelphia, PA: Until

4 AM

Tuesday

.
State College, PA: Until

8 PM

Wednesday

.
---
Excessive Rainfall Outlooks. Due to the potential of heavy rain on top of already saturated soil, the Weather Prediction Center has placed a Moderate Risk of excessive rainfall that could lead to flash flooding across parts of the East Coast each day from today to Wednesday. Today the highest potential of flash flooding is found from the D.C. area into parts of southeastern Pennsylvania. This area expands to include parts of the Virginia Appalachian Mountains and more of eastern and central Pennsylvania on Tuesday. Wednesday the highest flood threat moves north across parts of northeastern Pennsylvania into central New York State.
---
Southeast Rain Through 7 PM Wednesday. Heavy rain will be possible today into Tuesday across parts of North Carolina, where 2-4" of rain is expected with locally higher amounts. Some of the heaviest rain is expected to fall near the coast, where totals could top 6" near New Bern through Wednesday. While the heaviest rain in these areas is expected over the next 36-48 hours, at least scattered storm chances are expected to continue through the end of the week. (Map credit: AerisWeather and Praedictix.)
---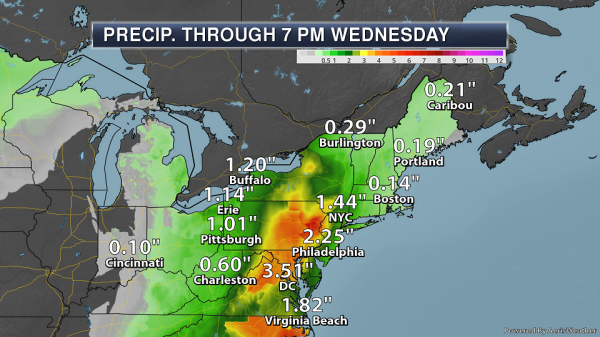 Northeast Rain Through 7 PM Wednesday. Rainfall amounts of at least 2-5" will be possible through the middle of the week across parts of the Northeast, particularly from Virginia into New York State. This additional rainfall will cause the potential of flash flooding, especially in areas that saw heavy rain earlier this weekend. The good news is that a cold front will push through during the second half of the week, helping to push this system out of the region and lowering the heavy rain threat.
D.J. Kayser, Meteorologist, Praedictix
---
---
The Japanese Government is Tweaking Its Heatwave Index for People with Colorblindness. Is this an issue in the United States? That was my first question after reading a post at Quartz; here's an excerpt: "…The Ministry of Environment's Wet Bulb Globe Temperature (WBGT) index, which gives citizens a daily color-coded predictor of their location's temperatures, currently marks heat stroke danger zones with the color red, and safe zones with the colors blue and green. But this can cause confusion for people who have color vision impairments. For instance, for those who have trouble seeing the color red, the index and color scale appear like a mess of mustard and brown hues. An estimated 3 million Japanese—5% of men and 2% of women—have some form of colorblindness or shikikaku ijo. Japan's Ministry of Environment announced on Wednesday (July 18) its plans introduce new colors to its heat map index next year, specifically for the purpose of making sure these people are getting the right information, at-a-glance…"
Image credit: "How people with red-green colorblindness (deuteranopia) sees the index, generated with Adobe Illustrator's Color Blind Proof Setup Mode." (Quartz)
---
Taking Responsibility for Storm Safety. At the end of the day government and media hand-holding only goes so far. Yes, the (Doppler) technology is amazing, the National Weather Service does a consistently good job getting watches and warnings out, and meteorologists frame the threat as best they can in print, TV, radio and online. But situational awareness is critical: being "weather aware", keeping tabs on rapidly changing weather conditions. When you're outside it's easy to lose track, but having apps that send out notifications (warnings, etc) and the ability to check radar before heading onto a lake or a golf course is essential. Don't assume that the people "in charge" of an outdoor event are keeping up with the weather. When it comes to weather, it's good to be perpetually paranoid. Because at the end of the day the government won't save you and the media won't save you – only you can take steps necessary to lower risk. it's up to all of us to be personally responsible for the safety of ourselves, and our families.
---
Only 6 Tornado Reports in Minnesota, To Date. Most were relatively small touchdowns in the Red River Valley. For most of the summer it's been too hot and dry aloft, with insufficient wind shear required to generate large, violent tornadoes. Graphic: NOAA SPC.
---
---
Potential for El Nino Phase Grows. According to NOAA CPC there's a 70% probability of an El Nino warm phase in the Pacific Ocean by the winter months. Details via IRA at Columbia University: "The following graph and table show forecasts made by dynamical and statistical models for SST in the Nino 3.4 region for nine overlapping 3-month periods. Note that the expected skills of the models, based on historical performance, are not equal to one another. The skills also generally decrease as the lead time increases. Thirdly, forecasts made at some times of the year generally have higher skill than forecasts made at other times of the year–namely, they are better when made between June and December than when they are made between February and May. Differences among the forecasts of the models reflect both differences in model design, and actual uncertainty in the forecast of the possible future SST scenario…"
Beyond Elon Musk's Drama, Tesla's Cars Are Thrilling Drivers. WIRED.com reports: "…Potential electric car buyers are often worried about how the machines will hold up over time. EVs haven't been around long enough, in large enough numbers, to convince them one way or another. And while they come with simpler drivetrains that reduce maintenance costs over internal combustion engines, they also carry enormous battery packs that can make the uninitiated nervous. But some evidence from taxi service Tesloop should help assuage concerns. The company, which offers rides between cities in southern California and Nevada, published a blog post this week saying its Model S 90D had passed 400,000 miles and transported thousands of passengers. That certainly makes it one of the world's best-traveled Teslas, and Tesloop says the seats and interior have held up well…"
Photo credit: "While Elon Musk lights the world on fire via Twitter, his cars are setting range records and impressing analysts." Stephen Lam/Reuters.
---
Best Buy Should be Dead, But It's Thriving in the Age of Amazon. It's all about personal tech and value added customer support, argues a story at Bloomberg Businessweek: "…Best Buy, the last national electronics chain, is counting on these advisors to distinguish it from Amazon.com Inc., the company's competitor, partner, and would-be vanquisher. With more than 1,000 big-box stores in North America and about 125,000 employees, Best Buy was supposed to have succumbed to the inevitable. "Everyone thought we were going to die," says Hubert Joly, who was hired as chief executive officer in August 2012 after profits shrunk about 90 percent in one quarter and his predecessor resigned amid an investigation into his relationship with an employee. Instead, Best Buy has become an improbable survivor led by an unlikely boss. Joly was raised and educated in France, trained at McKinsey & Co., and previously employed by hospitality company Carlson, based outside Minneapolis, and media conglomerate Vivendi SA, where he greenlighted a little game called World of Warcraft…"
Photo credit: "Advisor Jess Kordash making a house call." Photographer: David Williams for Bloomberg Businessweek.
---
Disposable America. The history of the straw tells us a lot about the march of "progress" over the year. Here's a clip from a story at The Atlantic: "…Meanwhile, the country has shed manufacturing jobs for decades, straws contribute their share to a dire global environmental disaster, the economy continues to concentrate wealth among the very richest, and the sodas that pass through the nation's straws are contributing to an obesity epidemic that threatens to erase many of the public health gains that were won in the 20th century. Local governments may legislate the use of the plastic straw, but they can't do a thing about the vast system that's attached to the straw, which created first disposable products, then companies, and finally people. The straw is the opposite of special. History has flowed around and through it, like thousands of other bits of material culture. What's happened to the straw might not even be worth comment, and certainly not essay. But if it's not clear by now, straws, in this story, are us, inevitable vessels of the times in which we live."
Photo credit: "The first McDonald's that Ray Kroc opened in Des Plaines, Illinois, is now a museum dedicated to the burger chain." (Reuters/Frank Polich)
---
The Head-Spinning Challenge of Teaching Helicopters to Fly Themselves. My Navy son, who flew MH-60 helicopters in the South China Sea and Persian Gulf, was slightly reassured to see this post at WIRED.com; here's a clip: "…Even in a world where planes spend most of their time on autopilot and robo-cars are roaming cities all over the world, teaching a helicopter to fly itself is a gnarly problem. These workhorses must be able to hover over ships bobbing up and down on rough seas, and descend onto oil rigs in gusting winds. They have to dodge power lines and cell towers that may not show up on navigation charts, and balance single skids on sheer cliffs in order to rescue injured climbers. "Helicopters have very high crew workloads and obstacle-rich environments," says Chris Van Buiten, vice president of Sikorsky Innovations, the division of the Lockheed Martin-owned company that's pursuing autonomous flight..."
Photo credit: "Sikorsky has been testing its self-flying helicopter since 2013, part of a long-term effort to let these flying workhorses handle human cargo without human pilots." Lockheed Martin.
---
Why Do People Believe the Moon Landing Hoax or Other Conspiracy Theories? The Washington Post wades into the intellectual (swamp); here's an excerpt: "Forty-nine years ago Friday, the Apollo 11 spacecraft delivered the first astronauts to the surface of the moon. The footprints Buzz Aldrin left in lunar soil are still around — and so are the throngs of conspiracy theorists who claim the entire landing was faked. For one thing, they argue, the flag the crew planted seemed to flutter in videos, which shouldn't happen since there's no wind on the moon. Besides, wouldn't mini-meteors have killed the astronauts the moment they ventured outside? The "moon landing hoax" was among the first conspiracy theories to gain traction with the American public. In the years since, the theories have multiplied like jack rabbits, swarming all corners of the cultural landscape…"
Photo credit: "Conspiracy theorists say a flag that appears to be flapping in a nonexistent breeze is evidence the moon landing was faked." (NASA).
---
Hecker's Tale of Hubris Should Be a Lesson For Us All. An editorial at Automotive News caught my eye: "…It would be insulting to auto retailers everywhere to suggest they are epitomized by this former Minnesota-based megadealer and leasing giant, whose story of flagrant greed and avarice is legendary. But dealers might heed Hecker on the subject of how quickly and horrifically things can go off the rails in the business of building and maintaining an auto retail empire. Hecker's high-flying success and over-the-top lifestyle exploded into a public fireball nearly a decade ago, and, as he made clear in an interview with Automotive News this month, he both packed the combustible materials and lit the fuse…"
---
Free Chik-fil-A for Life? She earned it the hard way. CNN reports on an unlikely introduction to the world: "Gracelyn Mae Violet Griffin already had a "Little Nugget" onesie picked out for her before she arrived in the world.  So it was only fitting that mom Falon gave birth to her in the restroom of a San Antonio Chick-fil-A.  "Her birth certificate reads 'Born in Chick-Fil-A' and (t)he hospital had me sign the birth certificate as the attending physician," proud dad Robert wrote in a Facebook post.  In celebration of her birth on Tuesday, the newborn will get free food for life at her parents'…"
---
People Don't Buy Products. They Buy Better Versions of Themselves. Self-medicating via consumption, right? Food for thought from Medium: "…Consider Apple. To be an Apple user — at least in the era of Jobs — was to "think different." Critics might laugh at that characterization of an Apple user now, given the homogeneity and ubiquity of Apple products, especially among the wealthy. But those critics would miss what Apple didn't: people don't buy products because of what those products do, they buy products because of what they can do — or what they imagine they can do — with them. This idea even permeates Apple's retail strategy. Apple employees will never show you how a product works, rather they will let you use it, forcing you to familiarize yourself with the product, yes, but more importantly, yourself in its presence. A diverse range of product options to choose from, after all, will never be as captivating as a homogenous product that turns you into a superhero — and Apple has the latter in spades..."
Image credit: Apple.
---
The 4-Day Work Week Works. So Why Aren't We Using It? Great question! Food for thought from Big Think: "A study conducted by a New Zealand business confirmed what many of us have felt on Friday afternoons: a 5-day work week really isn't that effective. The study went one further and gave credence to slackers everywhere: a 4-day work week is actually more productive than a 5-day work week.  Perpetual Guardian, a wealth management firm in Wellington, New Zealand ran the experiment for 8 weeks and hired two researchers to report back on the findings of the study. According to the New York Times, employees saw a 24% increase in productivity and a better work-life balance. That's not all: all meetings were truncated from two hours to half an hour each. Sound like heaven in an office setting?…"
---
He Just Graduated from College and Wants To Be An Astrophysicist. He's 11 Years Old. CNN has the remarkable story: "He can't vote. He's not even old enough to drive. But William Maillis already has a college degree. William, 11, walked across a stage Saturday to receive his Associate in Arts degree from St. Petersburg College in Florida. William started college in 2016 after graduating high school at age of 9. His parents say he was always on the "fast track." By the age of 2 he was doing simple math and by 4 he learned algebra…So what's next? He plans to continue his education and will begin classes next month at the University of South Florida. "I want to be an astrophysicist," William told CNN affiliate Bay News 9. "I want to prove to the world that God does exist through science." His goal is to complete his doctorate by the time he's 18 — the age many people are when they begin college…"
---
85 F. high yesterday in the Twin Cities.
83 F. average high at MSP on July 23.
79 F. high on July 23, 2017.
July 24, 1987: A historic deluge ends in the Twin Cities. Two-day totals include over a foot of rain at Bloomington. Nearly 10 inches falls in downtown Minneapolis, and near 9 inches is recorded in St. Paul. At one time the water reaches a depth of 13.5 feet on I-494 near East Bush Lake Road. I-494 in Bloomington would be closed for nearly 5 days.
July 24, 1891: Heavy frost hits Elkton in Mower County in southeast Minnesota. The frost kills all vegetable crops. The low in Elkton is 34, and the Twin Cities have a low of 49.
---
TUESDAY: Warm sunshine, still feels like July. Winds: NW 10-15. High: 85
TUESDAY NIGHT: Partly cloudy and mild. Low: 67
WEDNESDAY: Muggy with a few T-storms likely, some heavy. Winds: SW 10-15. High: 81
THURSDAY: What July? Windy with a PM shower. Winds: NW 15-25. Wake-up: 59. High: near 70
FRIDAY: More sun, less wind, low humidity. Winds: NW 10-15. Wake-up: 56. High: 76
SATURDAY: Lukewarm sun, late T-shower risk. Winds: W 7-12. Wake-up: 61. High: 79
SUNDAY: Sunny start, chance of late-day shower. Winds: W 5-10. Wake-up: 62. High: near 80
MONDAY: Sunnier and warmer again. Winds: NW 5-10. Wake-up: 63. High: 83
---
Climate Stories….
The World's Biggest Farms Pollute More Than Any Oil Company. Here's an excerpt of a post that has some surprising perspective on carbon emissions, courtesy of Quartz: "The world's biggest meat and dairy operations combined pump more greenhouse gas into Earth's warming atmosphere than any one of the largest fossil-fuel giants. A report published this week by the nonprofit Institute for Agriculture and Trade Policy (IATP) shows the top five animal agriculture companies emit more greenhouse gases than Exxon-Mobil, Shell, or BP…As the researchers point out, massive meat and dairy companies have for years managed to escape much criticism of their collective environmental impact, unlike petroleum companies such as Exxon-Mobil and Shell. That's, in part, because most of them don't make public data on their greenhouse gas emissions…"
Photo credit: "An industry that leaves its mark." (Reuters/Jeff Green).
---
Why Nuclear Power Must Be Part of the Energy Solution. Here's a clip from an Op-Ed at Yale E360: "…Like all energy sources, nuclear power has advantages and disadvantages. What are nuclear power's benefits? First and foremost, since it produces energy via nuclear fission rather than chemical burning, it generates baseload electricity with no output of carbon, the villainous element of global warming. Switching from coal to natural gas is a step toward decarbonizing, since burning natural gas produces about half the carbon dioxide of burning coal. But switching from coal to nuclear power is radically decarbonizing, since nuclear power plants release greenhouse gases only from the ancillary use of fossil fuels during their construction, mining, fuel processing, maintenance, and decommissioning — about as much as solar power does, which is about 4 to 5 percent as much as a natural gas-fired power plant..."
---
Climate Change is a Top Spiritual Priority for These Religious Leaders. The Washington Post has the story; here's an excerpt: "…For humans to cause species to become extinct and to destroy the biological diversity of God's creation; for humans to degrade the integrity of Earth by causing changes in its climate, by stripping the Earth of its natural forests, or destroying its wetlands; for humans to injure other humans with disease, for humans to contaminate the Earth's waters, its land, its air, and its life, with poisonous substances," he told a crowd that included ­then-Interior Secretary Bruce Babbitt. "These are sins." Pope Francis has likewise drawn global attention to environmental activism: On the same day Bartholomew was concluding his conference in Greece, the pope brought the leaders of multinational energy and investment firms to the Vatican to discuss the path forward on climate change…"
Photo credit: "Orthodox Ecumenical Patriarch Bartholomew of Constantinople releases a falcon rehabilitated by Anima in Spetses, Greece." (Sean Hawkey)
---
House Votes to Denounce Carbon Taxes. Where Was the Climate Solutions Caucus? InsideClimate News has the latest: "The U.S. House of Representatives on Thursday passed a resolution denouncing the idea of a U.S. carbon tax as detrimental to the economy, one week before a Republican-sponsored bill to create a carbon fee is set to be introduced. It was a win for a coalition of groups funded by the petrochemical billionaire Koch brothers and other wealthy, right-wing opponents of climate action. And it revealed weak resolve for bucking GOP leadership among most of the 43 Republican members of the Climate Solutions Caucus. If the bipartisan caucus had held firm, the resolution would have been handily defeated. Instead, only six Republicans—four of them caucus members, including Rep. Carlos Curbelo of Florida, who plans to unveil the carbon fee measure next week—joined most Democrats in opposing the resolution. Seven Democrats voted with the GOP..."
---
Judge Waves Off NYC Climate Suit: Headlines and links courtesy of Climate Nexus: "A federal judge on Thursday dismissed a lawsuit brought by the city of New York against five major oil companies seeking damages for the impacts of climate change. US District Judge John Keenan wrote in his decision that the named companies–Exxon, BP, Shell, ConocoPhillips and Chevron–do not contest that climate change is a "fact of life," solutions "must be addressed by the two other branches of government." The decision mirrors a ruling last month in California, where a judge threw out a suit brought by San Francisco and Oakland on the grounds that solutions to climate change were a better fit for the executive and legislative branches. NYC representatives say the city, which announced in January plans to divest its $189 billion public pension fund from fossil fuels, will appeal the judge's decision." (New York Times $, Reuters, CNBC, AP, Bloomberg, The Hill, ThinkProgress, InsideClimate News, NY Daily News, New York Post, Washington Examiner)
File image: UK Met Office.