A Start to November Like No Other
"Those who don't believe in magic will never find it" wrote British novelist Roald Dahl. This week has been the definition of magical, an almost out-of-body weather experience. Want to de-stress? Just walk out the door (without your phone).
Today's record high in the Twin Cities is 73F, and we stand a good chance of breaking it, which would be the third record high this week.
The sun stays out into much of Sunday – plenty of time to rake the yard. Today will be breezy; tomorrow and Sunday will qualify as "windy" with gusts over 30 mph at times.
Much of the western USA is experiencing severe to extreme drought and pockets of moderate drought are showing up on the North Shore. It looks like we may be sliding into a wetter, sloppier pattern by mid November, but any rain showers late Sunday and Monday will be just enough to settle the dust. Models hint at wet snow Tuesday night; a few inches of slush can't be ruled out.
What a weather honeymoon its been. And to think, 17 days ago we were knee-deep in snow.
---
---
---
---
---
---
---
Balmy (Gusty) Weekend, Then Cooling Off Next Week. NOAA NDFD data shows MSP metro temperatures near 70F Saturday and Sunday (I suspect it will be a few degrees warmer) before temperatures cool down Monday, with enough cold air potentially in place for wet snow by Tuesday night. Map sequence: Praedictix and AerisWeather.
---
20-25F Above Normal Into Sunday. ECMWF (above) shows a return to seasonably chilly weather next week, with temperatures a few degrees below average by Tuesday. Not exactly arctic, but a definite reality check. MSP Meteogram: WeatherBell.
---
What La Nina? ECMWF seasonal climate outlooks predict December through February mean temperatures 2-5F warmer than normal across most of the lower 48; only Alaska predicted to enjoy a colder than average winter. We'll see.
---
---
Stormier, Wetter Pattern Returns by mid-November. All signs point to an inevitable buckling of jet stream steering winds, with enough southern moisture and Canadian chill in place for possible rain-ice-snow events within 1-2 weeks. After this week we're probably due for a rude reversal in our weather fortunes.
---
Praedictix Briefing: Issued Thursday, November 5th, 2020:
Tropical Depression Eta
Eta Inland Over Central America. Eta has continued to weaken and become disorganized across Central America, and there's the potential that there may no longer be a surface circulation. As of 3 AM CT, the National Hurricane Center said that center of circulation was located about 90 miles south of La Ceiba, Honduras, with sustained winds of 30 mph.
---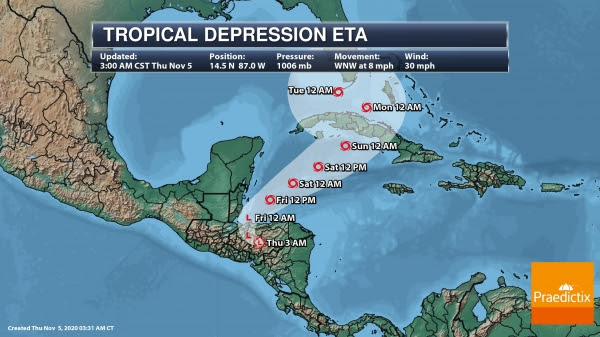 ---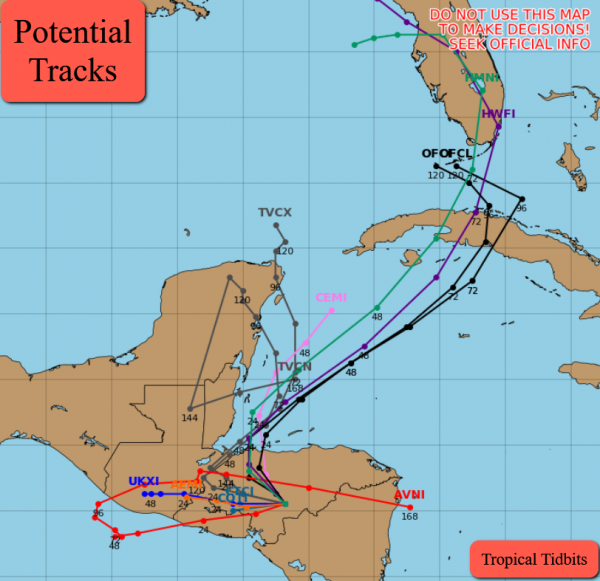 Tracking The Future Of Eta. Eta is expected to become a post-tropical low later today (if it hasn't already happened). We should see whatever is left of the system move into the Gulf of Honduras and the northwestern Caribbean Sea as we head into Friday and move northeast over the next 2-4 days before eventually turning west or northwest. This track would bring Eta near or over portions of the Cayman Islands and western/central Cuba into the weekend. Only slow strengthening is expected to occur once it moves back over the northwestern Caribbean due to strong upper level winds and the broad nature of the system. As we head into early next week, the track could bring the system near or over portions of southern Florida and the Keys, but there is uncertainty as to what exactly will happen. However, facilities in the area should continue to watch this storm over the next several days.
---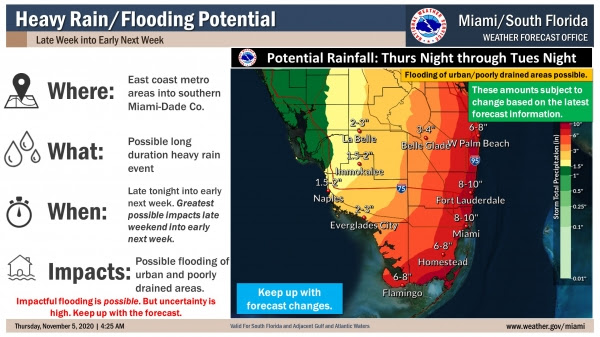 Southern Florida Heavy Rain. What does appear to be likely is the potential of heavy rain through early next week across southern Florida, particularly across areas of coastal southeastern Florida. Through next Tuesday, areas like Miami and Fort Lauderdale could see at least 8-10" of rain, which could lead to flash flooding.
D.J. Kayser, Meteorologist, Praedictix.
---
What is a "Super-Typhoon" and Why Are They So Dangerous? WIRED.com (paywall) has a good explainer; here's an excerpt: "…Meteorologically, typhoons and hurricanes are the same phenomenon; it's just traditional to call them typhoons in the western Pacific or hurricanes in the eastern Pacific or Atlantic. They start as storms that pass over hot surface water, at least 80 degrees Fahrenheit, down to 150 feet deep. These storms suck up water from the ocean's surface, which evaporates into the air. As they rise, the water vapor condenses to form droplets, releasing more energy, while low pressure beneath the rising air masses brings in a rush of more air. A tropical storm officially turns into a hurricane when these counter­clockwise winds reach 74 miles per hour. Meteorologists applied the "super" designation to Typhoon Goni after it reached wind speeds of 150 miles per hour..."
---
What Happens When You Fly a Science Plane Through Wildfire Smoke. WIRED.com (paywall) has details: "…Wildfire smoke is made up of two components: gases and particulates. The gases include carbon monoxide and dioxide, while particulates are tiny bits of charred vegetation. When a wildfire burns intensely, its heat drives air upward, carrying all this muck high into the atmosphere, where winds sometimes blow the smoke thousands of miles. Among fire researchers, smoke at the source is known as "fresh," but after a few hours, it's known as "stale." It can be up in the atmosphere for days, getting really stale, during which time the gases and particulates are reacting not only with each other, but also with sunlight and gases already present in the atmosphere. By the time the smoke from West Coast wildfires reaches the East Coast, it's fundamentally transformed..."
Photo credit: "A bevy of instruments collected mountains of data about the smoke." Photograph: Hannah Hickey/University of Washington.
---
There May be 300 Million Habitable Planets in our Galaxy. Somedays I wonder why intelligent lifeforms aren't reaching out. Oh wait. Never mind. Here's a clip from Mental Floss: "Throughout its nine-year tour of duty that concluded in 2018, NASA's Kepler Space Telescope produced a massive amount of observational data. Scientists are still going through it all. Among its revelations were now-confirmed 2,800 exoplanets, with thousands more still being analyzed. A new study of its data suggests that there may be as many as 300 million inhabitable planets in our galaxy. It finds that several of these could be relatively close by, within 30 light years from here..."
Image credit: Kepler-186f illustration. Credit: NASA Ames/JPL-Caltech/T. Pyle.
---
Wrong Way to Transport a Snowmobile: Exhibit A. Bring Me The News has the rather unusual story: "Snowmobiling season is right around the corner, but transporting a snowmobile on top of a car is not the way to get the recreational vehicle where you want it to be. One Minnesota motorist driving a Toyota Corolla found that out the hard way. According to the Wisconsin Department of Transportation, someone driving the small red car had a Polaris snowmobile strapped to the top of the car, with the skis of the snowmobile sticking out horizontally over the left side of the car…"
Photo credit: Wisconsin DOT.
---
Kentucky Town Elects Dog as Mayor. He's "All Ears". I get it. Actually, I don't – but Fox News tries to explain: "The small community of Rabbit Hash, Ky., has elected a dog as its mayor. Wilbur Beast, a French bulldog, won the race with 13,143 votes, according to the Rabbit Hash Historical Society. That was the highest winning total ever for the position. He's not the first "canine in chief" for Rabbit Hash. The Ohio River community of just a few hundred people has been electing dogs as its mayors for fundraisers since the 1990s…"
Photo credit: "Wilbur Beast the French bulldog was elected major of Rabbit Hash, Kentucky." (Amy Noland).
---
66 F. high in the Twin Cities on Thursday.
48 F. average high on November 5.
32 F. high on November 5, 2019.
November 6, 1993: Heavy lake effect snow falls over the eastern portion of Lake of the Woods. 3-4 inches around Baudette.
November 6, 1947: A snowstorm moves through Minnesota with high winds, causing a million dollars in damage.
---
---
---
FRIDAY: Sunny and breezy. Winds: S 10-20. High: 74 (a new record)
SATURDAY: Partly sunny, Windy – feels like September. Winds: S 15-25. Wake-up: 57. High: 73
SUNDAY: Gusty and mild with more clouds. Late shower? Winds: S 15-35. Wake-up: 58. High: 72
MONDAY: Cooling off with periods of rain. Winds: SW 15-25. Wake-up: 51. High: 59
TUESDAY: Dry start, wet snow or sloppy mix late? Winds: N 7-12. Wake-up: 32. High: 39
WEDNESDAY: Partial clearing, drying out. Winds: SW 10-15. Wake-up: 32. High: 42
THURSDAY: Mostly cloudy, late mix possible. Winds: NE 7-12. Wake-up: 29. High: 41
---
Climate Stories…
U.S. Exits Paris Climate Pact with Election Outcome Uncertain. Bloomberg Green reports: "The U.S. has officially become the first nation to quit the Paris climate agreement, even as the outcome of the country's presidential race remains undetermined. President Donald Trump, who's fighting for re-election, moved to withdraw from the landmark environmental accord exactly one year ago, abandoning a global effort to curb carbon emissions and slow global warming. The U.S. exit formally took effect Wednesday, the day after the vote. The fate of the global climate now rests, in part, on who ends up in the White House. Former Vice President Joe Biden has said he will rejoin the Paris pact immediately if he wins…"
---
---
Species More Likely to Die Out with Rapid Climate Change. A post at phys.org caught my eye; here's an excerpt: "...Several bird species depend on the abundance of larvae while their young are small. If the larvae supply peaks earlier in the spring than normal, there may simply be too little food for the hatchlings. A warming climate can bring about changes like this. An earlier spring causes trees to leaf out earlier, which in turn causes the larvae that feed on the plants to hatch out earlier. "When the climate changes, the interactions between different species changes too," Simmonds says. She and a team of researchers at the University of Oxford used population models to calculate the consequences of different climate scenarios..."
---
---
These Obscure Races May Decide the Future of Climate Change. Mother Jones looks at generally overlooked races and potential impact on climate policy: "…This year, national green groups like the Sierra Club, League of Conservation Voters, and Michael Bloomberg's Beyond Carbon have spent millions on these usually overlooked statewide races, especially in Texas, Arizona, and Montana. But it isn't just the green money that has brought new attention to these races. The politics have also shifted, as climate change has become a top priority for Democratic voters. "You see the difference in how most of these races, the Democratic challengers are running explicitly as clean energy candidates," Pomerantz says. "Maybe 10 years ago, Democrats would run on a promise to keep people's rates low. Now they're running as the solar team."
File image: Scott Kelly (now Arizona U.S. Senator-elect Scott Kelly), NASA ISS.
---
Making Sense of Trump's Energy Era. Axios reports: "Market forces have been in the driver's seat during President Trump's first term, which means oil-and-gas kept growing (until the pandemic), he couldn't revive coal, and the country stayed far away from policies that would drive steep future carbon cuts. Where it stands: The administration launched a big deregulatory push to scuttle Obama-era climate policies and support coal, oil and gas. Here are a few snapshots of what happened over the last four years.
Carbon emissions haven't moved greatly in either direction, as the chart above shows. (Of note: It doesn't show this year, which would display a steep decline due to the pandemic's effect on travel and economic activity.)…"
Image credit: EIA; Chart: Andrew Witherspoon/Axios.
---
Climate Change – and Research – Raced Forward as Trump Turned His Back. Here's the intro to a post at Scientific American: "The Trump administration has spent four years consciously ignoring—and often working against—scientists' efforts to raise the alarm about climate change. In the wake of hurricanes, floods, wildfires and extreme heat, President Trump has continually questioned the science of global warming. A deep cynicism of scientists flavored his policy decisions, such as withdrawing the U.S. from a global climate agreement and unraveling dozens of environmental regulations. Trump's unchanging stance on climate is punctuated against the backdrop of historic disasters and momentous scientific strides that have occurred since he took office…"
---
Shell Shocked Twitter Dunks On Its 'Greenwashing': Climate Nexus has headlines and links: "On Monday, oil company Shell, the seventh-most carbon polluting company in the world, polled Twitter users as part of their promotion of an energy debate they put on, asking "what are you willing to change to help reduce emissions?" Results were likely more critical than the company must have expected, ranging from answers like "your business model" to a map showing the short walk from Shell's headquarters to the International Criminal Court. Greta Thunberg responded with her willingness to call out greenwashing companies like Shell, as did Rep. Alexandria Ocasio-Cortez, who tweeted that she's "willing to hold you accountable for lying about climate change for 30 years when you secretly knew the entire time that fossil fuels emissions would destroy our planet
." (The Guardian, Grist, Earther, EcoWatch)
Website excerpt: Shell.com.