Yes, It Has Been A Crazy November
Mother Nature is drunk again. Sorry, I said the quiet part out loud. The meteorological tantrums are getting worse. Tropical Storm Eta just brushed Tampa. Now we're tracking "Theta" in the Atlantic. Next up, "Iota".
Closer to home we just enjoyed our second significant snowfall of the season, a season already 1-2 feet snowier than average, to date, from the Twin  Cities to Duluth. Coming AFTER the warmest November week on record for MSP, and the entire state, according to Dr. Mark Seeley.
My take: there's more energy and volatility in the system, and it's (increasingly) showing up in the weather.
I don't want to bury the lede: no headline-grabbling winter storms are brewing between now and Thanksgiving, just a handful of generic clippers. An inch of snow may fall later today, and the atmosphere may be just mild enough for a little rain/drizzle Saturday, ending as wind-whipped flurries Sunday. Highs range from 30s to low 40s, and NOAA's GFS model hints at a few days near 50F before Thanksgiving.
A few days of atmospheric sobriety sound good to me.
---
Photo credit: Richard Howard, Twitter:  @scotchprophet
---
---
Tuesday Night Snowfall Totals. I saw 11″ at Motley and 9″ in the Brainerd/Baxter area.
---
---
Impressive Early Season Snowfall Tallies. Granted, most of it has melted, but 14.8″ of snow in the Twin Cities as of November 10 (more than a foot above average, to date) and nearly 20″ at Duluth? Snow lovers have to feel pretty good right about now. Maybe we'll have a real winter, preferably without the Polar Vortex.
---
---
---
---
---
---
---
Snowy Coating Today – Slight Moderation By The Weekend. A clipper sparks a coating to an inch of snow today before skies clear again Friday. Another surge of moisture may arrive as light rain or drizzle Saturday, possibly beginning as a brief period of freezing rain or drizzle.
---
---
Pre-Thanksgiving Thaw. The models (especially GFS) are fairly consistent predicting a relatively mild spell in the days leading up to Thanksgiving. Maybe we can have an outdoor, socially-responsible Turkey Day gathering after all. ECMWF (top) and GFS (bottom) guidance courtesy of WeatherBell.
---
---
Good Travel Weather Thanksgiving Week. Right now I don't see any (big) storms looking out 1-2 weeks, just a series of Alberta Clippers, but little moisture available for accumulating snow. Temperature may be in the 40s, possibly 50+, depending on how quickly we lose snow already on the ground (which keeps us at least 3-7F chillier than we would be without snow cover.
---
---
Praedictix Briefing: Issued Wednesday, November 11th, 2020:
Hurricane Eta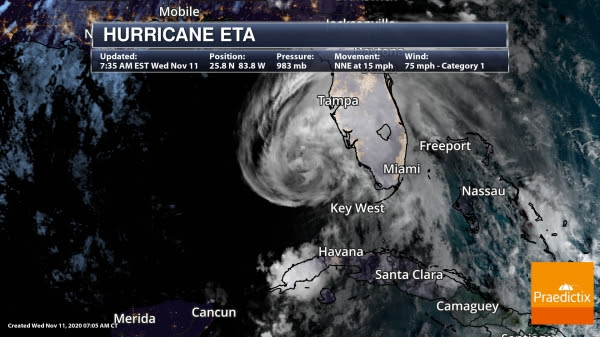 Eta As Of Wednesday Morning. Eta has become a hurricane once again according to Hurricane Hunter aircraft and Doppler radar data. As of the 7:35 AM ET update, Eta had winds of 75 mph. The center of Eta was located about 130 miles west-southwest of Ft. Myers, or 170 miles south-southwest of Tampa, and moving north-northeast of 15 mph.
---
Eta Winds. As we look at the wind field with Eta, tropical-storm-force winds are approaching the southwest Florida coast this morning. Recently a buoy southeast of the center of Eta had a wind gust to 65 mph. In the Florida Keys, a sustained wind of 43 mph and gust of 56 mph was reported at Sand Key.
---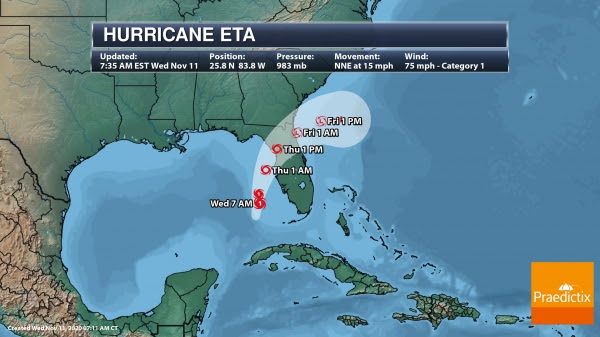 Eta Track. The likely track of Eta has become a lot clearer over the past half a day vs. what we have observed the past few days with faster movement as well. Eta should continue to move in a general north-northeast to northeast direction over the next few days, bringing the storm close to the southwest coast of Florida today and near the west-central coast tonight. Eta is expected to move inland in the northern peninsula of Florida Thursday. Eta should then exit into the western Atlantic into Thursday Night. Eta is expected to continue near or at hurricane strength until landfall tomorrow, with quick weakening occurring after landfall.
---
Hurricane And Tropical Storm Alerts. As Eta is approaching at hurricane strength, a Hurricane Watch has been issued from Anna Maria Island to Yankeetown, FL, including Tampa. Tropical Storm Warnings are in place for Dry Tortugas and from Bonita Beach to Suwannee River, FL, including Tampa and Gainesville. Tropical Storm Watches are in place for the Cuban provinces of La Habana, Artemisa, Mayabeque, Pinar del Rio, and the Isle of Youth, north of the Suwannee River to Aucilla River, FL , and across portions of northeast Florida including Daytona Beach.
---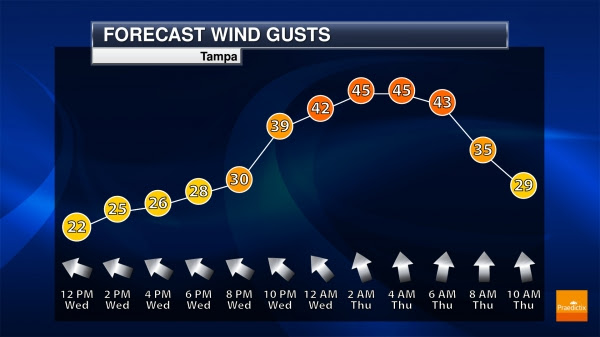 Tampa Winds. Winds will increase throughout today in Tampa, FL, peaking through the overnight hours before gradually decreasing tomorrow.
---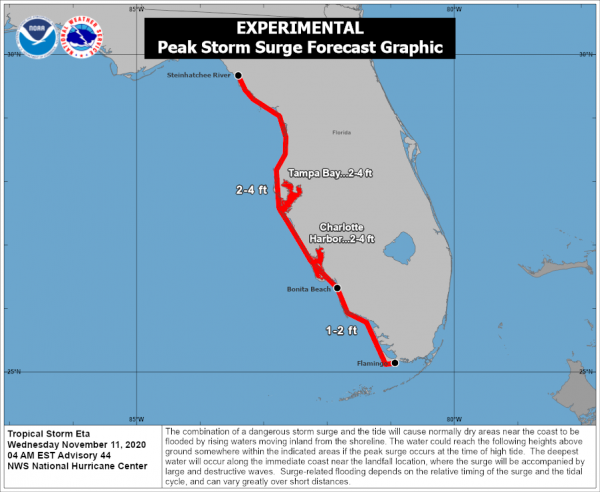 ---
Storm Surge Concerns. As Eta moves near the Florida coast, a dangerous storm surge could cause normally dry areas near the coast to flood by rising waters moving inland. The greatest storm surge of 2-4 feet could occur from the Steinhatchee River to Bonita Beach, FL including Tampa Bay and Charlotte Harbor. Storm Surge Watches are in place for those areas.
---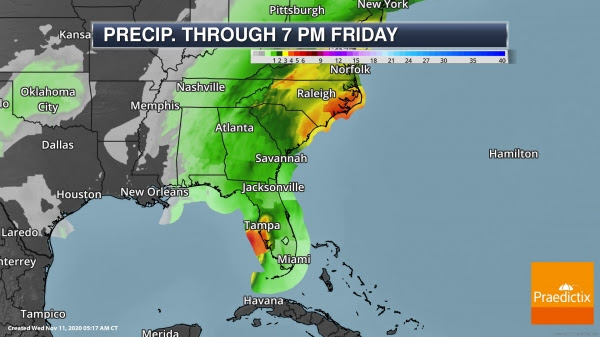 ---
Heavy Rain And Flooding. Eta will also bring heavy rain to portions of the Southeast over the next couple of days, with numerous Flood Watches in place from western Florida into the Carolinas. Across western Florida up to 6" of rain could fall, with up to an additional 4" possible across northern and southern Florida. As moisture from Eta flows northward, rainfall amounts of 3-7" will be possible across the Carolinas, particularly in the eastern Carolinas, with the heaviest rain expected to fall Thursday.
---
Other Atlantic Concerns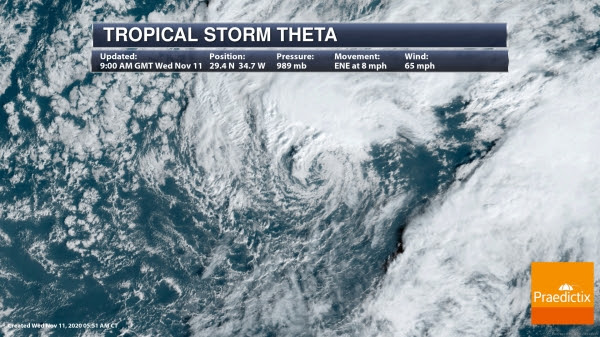 ---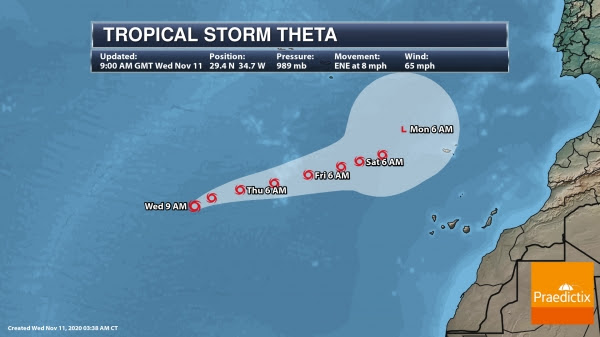 Tropical Storm Theta. Theta continues to not be a threat to land across the eastern Atlantic in the next several days. This system has weakened slightly since yesterday but should remain around the same strength over the next couple of days before weakening into the weekend.
---
Caribbean Threat. We're also tracking a tropical wave in the eastern Caribbean Sea producing disorganized storm activity. As it continues to slowly move west this week and into the weekend, a tropical depression is likely to form over the central or western Caribbean. There is a 20% chance of formation in the next two days and an 80% chance in the next five days. This will bring heavy rain to the Virgin Islands, Puerto Rico, and portions of Hispaniola over the next day or so, with heavy rain possible in Central America as the system approaches the region.
---
Vamco In The Western Pacific
---
Latest On Vamco. Vamco (also known as Ulysses in the Philippines) has continued to maintain its strength as it approaches the Philippines and will through landfall in Luzon within the next 12 or so hours. Vamco will continue to bring heavy rain, the potential of flooding, strong winds, and storm surge to the region, including Manila. You can read the latest statement from the PAGASA-DOS here: bagong.pagasa.dost.gov.ph/tropical-cyclone/severe-weather-bulletin/2
D.J. Kayser, Meteorologist, Praedictix.
---
2020 Hurricane Season Breaks Record for Most Storms. Capital Weather Gang puts a crazy tropical season into perspective: "…The 29 storms are not only the mark of an unprecedented season statistically, but one that has left behind a devastating toll on the economy and people's lives. An unmatched 12 named storms, including a record-tying six hurricanes, have made landfall in the United States in 2020, leaving few areas on the Gulf and East coasts untouched. Parts of the Gulf Coast have been hit repeatedly, the state of Louisiana seeing a record five storms make landfall alone. Several meteorological influences stacked the deck in favor of this punishing onslaught, while climate change may well have intensified the season's activity and potentially expanded the zones in which storms have formed and gained strength. It may have also contributed to the season's longevity..."
---
---
---
---
Effective Government Saves Lives in Cyclones, Other Disasters. Makes sense to me, good government and warning systems in place to cut through the noise so people take meaningful action to protect their properties and their lives. Here's a clip from ScienceDaily: "…There are many examples indicating that strong institutions — including government — play a critical role in protecting populations from adverse effects of natural disasters, Tennant said. But it is much more difficult to determine how universal this relationship is, she said, because there is so much variation in the frequency and severity of storms. Natural hazards such as cyclones, the researcher wrote, result in disasters only when vulnerable human systems are exposed to hazardous conditions. In their analysis, Tennant and Gilmore explicitly accounted for hazard exposure, connecting the analysis of governance and other indicators of well-being to estimates of the severity and exposure to the tropical cyclone hazard…"
File Image: NASA.
---
Is There a Safe Way to be Home for the Holidays? Some helpful advice from The Atlantic; here's a clip: "...If you do decide to go somewhere, Morse told me, there are a number of precautions you can take that, combined, could reduce the risks of getting or spreading the virus. (But ramping up the caution or just skipping the trip would be a good idea if you or your loved ones are particularly vulnerable to the disease.)
Consider visiting at an off-peak time—that is, not right around a holiday, when lots of other people might be traveling as well.
Plan a smaller gathering than usual. The fewer people from different households, the better. (The number of attendees can be more important than the length of the visit: It's not clear that shortening a visit marginally—say, from three days to two or from two weeks to one—will reduce risk in a predictable, linear way.)…"
Image credit: Paul Douglas
---
Thinking About a Holiday Gathering? Look at This Troubling Map First. WIRED.com makes the case; here's an excerpt: "…Public health experts would really rather we not gather for the holidays, but they say that if you do go through with it, the shindig should be held outdoors, with as few people as possible, and everyone keeping their distance and wearing masks. But if you look at that map now, it shows that across the US, there's no such thing as a perfectly safe way to gather during the pandemic. Even with all those precautions, the risk right now is huge, particularly if you're in the Midwest or hosting anyone coming from the Midwest. For example, in Cook County (which includes Chicago), the chance of a Covid-positive person attending a gathering of just 10 people is around 50 percent. In Jones County, Iowa, that chance is a staggering 99 percent. North Dakota, South Dakota, and Kansas also have counties sitting at 99 percent…"
Map credit: "The striking difference between the risks of a gathering of 10 people at left and 25 people at right. Darker reds are higher risk." Illustration: Aroon Chande via OpenStreetMap contributors CARTO.
---
Thermal Nuclear Engine Could Reach Mars in 3 Months. Popular Mechanics has the eye-opening details of a potentially faster way to reach the Red Planet: "Ultra Safe Nuclear Corporation (USNC) has designed a new thermal nuclear engine it says could carry astronauts to Mars in just three months—and back to Earth in the same amount of time. By using ceramic microcapsules of high assay low enriched uranium (HALEU) fuel, USNC's thermal nuclear engine could cut the trip in half even from optimistic estimates. Thermal nuclear for propulsion is an old idea…using the astonishing heat generated by a nuclear reaction to push a rocket at speeds approaching the Star Trek realm compared to what we use today…"
Image credit: USNC-TECH.
---
Polar Bear Doppler?  I had no idea. The New York Post reports; here are a few excerpts: "Along the frosty coast of Hudson Bay, hundreds of polar bears have been wandering for weeks, waiting for the wintertime sea ice to form so they can return to hunting ringed seals. Until then, they represent a danger to the 900 people living in nearby Churchill… The town is working on a plan to prevent conflicts between hungry bears and humans, using a new radar system that can watch and warn when a bear approaches and do so in a snowstorm and during the dead of night… As climate change warms the Arctic faster than the rest of the world, the region has been drawing more tourists… With sea ice breaking up earlier and forming later, "we're seeing more bears on shore in more places and for longer time periods…"
File photo credit: Wikipedia, USGS.
---
37 F. high in the Twin Cities on Wednesday.
44 F. average MSP high on November 11.
18 F. high on November 11, 2019.
November 12, 2000: A winter storm system produces a narrow band of heavy snow across extreme western Minnesota. Winds toward the end of the event were clocked between 15 and 25 mph, resulting in blowing snow leading to visibilities of 1 to 1.5 miles. Some snow totals included: Canby (Yellow Medicine County) with 6.5 inches, Madison (Lac Qui Parle County) with 6.0 inches.
November 12, 1940: Record low highs are set in west central Minnesota. Alexandria records a high of 8 degrees Fahrenheit, Springfield and Willmar have highs of 10 degrees, and St. Cloud and Minneapolis have highs of 11 degrees.
November 12, 1933: A dust storm hits southwest Minnesota, while a blizzard rages in the northwest part of the state.
---
THURSDAY: Coating to 1″ of snow showers. Winds: NW 8-13. High: 32
FRIDAY: Blue sky returns, quiet. Winds: S 7-12. Wake-up: 17. High: 34
SATURDAY: Early ice risk, then light rain. Winds: SE 10-20. Wake-up: 28. High: 41
SUNDAY: Gusty and colder with flurries. Winds: NW 15-35. Wake-up: 31. High: 35
MONDAY: Plenty of sunshine. Winds: NW 10-20. Wake-up: 26. High: 33
TUESDAY: More clouds, closer to average. Winds: SE 8-13. Wake-up: 27. High: near 40
WEDNESDAY: Windy again, turning cooler. Winds: NW 15-25. Wake-up: 29. High: 39
---
Climate Stories…
Winter: Fastest Warming Season for Most of USA. It still snows, we still experience cold fronts, but winter-shrinkage is a thing, according to Climate Central: "Climate Central found that winter is the fastest warming season for most of the country, in 38 of the 49 states analyzed. States seeing the fastest winter warming are clustered in the Northeast and the Great Lakes region. The transition seasons of fall and spring are the fastest warming across much of the western United States. In Washington and Oregon, summers are warming most quickly, increasing the risks associated with wildfire season. Rising temperatures can contribute to a longer allergy season, keep disease-carrying insects active, shift growing seasons and zones, and prolong the wildfire season. And potential winter energy savings from not having to turn up the thermostat are offset by the warmer summer and fall seasons that have increased our demand for cooling…"
---
---
5 Things We Know About Climate Change and Hurricanes. Yes, there's a connection. Here's an excerpt from an explainer at The New York Times (paywall): "The tumultuous season has raised questions about how much climate change is affecting hurricanes in the Atlantic. Researchers can't say for sure whether human-caused climate change will mean longer or more active hurricane seasons in the future, but there is broad agreement on one thing: Global warming is changing storms. Scientists say, for example, that unusually warm Atlantic surface temperatures have helped to increase storm activity this season. The warmer ocean temperatures are "absolutely responsible for the hyperactive season," said James P. Kossin, a climate scientist with the National Oceanic and Atmospheric Administration. "It's very likely that human-caused climate change contributed to that anomalously warm ocean…"
Hurricane Joaquin file image: NOAA.
---
Hurricanes Could Reach Farther Inland Due to Climate Change, Study Suggests. CBC News summarizes the findings and predictions: "Hurricanes that make landfall are maintaining their strength longer because of climate change, a new study suggests, meaning such storms could have more of an impact than in the past. The reason storms are maintaining their strength, according to researchers at the Okinawa Institute of Science and Technology Graduate University (OIST), is the increase in sea surface temperatures. A hurricane needs several things to form, the main one being warm water. When warm, moist air rises from that water, it's replaced by cooler air which in turn warms and rises. Clouds form and then, under the right conditions, begin to rotate with the spin of Earth. Given enough warm water, the cycle continues and a hurricane forms…"
File image: NASA.
---
Hurricanes Are Staying Stronger Even Over Land as Oceans Warm From Climate Change, Study Finds. More perspective from Capital Weather Gang: "…Now a new study, published Wednesday in the journal Nature, shows that storms such as Michael that extend their damaging path far inland are becoming more likely to occur as ocean temperatures increase in response to human-caused global warming. The study, by Lin Li and Pinaki Chakraborty, scientists at the Okinawa Institute of Science and Technology, identifies trends in observed hurricane behavior among landfalling storms in the North Atlantic Basin during the 1967 to 2018 period. They found a slower rate of hurricane decay, defined as the decrease in storm intensity during the first 24 hours after a storm makes landfall, since they're now holding onto more moisture picked up from warmer seas…"
File image: NOAA.
---
Climate Change Will Force a New American Migration. A slow-motion retreat from the most vulnerable coastal areas and fire-prone regions of the west has already begin. ProPublica reports: "…I had an unusual perspective on the matter. For two years, I have been studying how climate change will influence global migration. My sense was that of all the devastating consequences of a warming planet — changing landscapes, pandemics, mass extinctions — the potential movement of hundreds of millions of climate refugees across the planet stands to be among the most important. I traveled across four countries to witness how rising temperatures were driving climate refugees away from some of the poorest and hottest parts of the world. I had also helped create an enormous computer simulation to analyze how global demographics might shift, and now I was working on a data-mapping project about migration here in the United States. So it was with some sense of recognition that I faced the fires these last few weeks. In recent years, summer has brought a season of fear to California, with ever-worsening wildfires closing in…"
---
---
NASA Watches Sea Level Rise from Space, and Its Centers' Windows. NASA has a post; here's an excerpt: "…Kelemen says the data coming from scientists both at NASA and from outside the agency is alarming. The most conservative estimates predict at least a 15-inch sea level rise by 2080 but indicate a much greater impact if the rate of sea level rise continues accelerating as it has done in past decades. For Langley, sea level rise concerns are compounded by area subsidence – a sinking of the landmass below the facilities. Precision measurements at NASA Langley show it is sinking 0.08 inches (2 millimeters) a year, which means its effective rate of sea level rise is closer to 0.24 inches (6 millimeters) per year…"
Map credit: "This map shows the change in sea level between 1992 and 2014 measured by the TOPEX/Poseidon, Jason-1, Jason-2, and Jason-3 missions." Credits: NASA Scientific Visualization Studio images by Kel Elkins, using data from JASON-1, JASON-2, and TOPEX/Poseidon.
---
What Will Trump's Most Profound Legacy Be? Possibly Climate Damage. The New York Times (paywall) has the story; here is the intro: "President-elect Joseph R. Biden Jr. will use the next four years to try to restore the environmental policies that his predecessor has methodically blown up, but the damage done by the greenhouse gas pollution unleashed by President Trump's rollbacks may prove to be one of the most profound legacies of his single term. Most of Mr. Trump's environmental policies, which erased or loosened nearly 100 rules and regulations on pollution in the air, water and atmosphere, can be reversed, though not immediately. Pollutants like industrial soot and chemicals can have lasting health effects, especially in minority communities where they are often concentrated. But air quality and water clarity can be restored once emissions are put back under control..."
Photo credit: "Using executive authority to restore environmental protections may be harder for Mr. Biden with a majority-conservative Supreme Court." Credit: Erin Schaff/The New York Times.
File image: NASA.
---
How Joe Biden Plans to Use Executive Powers to Fight Climate Change. More perspective in a post at Vox: "…But Biden's most ambitious ideas — particularly using $1.7 trillion in government money — requires Congress to go along, and it's not clear he'll have a willing majority. Even a narrow Democratic majority could be thwarted by the filibuster. Biden is also likely to undo most, if not all, of Trump's environmental rollbacks with his executive powers. Trump has repealed or weakened 125 environmental regulations, like protections for endangered species and environmental risk assessments for infrastructure, and has opened protected wilderness for fossil fuel development and logging. Some of the most notable rollbacks are of rules seeking to cut greenhouse gases, like the Clean Power Plan, energy efficiency standards, and fuel economy regulations for cars and trucks. Many of these rollbacks are also tied down in ongoing lawsuits across state and federal courts that may take months to resolve..."
---
Notable Weather and Climate Events in October. It's a long list; here's an except from phys.org: "…Record wildfires scorched the West: Colorado had its three-largest wildfires in state history last month—the Cameron Peak, Pine Gulch and East Troublesome fires. In particular, the East Troublesome fire spread rapidly to more than 193,000 acres. Wildfires also grew explosively in California, with nearly 100,000 Orange County residents evacuating as the Silverado and Blue Ridge fires burned. Historic tropical activity in the Atlantic: Through October 31, 11 named Atlantic tropical cyclones have made landfall in the U.S. this hurricane season, breaking the previous record of nine landfalls in 1916. In October alone, Hurricanes Delta and Zeta both struck Louisiana just a few weeks apart..."