No More Weather Fatigue Anytime Soon
2020 is the year of chronic fatigue. Covid-fatigue. Election-fatigue. Weather-fatigue. At least we have boasting rights. Assuming no more snow falls by Saturday night (hey, it's 2020 – anything is possible).
October will end with a record-breaking 9.3 inches of snow, beating the old MSP record of 8.2 inches (October of 1991). Statewide, October snowfall was 3-10 inches above average.
Every action has a reaction. Last week's slushy tantrum gives way to a mild spell next week with 50s and 60s. Not too shabby, considering the sun is as high in the sky sky as it is the second week of February.
Halloween weather should be mercifully-quiet with some sunshine and 50s. No spooky weather surprises on Doppler this year. Gusty winds usher cooler air into Minnesota Sunday, but a rapid temperature rebound is likely next week, with a potential for 3-4 days above 60F. A cool correction arrives by mid-month, but I don't see any polar swipes.
My neighbor still has his dock in. He saw this warm front coming. Smart guy.
---
Photo credit above: Paul Douglas
---
Brisk (but Dry) Halloween. Guidance suggests highs closer to 50F before an inevitable temperature tumble later in the day Saturday. Hopefully no showers, ghosts or ghouls on Doppler. Source: Twin Cities National Weather Service.
---
Election Day Weather Preview. Most of the USA is forecast to have a quiet, relatively mild Tuesday. The only exceptions: rain for the Pacific Northwest and cold winds and snow showers and flurries across New England.
---
Snowiest October on Record at MSP. I doubt (hope) we don't add to these numbers by Saturday, but it's 2020 – so expect the unexpected. 9.3″ this month in the Twin Cities, breaking the old record of 8.2″ in 1991. All that snow fell on Halloween, 1991 – the start of the epic Halloween Superstorm.
---
---
---
---
---
---
---
---
Early Coating – Rapid Warming Next Week. The best chance of an icy coating early today comes over central and west central Minnesota. After 50s on Halloween temperatures cool off Sunday, before warming rapidly next week with a streak of 50s and 60s likely. Map sequence: Praedictix and AerisWeather.
---
---
Cue the Hallelujah Chorus. Both ECMWF (above) and NOAA's GFS (below) show a string of 60-degree days for the metro next week. GFS continues to be much more bullish on a cold front after November 9. It will cool off (no kidding) but I'm not yet convinced the cooling will be as rapid as GFS is predicting. Graphics: WeatherBell.
---
Zonal Flow Spills into Mid-November? GFS guidance is a bit contradictory. The forecast for 500mb winds roughly 2 weeks out shows more of a Pacific influence, keeping temperatures close to average across most of the USA, maybe a few degrees below average for Minnesota as we end out the second week of November.
---
---
Record-Breaking October Snowfall. 9.3″ of snow so far this month at MSP, with a cool foot reported at Duluth. Snowfall departures this month are running 3-10″ above average.
---
---
---
Praedictix Briefing: Issued Thursday, October 29th, 2020:
Tropical Storm Zeta
---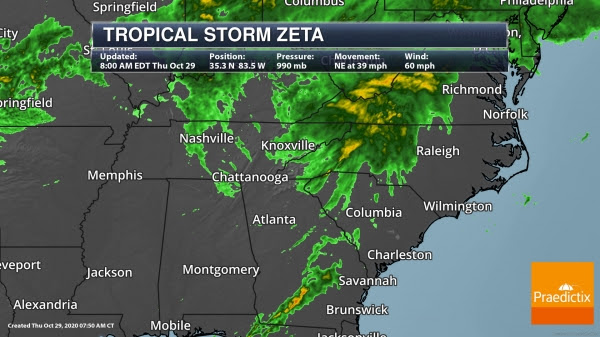 Zeta Moving Across Western North Carolina. Zeta made landfall as a hurricane near Cocodrie, LA, around 4 PM last night. Since then this system has continued to quickly push inland, weakening as it does so. However, the system continues to produce heavy rain and damaging winds in the Southeast and Mid-Atlantic. As of 8 AM ET, the center of Zeta was located about 50 miles west of Asheville, NC, and moving northeast at 39 mph. Zeta had winds of 60 mph with tropical storm force winds extending 175 miles from the center of the storm.
---
Strong Winds This Morning. Strong winds have been impacting portions of the Southeast with Zeta this morning. Recently a sustained wind of 41 mph with gust to 82 mph was reported in Cashiers, NC. The Atlanta airport had a peak wind gust of 52 mph at 5:07 AM.
---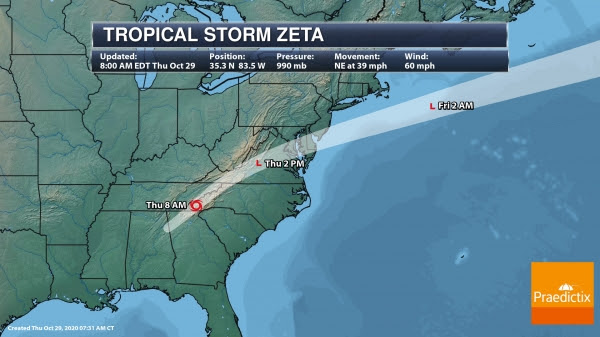 Zeta Track. Zeta will continue to quickly move across the Mid-Atlantic states today, emerging into the western Atlantic tonight and eventually absorbed by a frontal system Friday Night out in the Atlantic. This system will become a non-tropical gale-force low later today, still producing strong winds.
---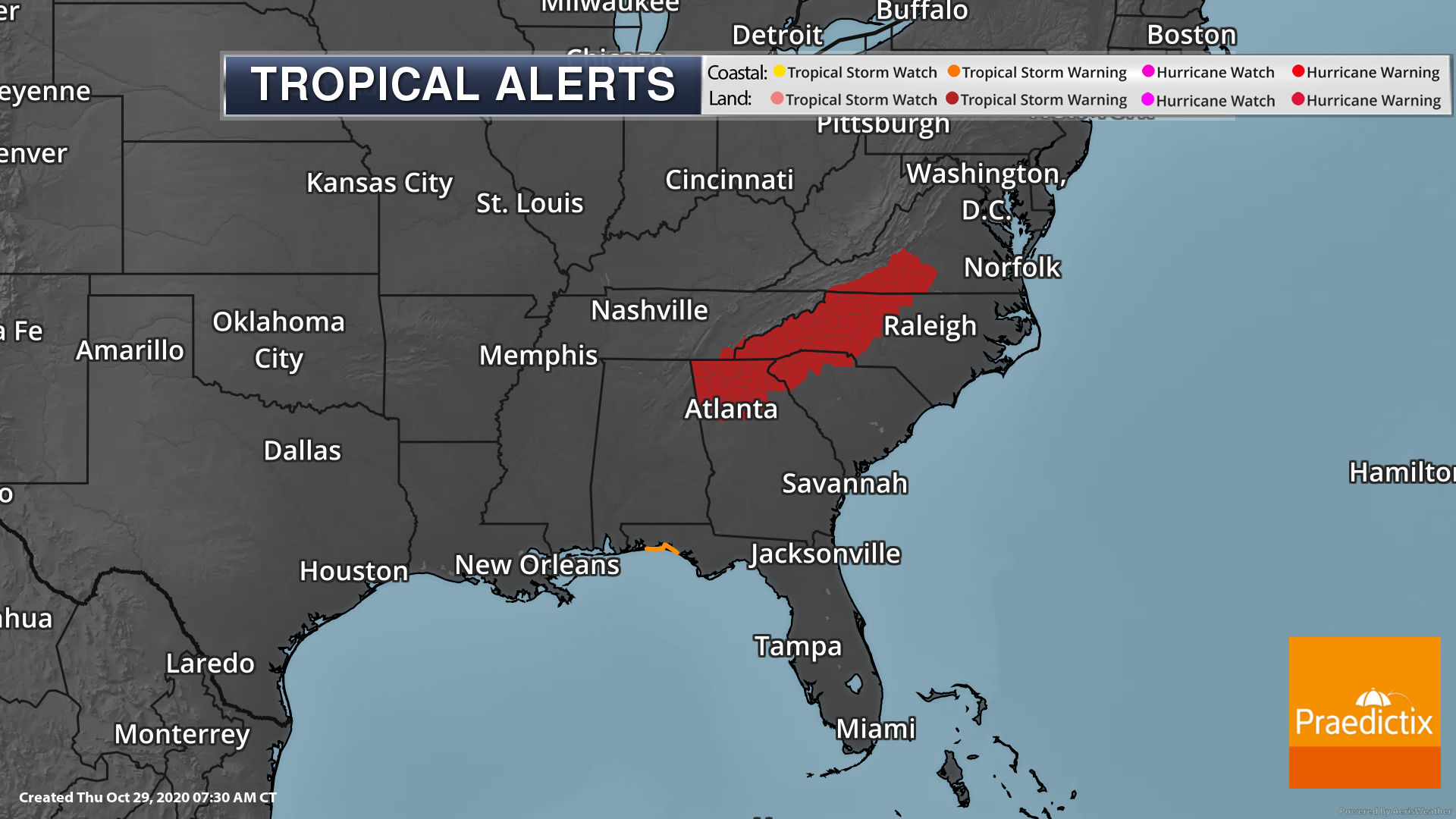 Tropical Storm Warnings. Tropical Storm Warnings continues today from northern Georgia into southern Virginia due to the potential of tropical-storm-force winds. These Tropical Storm Warnings include areas like Atlanta, Charlotte, Asheville, Greensboro, and Lynchburg.
---
Forecast Winds. Strong winds will continue to be possible across the Mid-Atlantic and Southeast today as what is left of Zeta moves through the region. Wind gusts could top 50 mph in some locations. These winds could cause tree damage and power outages.
---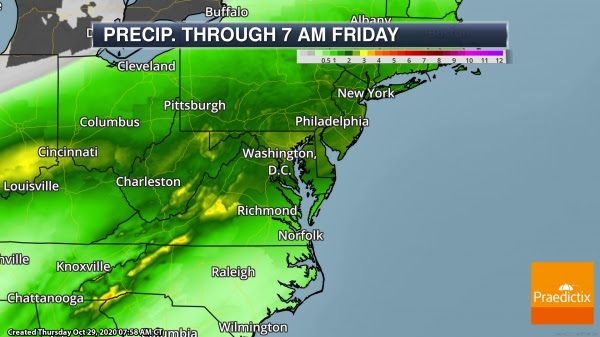 ---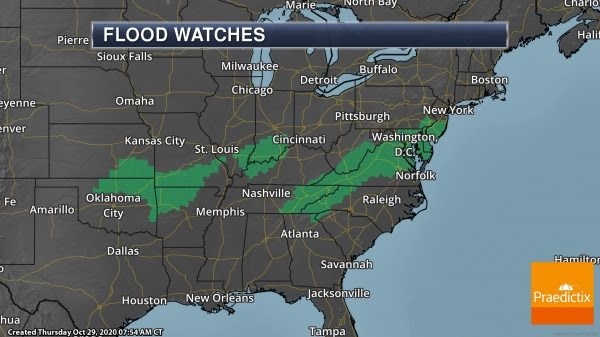 Heavy Rain Threat. Areas of heavy rain will continue to fall across portions of the Ohio Valley, Southeast, and Mid-Atlantic today with rainfall amounts of at least 1-3" expected. This could lead to flooding across the region, with numerous Flood Watches in place.
---
Tornado Threat. A few brief, weak tornadoes will be possible as Zeta moves across the Southeast today. A Marginal Risk of severe weather is in place.
D.J. Kayser, Meteorologist, Praedictix
---
---
---
---
Massive Expected Renewables Investment Still Insufficient To Limit Warming — BNEF: Headlins and links via Climate Nexus: "Renewable energy and battery storage are expected to draw at least $11 trillion of investment over the next 30 years, according to a new analysis from BloombergNEF in its annual New Energy Outlook report. Despite that enormous number, the projected increases in clean power are far behind what is required to limit global warming to less than 2°C by the end of this century — global temperatures are headed for 3.3°C of warming by 2100. BNEF also found global coal demand and carbon emissions likely peaked in 2019, due to depressed activity by the coronavirus pandemic." (Bloomberg $, S&P Global $, TechCrunch)
---
KFC's Fried Chicken-Scented Firelogs Available at Walmart. It's 2020 – you can't make this stuff up. Mental Floss explains: "The famous 11 herbs and spices recipe for Kentucky Fried Chicken (KFC) remains a closely guarded secret. But that doesn't mean you can't take home a firelog that will crackle with the aroma of a fresh bucket of fried chicken this holiday season. The KFC 11 Herbs and Spices Firelog ($16) has been a popular novelty purchase for the past two years, and this year, it's available exclusively at Walmart. Made in partnership with Enviro-Log, the flammable product releases a scent reminiscent of KFC's distinctive seasoning combination, which the company promises will last around two and a half hours while burning…"
---
38 F. high in the Twin Cities on Thursday.
52 F. average high on October 29.
40 F. high on October 29, 2019.
October 30, 1951: An early snow storm drops as much as 8 inches of snowfall in north central Minnesota. Mora had 8 inches, while Long Prairie received 6 inches. Glenwood, Little Falls, Morris, and New London all had 5 inches of new snow. Meanwhile, surrounding areas received a couple of inches.
October 30, 1936: An intense dust storm causes damage in Central Minnesota. Heavy wind damage is reported in Stearns County.
---
---
---
FRIDAY: More clouds than sun. Winds: SE 5-10. High: 41
SATURDAY: Nothing spooky. Mix of clouds and sun. Winds: W 15-25. Wake-up: 34. High: 54
SUNDAY: Some sun, gusty and colder. Winds: NW 15-30+ Wake-up: 29. High: 42
MONDAY: Sunny and pleasant. Winds: W 8-13. Wake-up: 32. High: 52
ELECTION DAY: Perfect voting weather. Mild sunshine. Winds: SW 8-13. Wake-up: 39. High: 63
WEDNESDAY: Indian Summer hangs on. Blue sky. Winds: W 8-13. Wake-up: 44. High: 64
THURSDAY: Sunny, touch of late September. Winds: S 7-12. Wake-up: 43. High: 63
---
Climate Stories…
As Climate Disasters Pile Up a Radical Proposal Gains Traction. The New York Times (paywall) highlights the promise and potential perils of "geoengineering: "As the effects of climate change become more devastating, prominent research institutions and government agencies are focusing new money and attention on an idea once dismissed as science fiction: Artificially cooling the planet, in the hopes of buying humanity more time to cut greenhouse gas emissions. That strategy, called solar climate intervention or solar geoengineering, entails reflecting more of the sun's energy back into space — abruptly reducing global temperatures in a way that mimics the effects of ash clouds spewed by volcanic eruptions. The idea has been derided as a dangerous and illusory fix, one that would encourage people to keep burning fossil fuels while exposing the planet to unexpected and potentially menacing side effects…"
File image above: NOAA.
---
---
Can We Cool the Planet? Speaking of geoengineering, check out the latest documentary from NOVA, which has amazing visuals, compelling interviews with leading scientists, and a sobering look at the tough decisions that may lie ahead if we can't reduce greenhouse gas emissions: "As global temperatures continue to rise, scientists are wondering if we need solutions that go beyond reducing emissions. From sucking carbon straight out of the air, to geoengineering our atmosphere to physically block out sunlight, to planting more than a trillion trees, the options may seem futuristic or tough to implement. But as time runs out on conventional solutions to climate change, scientists are asking the hard questions: Can new, sometimes controversial, solutions really work? And at what cost?"
---
Scientists Who Don't Believe in Climate Change Are Now Leading a Top Environmental Agency. I don't "believe" in climate change – I acknowledge the data and the trends and follow where the scientific research leads. There's a tsunami of evidence that the planet is, in fact, warming, and human emissions are the driving factor. Here's a clip from Vanity Fair: "…McLean's replacement is Ryan Maue, a research meteorologist who, per the Times, "has criticized climate scientists for what he has called unnecessarily dire predictions." Maue is not the only climate-change critic among the new political hires: David Legates, a University of Delaware professor who, like Trump, has long questioned the existence of human-caused global warming, joined as deputy assistant secretary last month, a role that reportedly did not exist before his appointment. "The positions that these individuals are in gives them the perfect opportunity to suppress, distort and cherry-pick information to make it whatever the party line is," Jane Lubchenco, a former Obama-era NOAA administrator, said of the recent appointments. The eleventh-hour replacement is in line with Trump's desired purge of the FBI, CIA, and Pentagon, post-election plans reported by Axios last week…"
Image credit: NOAA.
---
Political Appointees Install Climate Deniers, Tighten Grip On NOAA Science: Climate Nexus has headlines and links: "Political appointees at the National Oceanic and Atmospheric Administration, including some who deny the scientific consensus of climate change, have taken dramatic steps to clamp down on scientific communications at the agency, the New York Times reports. Last month, NOAA chief scientist Craig McLean was fired the day after circulating the agency's policy on scientific integrity to new political appointees. McLean was replaced by Ryan Maue, previously of the Cato Institute, who has downplayed climate change. Around the same time, David Legates, who denies humans' role in causing climate change, was appointed to the brand new position of deputy assistant secretary. Both hirings were made without the involvement of NOAA administrator Neil Jacobs — who under the new rules imposed by the administration's political appointees — is prohibited from sending emails to his own staff without first clearing it with political appointees. The new rules also include mandatory approval by Trump-appointed political staff of all internal and external communications, meaning all social media posts, news releases, and even agency wide emails from career scientists. The administration's goal appears to be to undercut the National Climate Assessment, in order to ultimately weaken the endangerment finding — the 2009 scientific assessment by EPA that greenhouse gas pollution endangers public health." (New York Times $)
---
---
Should You Have Kids Despite Climate Change? EcoWatch poses the question: "Compost. Fly less. Reduce your meat consumption. Say no to plastic. These imperatives are familiar ones in the repertoire of individual actions to reduce a person's environmental impact. Don't have kids, or maybe just one. This climate action appears less frequently in that repertoire, but it's gaining currency as climate catastrophes mount. One study has shown that the reduction of greenhouse gas emissions from having one fewer child in the United States is 20 times higher—yes 2000% greater—than the impact of lifestyle changes like those listed above. Yet opponents are quick to accuse child-free for climate advocates of racism and nativism because their aims can resemble those of forced population control..."
---
Warming Halloweens. Climate Central looks at the trends: "With Halloween a couple days away, Climate Central examines Halloween extremes—the coldest, warmest, rainiest, and snowiest October 31sts' on record for 242 cities—as well as the warming trend of October nights. From 1970 to 2019, 88% (212) of the 242 cities analyzed had an increase in their October minimum temperatures, consistent with the overall fall warming trend caused by climate change. Traditional October and fall festivities, like trick-or-treating and pumpkin picking, may undergo some changes as our climate warms. Increased global temperatures can help amplify wet and dry conditions regionally, and as a result, threaten cocoa bean and pumpkin harvests…"
---
---
Warming Climate and Arctic Sea Ice in a Veritable Suicide Pact. Yale Climate Connections found a clever (and vaguely terrifying) way to work "suicide" into a climate headline. But the situation up north is, in fact, dire. Here's an excerpt of their reporting: "Think of it as a suicide pact on ice – global warming and Arctic sea ice in a mutually destructive relationship. Earth's rising temperatures melt Arctic snow and ice, which, as the reflective surface cover disappears, reveals the dark land and ocean surface beneath. That darkening surface causes the Arctic to absorb more sunlight and therefore to warm faster … which in turn leads to more melting of snow and ice, ergo resulting in more warming. Scientists refer to Earth's surface reflectivity as its "albedo," and to the vicious Arctic melting-warming cycle as a "feedback." One action precipitates and reinforces another, in this case with Arctic warming and ice loss each accelerating the other. As a result, the Arctic is warming three times faster than the global average and its sea ice is quickly melting away. In summers between 1979 and 2012, Arctic sea ice had lost half its surface area and three-quarters of its volume. Some climate scientists described this rapid decline as the "Arctic sea ice death spiral..."
---
The Secret Political Power of Fossil Fuels. Every industry eventually gets disrupted as new technologies emerge. We have a word for that. Progress. Here's the intro to a post at The Atlantic: "In a new working paper, they find that the backlash to lost coal jobs added tens of thousands of votes to Trump's ledger in 2016. Their analysis bodes ill for Democrats—and it matters now, as former Vice President Joe Biden tries to retake Pennsylvania after Trump's victory there four years ago. The team began by looking at more than 300 rural counties across the country—half with coal mines or power plants, half without. From 1992 to 2008, you could not distinguish the coal counties from the non-coal counties by comparing how they voted. Then cheap renewables and natural gas started flooding the power market, and coal jobs began to vanish. Suddenly, the Republican vote skyrocketed in the counties with coal plants—specifically those that lost jobs…"
Map credit: "Red counties saw a coal-related Republican surge, while gray counties did not." (Egli, et al.)
---