National Weather Forecast
On Tuesday, the main story will be Isaias heading up the East Coast of the United States with heavy rain and strong winds. But we will also track an area of low pressure along with a frontal system in the Northern Plains bringing the chance of showers and storms in the Plains and across portions of the Rockies.
The heaviest rain through Wednesday evening will be in the eastern United States in association with Isaias, where at least 3-6″ of rain could fall. More on that below.
_______________________________________________
Latest On Isaias
Praedictix Briefing: Monday late afternoon, August 3rd, 2020
Isaias is getting better organized and could still become a hurricane before landfall tonight near the North/South Carolina border. As of the 5 PM EDT update, Isaias had winds of 70 mph and was located 60 miles south-southeast of Charleston, SC.
This system will race up the Eastern Seaboard the next couple of days, remaining a strong system with destructive wind gusts and heavy rain. Wind gusts up above 60 mph will continue to be possible along and east of the track of Isaias into portions of the Northeast, which could lead to power outages and tree and property damage. Meanwhile, a band of 3-6" of rain could lead to flash, urban, and river flooding.
A storm surge of up to 5 feet will also be possible around landfall tonight near the North/South Carolina border, as landfall will occur right around high tide.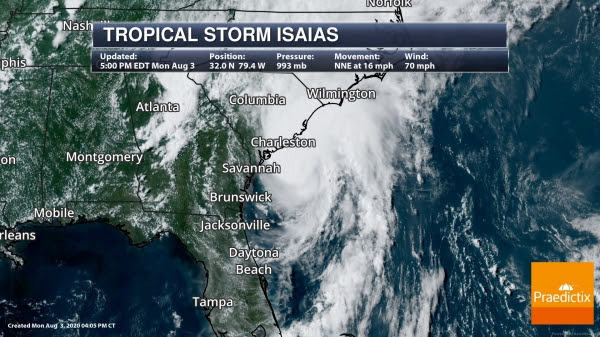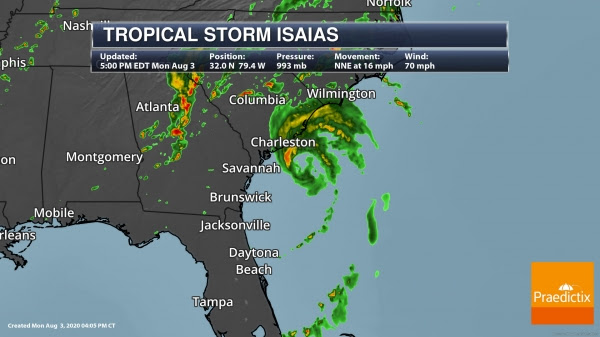 Isaias Latest. Isaias has continued to get better organized today and still is expected to become a hurricane before landfall tonight along the Carolina coast. As of the 5 PM EDT update from the National Hurricane Center, the center of Isaias was located about 60 miles south-southeast of Charleston, SC, or 120 miles south-southwest of Myrtle Beach, SC. The storm was moving north-northeast at 16 mph. Isaias had winds of 70 mph, with tropical storm force winds extending outward 125 miles from the center. Recently a wind gust of 52 mph was reported at the Folly Beach Pier in SC.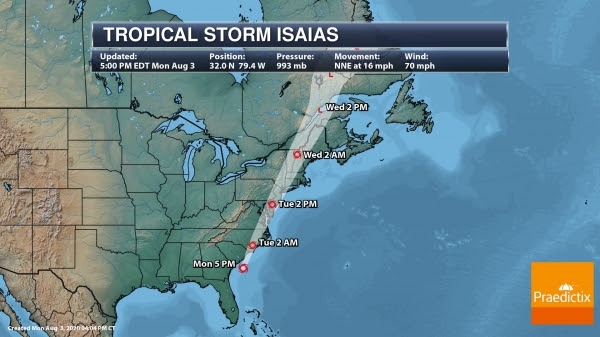 Expected Track. We are still expecting Isaias to make landfall tonight somewhere around the North/South Carolina border as a Category 1 hurricane. Isaias will continue to move quickly to the north-northeast over the next couple of days with accelerating forward speed. This would put Isaias moving over eastern North Carolina tonight into Tuesday morning, along the Mid-Atlantic states Tuesday, and into the Northeast by Tuesday Night. The system would then push into Canada Wednesday and eventually be absorbed by a larger area of low pressure. Only slow weakening is expected as Isaias moves across the eastern United States due to a strong upper level jet stream, meaning we expect to see strong winds across the Mid-Atlantic and Northeast Tuesday into Tuesday Night.
Hurricane Warnings. We continue to have Hurricane Warnings across portions of the eastern Carolinas ahead of Isaias making landfall with Tropical Storm Watches and Warnings stretching north all the way to Maine. Below are where coastal watches/warnings are in place:
Hurricane Warnings
* South Santee River South Carolina to Surf City North Carolina
Tropical Storm Warnings
* Savannah River to South Santee River South Carolina
* North of Surf City North Carolina to Stonington Maine
* Pamlico and Albemarle Sounds
* Chesapeake Bay
* Tidal Potomac River
* Delaware Bay
* Long Island and Long Island Sound
* Martha's Vineyard, Nantucket, and Block Island
Tropical Storm Watches
* North of Stonington to Eastport Maine
Check out local information from local National Weather Service offices: Charleston SC, Columbia SC, Wilmington NC, Raleigh NC, Newport/Morehead City NC, Wakefield VA, Baltimore/Washington, Philadelphia PA, New York NY, Albany NY, Boston MA, Portland ME, Caribou ME
Strong Winds Expected. Strong winds are still expected along the track of Isaias, especially on the eastern side of the system, as it travels up the Eastern Seaboard. There is the potential of at least 60 mph wind gusts from northeastern South Carolina to the NYC/Long Island area. In some areas, especially near landfall, hurricane-force wind gusts are expected. These potentially destructive winds could bring the potential for damage to buildings, trees (including snapping trees and uprooting shallow rooted trees), and power outages (especially in areas with above ground lines).
Myrtle Beach, SC Wind Gusts. The strongest wind gusts in Myrtle Beach will be this evening around the time Isaias makes landfall with hurricane-force winds possible around the 8-9 PM timeframe. Winds will decrease heading into Tuesday morning.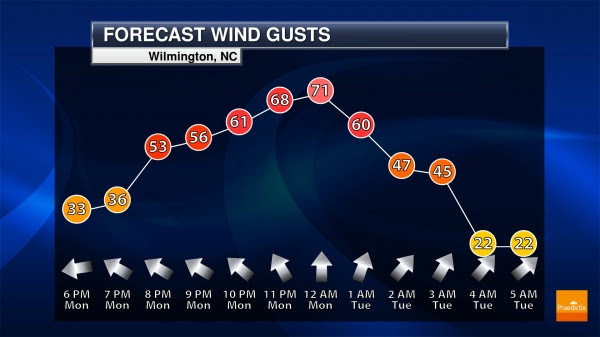 Wilmington, NC Wind Gusts. In Wilmington, NC, the strongest winds will occur as we head through the overnight hours as Isaias approaches and passes to the west, with wind gusts gradually decreasing into Tuesday morning. Winds could approach hurricane-force around Midnight.
Washington D.C. Wind Gusts. Isaias will bring the strongest wind gusts in the DC area in the late morning hours Tuesday when wind gusts above 40 mph will be possible.
Philadelphia Wind Gusts. Early to mid-afternoon Tuesday is when the strongest wind gusts – up to 60 mph – will be possible in Philadelphia.
New York City Wind Gusts. Wind gusts over 60 mph will be possible as we head toward the dinner and rush hour timeframe on Tuesday in New York City, greatly dropping off by the mid and late evening hours.
Storm Surge Potential. A life-threatening storm surge inundation is expected over the next couple of days along the Mid-Atlantic and Northeast coasts. The surge of water and tide would allow typically dry areas near the coast to be flooded by the rising ocean water. Along the coast is where the deepest water would occur and will be accompanied by large waves. If the surge of water occurs at high tide, the ocean water could achieve the following heights above ground level:
South Santee River SC to Cape Fear NC…3-5 ft
Edisto Beach SC to South Santee River SC…2-4 ft
Cape Fear NC to the North Carolina/Virginia border including Pamlico Sound, Albemarle Sound, Neuse and Pamlico Rivers…2-4 ft
Savannah River to Edisto Beach SC…1-3 ft
North of the North Carolina/Virginia border to Martha's Vineyard including the Chesapeake Bay, the Tidal Potomac River, Delaware Bay, Long Island Sound, Block Island Sound, Narragansett Bay, Buzzards Bay, and Vineyard Sound…1-3 ft
Storm Surge Watches And Warnings. Due to this rise in water levels, Storm Surge Watches and Warnings are in place:
Storm Surge Warnings
* Edisto Beach South Carolina to Cape Fear North Carolina
* Pamlico and Albemarle Sounds, including the Neuse and Pamlico Rivers
* Oregon Inlet North Carolina to the North Carolina/Virginia border
Storm Surge Watches
* Cape Fear to Oregon Inlet North Carolina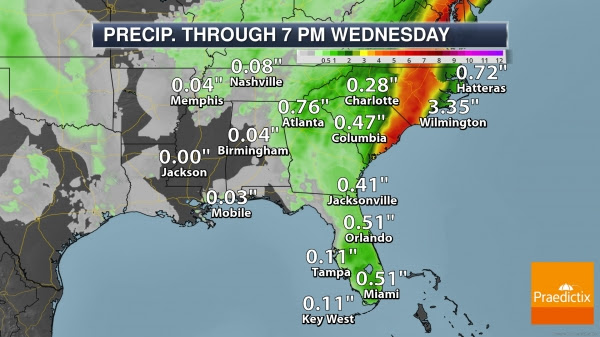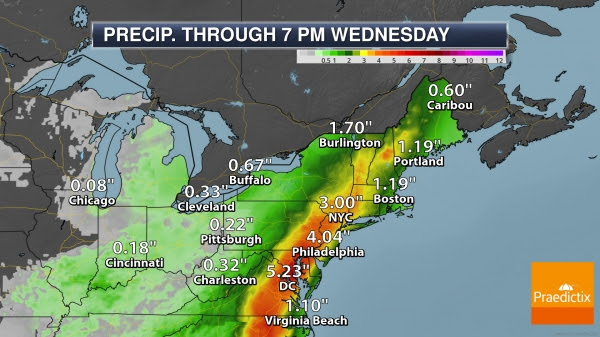 Heavy Rain Potential. Even with Isaias quickly traveling north-northeast through the middle of the week, a heightened rain and flood threat will exist from South Carolina into New England. A band of at least 3-6" of rain is expected to fall across this region with could lead to flash flooding and urban flooding, with minor to moderate river flooding possible as well. Some of the river flooding may not occur until later in the week after Isaias has passed as the rain from smaller tributaries collects in the larger rivers in the region.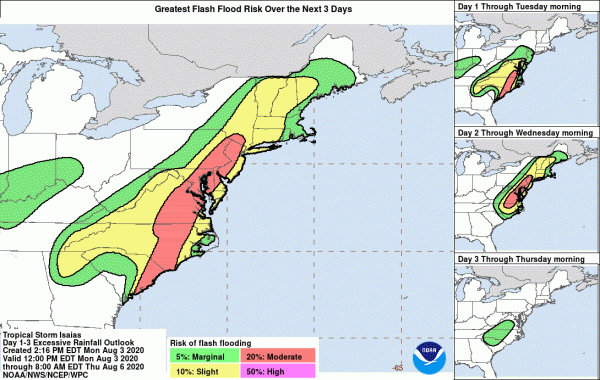 Moderate Flood Risk. Through Tuesday morning, the greatest flood threat will exist across portions of the eastern Carolinas into southeastern Virginia. Tuesday and Tuesday Night that greatest threat starts to move northward, stretching across portions of the Mid-Atlantic states through D.C., Baltimore, and Philadelphia.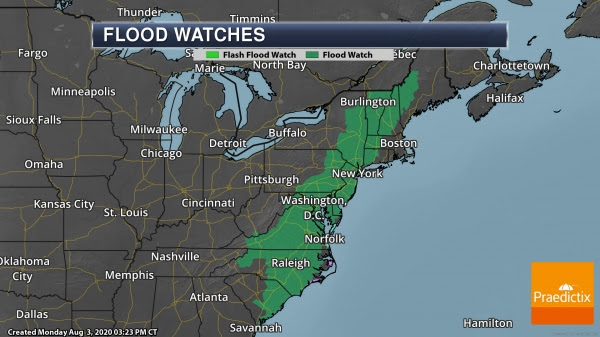 Flood Watches. We continue to have Flood Watches in place from South Carolina to Maine, including Washington D.C., Philadelphia, and New York City, due to the heavy rain threat over the next several days.
River And Coastal Flooding. This map shows the hydro gauges both along river and coastal areas as we head through the end of the week where flooding could be possible. Along inland rivers, most of this would be due to the heavy rainfall expected. In coastal areas, this would be due to the potential of storm surge. Areas of at least minor (orange) to moderate (red) flooding will be possible from South Carolina to the Northeast.
Myrtle Beach Hydrograph. Unfortunately, Isaias looks to make landfall right around high tide tonight, which could make the coastal flooding situation worse across the Carolina coast in areas like Myrtle Beach. In Wilmington, NC, a Coastal Flood Warning is in place from 8 PM to 2 AM for 1-2 feet of inundation in low-lying areas.
D.J. Kayser, Meteorologist, Praedictix
_______________________________________________
The Pandemic Plays Hell With Fighting Wildfires and Hurricanes
More from The Daily Beast: ""Wildland Fire Lessons Learned Center" shares things that have gone wrong so that next time everyone can hopefully avoid the pitfalls. Today, the site is brimming with the uncharted challenges of combating natural disasters during a pandemic. It's hard enough to confront a blaze, or hurricane, or earthquake at the best of times. Weather forecasters expect a busy natural disaster season, following Hurricane Hanna's debut last weekend. But the historic knowledge of how to cope no longer applies, and the Lessons Learned website's posts paint a disturbing picture. While fighting the Sawtooth inferno in Arizona in June, for instance, firefighters assumed they'd get help from the state's Department of Health staffers in case someone contracted COVID-19. The department said it would not assist, however. The guidance for COVID-19 mitigation like social distancing was not clear or consistent, either."
Rising Seas Could Menace Millions Beyond Shorelines, Study Finds
More from the New York Times: "As global warming pushes up ocean levels around the world, scientists have long warned that many low-lying coastal areas will become permanently submerged. But a new study published Thursday finds that much of the economic harm from sea-level rise this century is likely to come from an additional threat that will arrive even faster: As oceans rise, powerful coastal storms, crashing waves and extreme high tides will be able to reach farther inland, putting tens of millions more people and trillions of dollars in assets worldwide at risk of periodic flooding."
City Staff Working on Houston's Climate Plan Are Being Paid by BP
More from VICE: "Houston's promise to reduce its greenhouse gas emissions to zero by 2050 comes with a huge catch—the city is working directly with BP, one of the world's most polluting oil and gas companies. In fact, BP will be paying the salaries of two city employees tasked with figuring out how to reduce or neutralize Houston's massive climate footprint. Houston emitted 34 million tons of emissions in 2014, and 94 percent of the city's passenger trips are taken in cars. The fossil fuel heavyweight "will serve as the City's strategic planning and technical partner on the (Climate Action Plan) for the next four years," according to a press release from the office of Houston Mayor Sylvester Turner."
_______________________________________________
Thanks for checking in. Don't forget to follow me on Twitter (@dkayserwx) and like me on Facebook (Meteorologist D.J. Kayser)!
 – D.J. Kayser