La Nina Now Likely This Winter
I've consulted my therapist and my winter outlook remains unchanged: "Colder with some snow". It's the details (when, where, how much?) that trip me up every time.
According to NOAA, a La Nina cooling phase in the Pacific Ocean should linger into much of the winter. Every La Nina is different (lovely) but most La Nina winters favor more snow for the Northern Plains and Upper Midwest. Snowfall has been erratic in recent years but snow lovers may have reason for hope.
In spite of La Nina, NOAA's Climate Prediction Center predicts a milder than average fall (October through December) for the entire USA. Despite next week's chill I see mild bias in the weeks ahead.
Showers this morning give way to more August-like warmth Friday. We start to cool off over the weekend; Doppler radar freckled with instability showers each afternoon.
Jackets and sweatshirts return next week as jet stream winds buckle. Expect gusty, showery rains, with highs stuck in the 50s by late week.
Might I interest you in superb boating weather on Friday?
---
Photo credit: Pete Schenck, Deerfield Trail Lake.
---
NOAA Declares La Nina is Here. The Washington Post's Capital Weather Gang discusses the potential implications (for hurricane season and the upcoming winter) by a cooling phase in the Pacific Ocean: "The National Oceanic and Atmospheric Administration declared Thursday that a La Niña pattern had become established, having bearing on the remainder of the hurricane season and the upcoming winter. La Niña conditions are likely to continue through at least wintertime, potentially returning to a more relaxed "neutral" state by spring. La Niña, which means "the girl" in Spanish, is the opposite of an El Niño. La Niña features unusually cool ocean waters in the equatorial tropical Pacific Ocean and can influence weather patterns beyond the Pacific. The expectation of a La Niña pattern was a contributor in NOAA's early August forecast of an "extremely active" hurricane season..."
Map credit: "Current sea surface temperature anomalies in degrees Celsius. Note the cool waters in the eastern Pacific commensurate with La Niña." (Tropical Tidbits)
---
---
Risk of a Free Watering. The best chance of showers should come this morning, especially north and east of the Twin Cities, with some drying this afternoon. Another round of showers and T-storms comes Saturday afternoon.
---
---
---
---
---
---
Peak Heat Friday, Then Cooling Off. You might just want to schedule some quality boat-time on Friday, because by the latter half of next week it'll look and feel like late October. Map sequence above: Praedictix and AerisWeather.
---
Sweatshirt-Worthy Next Week. Hey, what's 40 degrees among friends? Temperatures fall off next week with daytime highs in the 50s by midweek. ECMWF may be overestimating this next cool zinger, but there's little doubt you'll get some mileage out of your favorite jacket next week. Meteogram: WeatherBell.
---
Temperature Bounce First Week of October. We start October on a chilly note, but temperatures are forecast to moderate after October 2 or 3. We'll see more 70s the first half of October.
---
Praedictix Briefing: Issued Wednesday morning, September 23rd, 2020:
Beta Moving East-Northeast. Beta has continued to weaken over the past day and is now classified as a post-tropical cyclone. Even though it is no longer tropical, it is still producing heavy rain from eastern Texas into the lower Mississippi Valley. As of 4 AM CT, Beta had winds of 30 mph. The center of Beta was located about 30 miles east-southeast of Houston, or 70 miles west-southwest of Port Arthur, TX, and moving east-northeast at 9 mph. Beta will continue to move in a northeast-direction with a forward increase in speed over the next 48 hours.
---
Heavy Rain. Heavy rain will continue to fall across the Deep South over the next few days as Beta continues to move off to the northeast. Additional rainfall of 2-5" are expected from the upper Texas coast into portions of the Lower Mississippi Valley, Tennessee Valley, and the southern Appalachians through the end of the week. Along the upper Texas Coast, overall totals of up to 15" will be possible. This heavy rain across the region could lead to flash flooding.
---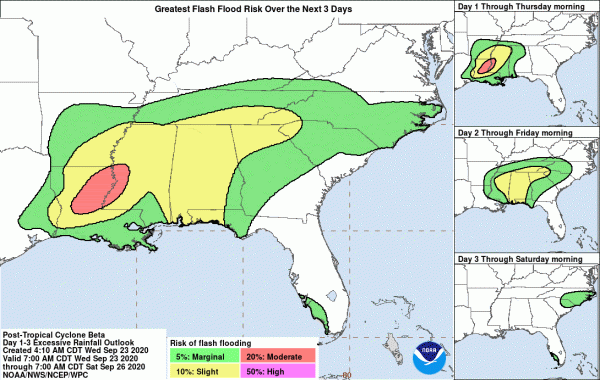 Flooding Threat. With rainfall rates of 1-3" per hour expected today and tonight (particularly this afternoon and overnight) across portions of Louisiana and Mississippi, one day rain totals of 2-6" are expected. This could lead to flash flooding across the region, with a Moderate Flood Risk in place.
---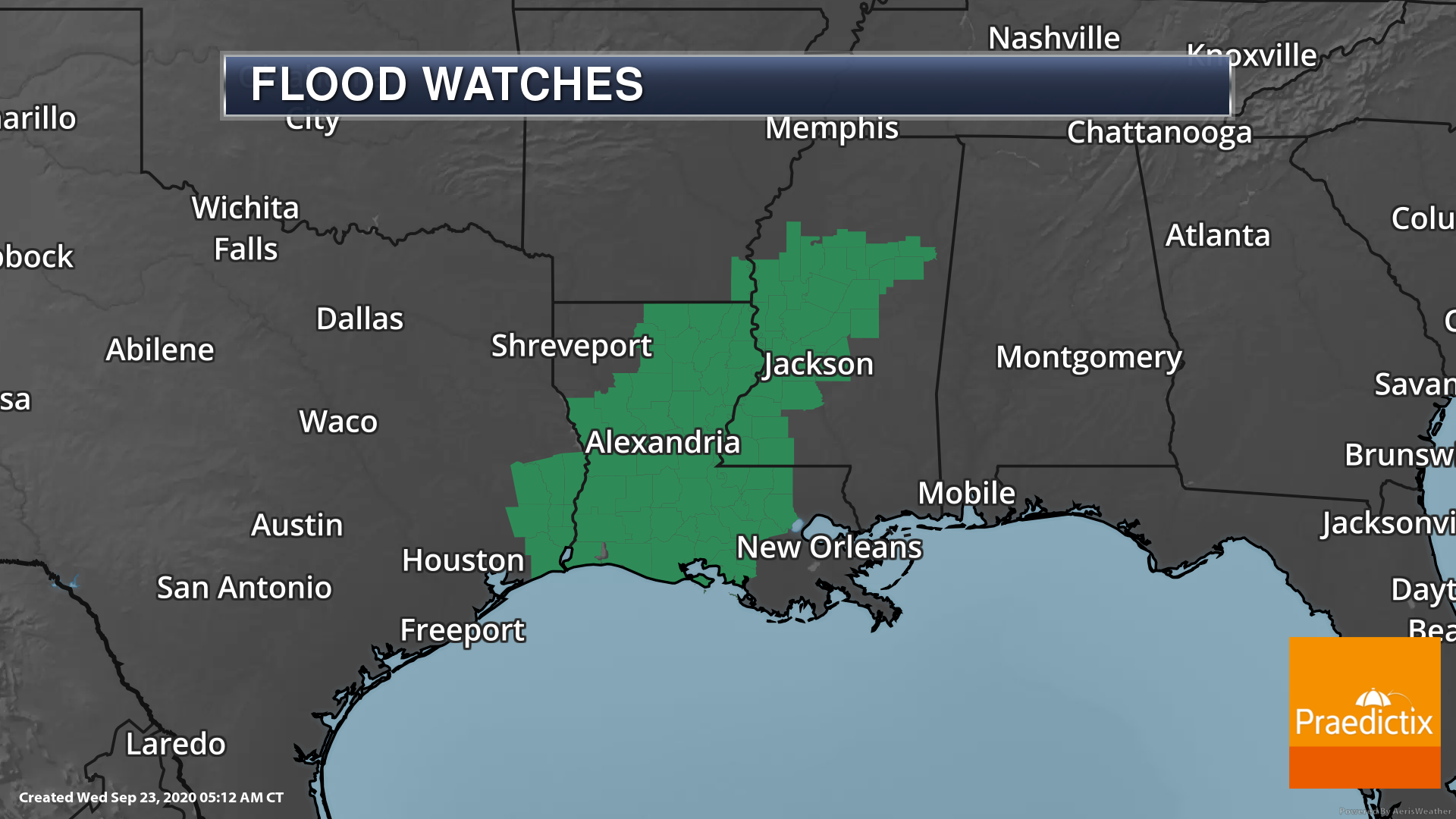 Flash Flood Watches. Due to the heavy rain threat continuing today across portions of the Lower Mississippi Valley, Flash Flood Watches remain in place from eastern Texas into central Mississippi. Across portions of Mississippi and Louisiana these watches last into Thursday.
D.J. Kayser, Meteorologist, Praedictix.
---
"Zombie Storms"? Hurricane Paulette is Back From the Dead. CNN.com reports: "…Hurricane Paulette made landfall in Bermuda as a Category 1 and strengthened to a Category 2 over the island on September 14. The storm then lost speed and lost its tropical storm status, downgraded to a post-tropical low-pressure system. The storm formerly known as Paulette stewed for five and a half days. That is, until this week.Paulette regained strength and became a tropical storm once more on Monday, according to the National Hurricane Center. Paulette reappeared Monday about 300 miles off the coast of the Azores islands..."
---
---
August Complex Fire Now the Largest in State History. ABC7 in San Francisco has the story: "The August Complex Fire currently burning in Northern California is the largest fire in the state since record-keeping began, according to data from CAL FIRE. Several other fires that started in August have also climbed the list of the largest in recent history, including the SCU and LNU Lightning Complex fires and the North Complex Fire…"
Image credit: "The August Complex Fire in Northern California is now the largest fire in the state since record-keeping began. Several other fires that started in August have also climbed the list of the largest in recent history, according to data from CAL FIRE."
---
Few Resources, Old-Growth Forest Allowed for Fire's Growth. And a warmer (drier) climate is part of the equation, according to Associated Press: "…Numerous studies in recent years have linked bigger U.S. wildfires to global warming from the burning of coal, oil and gas, especially because climate change has made California much drier. A drier California means plants are more flammable. The Bobcat Fire was one of more than two dozen major wildfires burning across California, including five of the largest in state history. Twenty-six people have been killed. Officials were investigating the death of a firefighter at another Southern California wildfire that erupted earlier this month from a smoke-generating pyrotechnic device used by a couple to reveal their baby's gender..."
---
---
---
Tesla Lays Out Path to an Electric Car Cheap Enough for Most People. Here's an excerpt from Fortune: "…At its heart, the plan is to vertically integrate a large portion of Tesla's battery production, "from mining the ore to the complete battery pack," as Musk put it. That control will allow for design and technology innovations that Musk says will dramatically slash costs for Tesla's cars. Tesla currently works with partners like LG and Panasonic to produce batteries, and it apparently won't end those relationships anytime soon. But it will dramatically expand its own battery production capacity, and, executives said, make those batteries for less than its partners do today. Based on its various innovations, Tesla projects it can reduce the cost of its batteries by more than half within about three years (though Musk and Baglino didn't reveal much about Tesla's current production costs)…"
---
Would You Be Willingly Blasted into Space for 10 Days? 10 days of sweet relief floating above the Earth (with no social media?) Yes please. CNN.com reports: "A planned reality show will seek to give the winner of its on-air competition "the greatest prize ever given out on Earth" — a 10-day stay on the International Space Station. The winning contestant on the show, called "Space Hero," could launch into orbit as soon as 2023, the production company behind the proposed series, which is also called Space Hero..."
File NASA ISS image near Houston, Texas courtesy of Scott Kelly.
---
RV-Size Asteroid Comes Close to Earth Today. Why not – it's 2020. Here's an excerpt from Live Science: "An asteroid will get awfully close to Earth this Thursday (Sept. 24), when it whizzes by our planet closer than the moon orbits. The asteroid — known as 2020 SW — isn't expected to collide with Earth, according to the Center for Near Earth Object Studies (CNEOS) at the Jet Propulsion Laboratory in Pasadena, California. But it will get close, passing about 16,700 miles (27,000 kilometers) away from Earth, according to the Virtual Telescope Project. To put this in perspective, the moon hangs out at an average of 238,900 miles (384,000 km) from us, or about 30 Earths away…"
---
84 F. high in the Twin Cities on Wednesday.
69 F. average high on September 23.
76 F. high on September 23, 2019.
September 24, 1985: 0.4 inches of snow falls in the Minneapolis area.
September 24, 1982: Tropical air moves north into Minnesota. The Twin Cities have a low of 71.
September 24, 1869: Heavy rain dumps nearly 10 inches on the White Earth Reservation.
---
---
THURSDAY: Morning showers, cooler. Winds: E 5-10. High: 74
FRIDAY: Last warm, sunny day in sight. Wake-up: 61. Winds: S 10-20. High: 82
SATURDAY: AM sun, few PM T-showers pop up. Winds: SE 8-13. Wake-up: 59. High: 76
SUNDAY: Gusty and cooler. PM showers. Winds: NW 15-25. Wake-up: 57. High: 66
MONDAY: Mostly cloudy, less wind. Winds: W 8-13. Wake-up: 53. High: 68
TUESDAY: Windblown showers, chilly. Winds: NW 15-35. Wake-up: 50. High: 62
WEDNESDAY: Showery and jacket-worthy. Winds: NW 15-25. Wake-up: 47. High: 55
---
Climate Stories…
California to Ban Sales of New Gas-Powered Cars Starting in 2035. Wow, we'll see if (once again) California leads the nation on the inevitable transition to electric-powered transportation. Here's the intro to a story at The Wall Street Journal: "California Gov. Gavin Newsom signed an executive order Wednesday requiring all passenger cars sold in the state to be zero-emission vehicles by 2035. Mr. Newsom said in a statement that the widespread adoption of zero-emission vehicles would reduce greenhouse gas emissions and help to combat climate change. The transportation sector is responsible for more than half of carbon pollution in California, the Democrat said. The announcement comes as Mr. Newsom has emphasized climate change as a key cause of the historically disastrous fires that have ravaged the state in the past month. Experts have said California has become more susceptible to fast-moving, destructive wildfires due in part to climate change..."
Photo credit: Paul Douglas.
---
Warming Seas Spawning Stronger Hurricanes. Climate Central takes a look at the trends: "Sea surface temperatures in the tropical Atlantic, known as the Main Development Region for tropical systems (depressions, storms, and hurricanes), have risen 1.85°F in the last century. The likelihood of tropical cyclones (the term scientists broadly use to represent hurricanes, typhoons, etc) reaching Category 3 status has increased since 1979. Warming water and air from climate change creates the potential for stronger hurricanes, with heavier rain and higher storm surge, increasing the risk of flooding when they make landfall..."
---
---
---
2020 Hurricane Season is a Turning Point in Human History. Eric Holthaus writes for OneZero: "…In general, the consensus among scientists is that tropical storms — the weakest category of tropical cyclones — won't become substantially more common as the world warms. However, top-end hurricanes, the kind that rend shorelines and change history, almost certainly will. In fact, according to a study published in the Proceedings of the National Academy of Sciences earlier this year, these changes are already being observed. The chance that a tropical cyclone will reach Category 3 or higher is now 16% greater than it was late last century — just a couple decades ago. Hurricanes are forming further north, producing heavier rainstorms, lingering longer, and intensifying more rapidly than they have in the past, all because of human activity. A few decades from now, it may be common to have a system blossom from a tropical storm to a Category 4 monster in just over 24 hours the day before landfall as Hurricane Laura did. It will always feel terrifying…"
---
Arctic Sea Ice Drops Below a Grim Benchmark in 2020. Mashable has details: "Atop Earth, ice is vanishing. The National Snow and Ice Data Center announced Monday that Arctic sea ice, which has historically blanketed the expansive Arctic ocean, fell to its lowest extent for the year. Called the "Arctic sea ice minimum," the event occurs annually near the end of summer. 2020, however, met a grim benchmark. For only the second time in the satellite record, sea ice fell below 4 million square kilometers, or about 1.5 million square miles. Only 2012, which holds the record for the lowest ice extent, had less ice. The diminished sea ice this year is part of a declining trend in the now 42-year Arctic satellite record. It's a consequence of a rapidly heating planet. "The last 14 years (2007-2020) are the 14 lowest years in the record," said Walt Meier, a senior research scientist at the National Snow and Ice Data Center. "In other words, we are in a changed Arctic from the 1980s and 1990s and earlier..."
---
Climate Disruption is Now Locked In. The Next Moves Will Be Crucial. A post at The New York Times (paywall) provides perspective: "…What we're seeing today, this year, is just a small harbinger of what we are likely to get," said Jonathan Overpeck, a climate scientist at the University of Michigan. Things are on track to get "twice as bad" as they are now, he said, "if not worse." Earth has already warmed roughly 1 degree Celsius, or 1.8 degrees Fahrenheit, since the 19th century. The most optimistic proposals made by world governments to zero out emissions envision holding warming to below 2 degrees Celsius. Nations remain far from achieving those goals..."
File image: NASA.
---
Two American Crises: The Parallels Between Climate Change and the Pandemic. Here's a clip from a post from WBUR.org: "…I don't fear that people will become numb. What I fear is that information will be suppressed," she says. "I fear that people will get the wrong information, and they'll continue blaming themselves and continue thinking that they don't have the power to change these things." Emissions dropped at the beginning of the pandemic, but Atkin says solving climate change requires long-term solutions around reducing reliance on fossil fuels. Investing in long-term solutions can prevent trillions of dollars in yearly damages from climate-related disasters, she says. One stark parallel between COVID-19 and climate change is how the crises disproportionately impact Black, Brown and poor communities..."
Photo credit: Paul Douglas.
---
Voters Want to Use Climate Change Policies to Rebuild the Economy After COVID. Here's an excerpt from Vice News: "…A majority of U.S. voters want to see corrective climate change policies and the creation of jobs in the clean energy sector as a way to recover from the mismanagement and economic fallout of the coronavirus pandemic, according to a new poll. The poll, conducted by VICE Media Group and several partners, found that 54% of Americans disapprove of President Trump's handling of the pandemic, while 78% of Americans want to see Congress take a more aggressive stance in stamping out the coronavirus for good. Two of the most supported methods of recovering were job training for workers who left the fossil fuel industry and a carbon tax on companies with high annual emissions..."
Image credit: "Voters support climate policy as part of the economic recovery from coronavirus."
---
Walmart Sets Goal to Become Regenerative Company. Zero emissions by 2040. When the world's largest retailer steps up and matches words with actions, maybe this is (another) inflection point. Here's an excerpt from Walmart's statement: "World's largest retailer targets zero emissions by 2040 and aims to protect, manage or restore at least 50 million acres of land and one million square miles of ocean by 2030. Building on more than 15 years of sustainability leadership, Walmart today announced it is doubling down on addressing the growing climate crisis by targeting zero emissions across the company's global operations by 2040. Walmart and the Walmart Foundation are also committing to help protect, manage or restore at least 50 million acres of land and one million square miles of ocean by 2030 to help combat the cascading loss of nature threatening the planet..."
---
Occupying Climate, Top 1% Pollute Twice As Much As Poorest 50%: Climate Nexus has headlines and links: "The world's richest 1% are burning through the planet's carbon budget at a staggering rate, doubling the combined carbon emissions of the poorest half of humanity over the past 25 years, a new report said Monday. The research, compiled by Oxfam and the Stockholm Environment Institute, blamed rich people's increasing penchant for frequent air travel and driving SUVs and other high-polluting cars for their exorbitant share of humanity's carbon pollution. The wealthy's responsibility for the 60% increase in global carbon pollution over the last 25 years is also stark — the richest 1% are responsible for three times as much of that increase as the poorest half of humanity. The report's findings highlight the necessity of wide-ranging systemic and international efforts to combat both climate change and inequality, its authors said. Individuals voluntarily acting alone "will never add up. This has to be driven by governments," Tim Gore, head of climate policy for anti-poverty charity Oxfam and lead author of the report, told Reuters." (Reuters, The Guardian)
File image: Climate Reality.
---
RPG's Death Leaves Climate-Shaped Hole in the Supreme Court. Grist provides perspective: "…Appointed to the Supreme Court by Bill Clinton in 1993, Ginsburg often ruled in favor of stronger environmental protections. For many years, she was the closest thing the Supreme Court had to a climate hawk, especially compared to some of her fellow justices, like Republican appointees Clarence Thomas and Samuel Alito. Her many votes in favor of stricter environmental protections were a boon to green groups and blue states. Over her 27 years on the high court, a few of her most meaningful legal contributions were related to the greenhouse gas emissions fuel climate change — specifically, who between states, private companies, and the federal government, was responsible for regulating them. Looking at several opinions, Ginsburg seemed to have a clear point of view..."
File image: Duke University.
---
China Announces Major Carbon Neutrality Goal: Climate Nexus has headlines and links: "China will "aim to have CO2 emissions peak before 2030 and achieve carbon neutrality before 2060," President Xi Jinping announced during his address to the UN General Assembly Tuesday. The announcement marks a major shift for the country, which still relies heavily on coal for electricity generation, and puts "puts a lot more pressure on the United States" to enact its own timeline to achieve carbon neutrality, MIT management professor John Sterman, who models and tracks emission reductions and pledges at Climate Interactive, told the AP. Though China is by far the world's biggest annual emitter of greenhouse gas pollution, its per-capita and cumulative historic emissions remain far lower than the United States. "You can't get to 2060 without going through 2030," David Waskow, director of the International Climate Initiative at the World Resources Institute, told Bloomberg. But if the world needs to eliminate carbon emissions by 2050, "some developed countries would need to get there sooner than 2050 in order to balance things out." (AP, Bloomberg $, New York Times $, The Guardian, Politico Pro $, The Hill, Climate Home, FT $, Earther)
---
GE Plans to Stop Making Coal-Fired Power Plants. Nail, meet coffin. Here's an excerpt from Reuters: "…GE has said in the past it would focus less on fossil fuels and more on renewable energy, reflecting a growing acceptance of clean power sources by utilities. "GE's exit from building new coal-fired power — after decades as a leader in this space — is an acknowledgement that growth in the energy sector will no longer be in coal," said Kathy Hipple, a financial analyst at Institute for Energy Economics and Financial Analysis. "The market will ultimately reward GE for exiting new coal builds..."
---
---
White House Recommends Ryan Maue, Meteorologist and Critic of Dire Climate Predictions, for NOAA Chief Scientist. Capital Weather Gang explains: "…Maue serves as the developer of weathermodels.com, a site that displays computer model information using eye-catching graphics to make their simulations accessible to professionals and hobbyists. He was previously an adjunct scholar with the Cato Institute, a libertarian think tank that was involved in efforts to question the scientific consensus on human-induced climate change. Along with Patrick Michaels, a well-known climate change contrarian, Maue penned a 2018 op-ed in the Wall Street Journal challenging the climate change projections made in 1988 by noted former NASA scientist James Hansen, which other researchers, backed up by peer-reviewed studies, have found were prescient..."