This is a sample of the briefing we sent to our clients the morning of Wednesday, August 26th, 2020, on major Hurricane Laura and its expected impacts on the Gulf Coast.
Praedictix Briefing: Wednesday morning, August 26th, 2020
Laura has been rapidly strengthening during the overnight hours in the Gulf of Mexico, becoming a major Category 3 hurricane with winds of 115 mph as of the 7 AM National Hurricane Center update.
Landfall is still expected tonight or early Thursday morning near the Texas and Louisiana border along the Gulf Coast. Additional strengthening is expected today, but some very slight weakening is possible right before landfall.
This will be a large and dangerous storm along the northwestern Gulf Coast, bringing potentially catastrophic storm surge and winds as well as heavy rain and flash flooding.
Life-threatening storm surge is expected along the Gulf Coast tonight into Thursday morning, with a storm surge of up to 15 feet possible. The surge of water could go 30 miles inland across portions of southern Louisiana and southeastern Texas.
Winds of 100+ mph will be possible in southwestern Louisiana and southeastern Texas, especially near the coast, overnight tonight into Thursday morning. These winds will cause potentially devastating damage, and there is expected to be widespread power outages across the region.
Heavy rain of at least 5-10" across portions of Louisiana, Texas, and Arkansas will lead to flash and urban flooding.
We're also tracking numerous wildfires in the western United States and Typhoon Bavi bringing strong winds and heavy rain to South Korea, including Seoul, over the next day.
Hurricane Laura
Laura Satellite. Laura has been rapidly strengthening since yesterday over the warm waters of the Gulf of Mexico, with wind speeds increasing by 45 mph from 5 AM ET Tuesday to 5 AM ET Wednesday. As of the 7 AM CDT time update Wednesday, Laura was a Major Category 3 hurricane with sustained winds of 115 mph. As shown on satellite, Laura is a large hurricane with hurricane force winds extending out 70 miles from the center and tropical storm force winds up to 175 miles from the center. A buoy just east of Laura's eye has recently reported 74 mph sustained winds, a wind gust of 107 mph, and waves up to 37 feet. The center of Laura was located 280 miles south-southeast of Lake Charles, or 290 miles southeast of Galveston. Laura was moving to the northwest at 15 mph.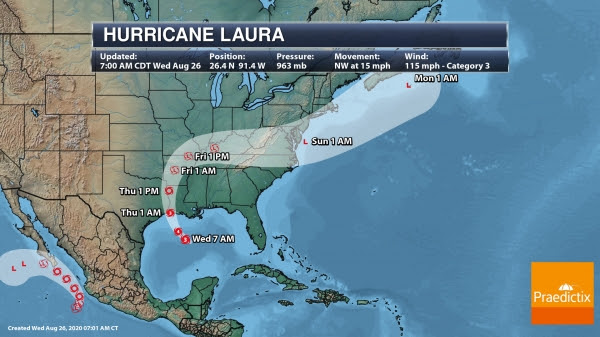 Laura Track. Laura will continue to strengthen today while moving to the northwest and is expected to become a major Category 4 hurricane this afternoon sitting south of Louisiana. As we head into tonight, Laura will turn more north-northwest, which will bring the system toward the Upper Texas and southwestern Louisiana coast and eventually inland tonight or early Thursday morning. Model guidance has continued to focus in on a landfall somewhere near the Texas/Louisiana border, with a higher confidence in this solution versus yesterday with the guidance condensing around this scenario overnight. However, any slight wiggles in center of circulation could cause this system to go farther west or east, so areas from Houston east to Beaumont, Port Arthur, Lake Charles and through portions of western and central Louisiana need to be on guard, quickly finish preparations ahead of Laura in the next few hours, and evacuate if necessary or under orders to do so. Some slight weakening is expected before landfall tonight, with forecast wind speeds of 120 mph at landfall, but that doesn't mean that Laura becomes any less of a dangerous storm. After landfall, Laura will start to quickly weaken, moving north into northwestern Louisiana with winds of around 60 mph by the early afternoon Thursday, and becoming a tropical depression Thursday night across central Arkansas.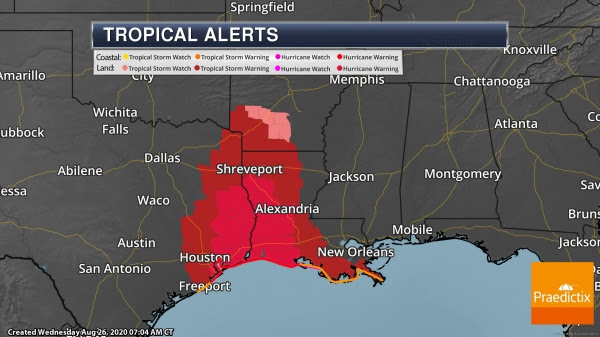 Hurricane Warnings. Hurricane Warnings stretch the Gulf Coast from Sun Luis Pass, TX, to Intracoastal City, LA, and stretch inland to include areas like Galveston, Beaumont, Port Arthur, and Lufkin (TX), and Lake Charles and Alexandria (LA). Tropical Storm Warnings include areas like Houston and Tyler (TX), Shreveport, Monroe, and New Iberia (LA), and El Dorado (AR). Along the coast, here are where warnings and watches are in place:
A Hurricane Warning is in effect for…
* San Luis Pass Texas to Intracoastal City Louisiana
A Tropical Storm Warning is in effect for…
* Sargent Texas to San Luis Pass
* East of Intracoastal City Louisiana to the Mouth of the Mississippi River
A Hurricane Watch is in effect for…
* East of Intracoastal City to west of Morgan City Louisiana
Here are links to more information on Laura from local National Weather Service offices: New Orleans/Baton Rouge, Lake Charles, Houston/Galveston, Shreveport
Laura Storm Surge. I'm going to talk about storm surge first instead of winds as I am greatly concerned about the surge of water that could impact portions of Louisiana into the Golden Triangle area of Texas. A life-threatening (and potentially historic according to NWS Lake Charles) storm surge (which is when water pushes inland causing dry areas near the coast to flood by these rising waters) is expected along the coast and inland from Laura as we go through tonight into early Thursday. This stretch of coast is quite vulnerable to storm surge. The National Hurricane Center notes that the storm surge could go as far as 30 miles inland from the coastline in southwestern Louisiana and southeastern Texas. The highest storm surge along the coast will be near and to the east of where landfall occurs, where if the peak surge occurs at high tide a surge of 10-15 feet will be possible along the Louisiana and far southeastern Texas coast. A storm surge of 3-5 feet will be possible in Galveston Bay, with a storm surge of 2-4 feet in Lake Pontchartrain. Here is the potential above ground water heights possible along the coast if the surge occurs at high tide:
Sea Rim State Park to Intracoastal City including Sabine Lake and Calcasieu Lake…10-15 ft
Intracoastal City to Morgan City including Vermilion Bay…8-12 ft
Port Bolivar to Sea Rim State Park…6-9 ft
Morgan City to Mouth of the Mississippi River…4-7 ft
San Luis Pass to Port Bolivar…3-5 ft
Galveston Bay…3-5 ft
Mouth of the Mississippi River to Ocean Springs including Lake  Borgne…2-4 ft
Lake Pontchartrain and Lake Maurepas…2-4 ft
Freeport to San Luis Pass…2-4 ft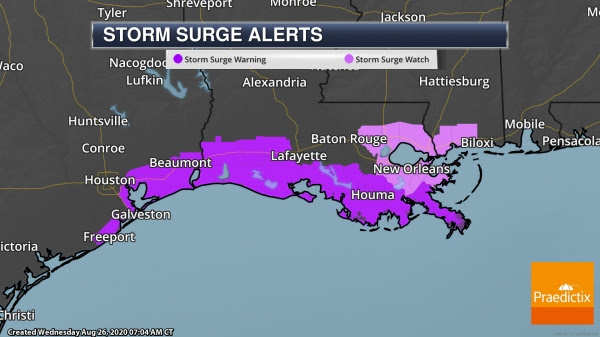 Storm Surge Warnings. Storm Surge Warnings are in place from Freeport, TX, to the Mouth of the Mississippi River, with Storm Surge Watches in place from the Mouth of the Mississippi River to Ocean Springs, MS, including Lake Pontchartrain, Lake Maurepas, and Lake Borgne.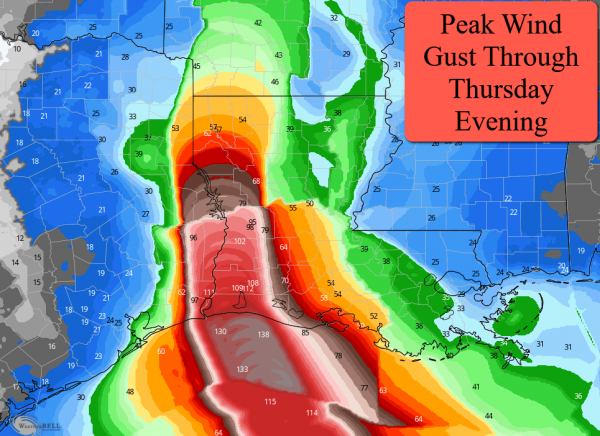 Peak Winds. Tropical storm force winds (39+ mph) will start to impact the Gulf Coast this afternoon, with hurricane force winds possible by the early/mid-evening hours. The current forecast track of Laura has the strongest winds across portions of southwestern Louisiana and southeastern Texas, where wind gusts of over 100 mph will be possible – particularly near and along the coast. Winds will decrease as the storm moves inland, but hurricane-force winds will continue to be possible across portions of west-central Louisiana and east-central Texas. Wind gusts over 50 mph will still be possible later in the day Thursday across northwestern Louisiana and southeastern Arkansas.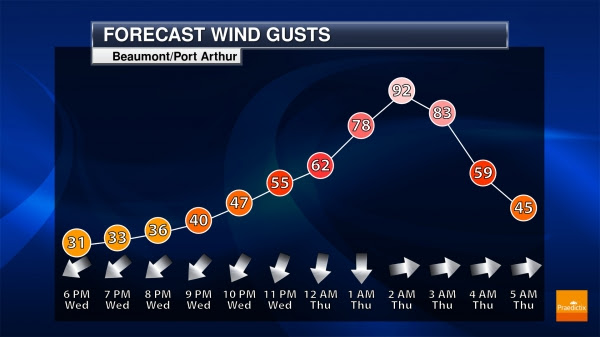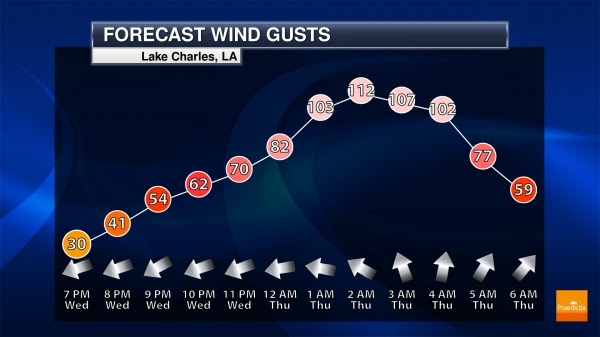 Beaumont/Port Arthur and Lake Charles Wind Gusts. As Laura approaches the coast late today into tonight, wind gusts will quickly increase above tropical storm force during the evening hours and up above hurricane force around landfall during the very early morning hours Thursday. During that time, wind gusts up to/above 100 mph will be possible, potentially causing devastating to catastrophic damage. There is expected to be widespread power outages across the region.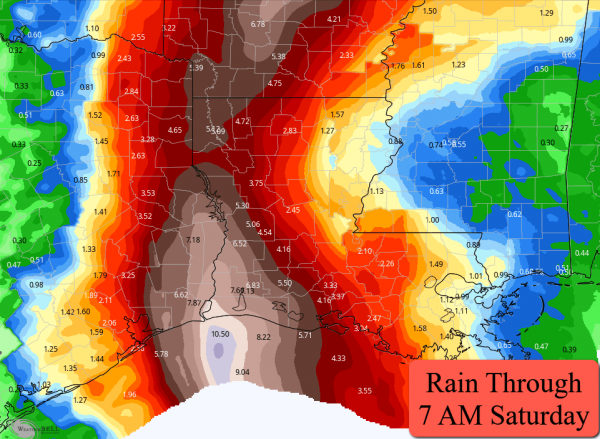 Heavy Rain Potential. Flooding rains are expected along the track of Laura over the next several days. A wide swath of at least 5-10" of rain is expected to fall from the northwestern Gulf Coast to Arkansas, with isolated 15" amounts possible. Farther north, 2-5" of rain will be possible across portions of the Tennessee and Ohio River Valley as what is left of Laura moves through the region Friday into Saturday.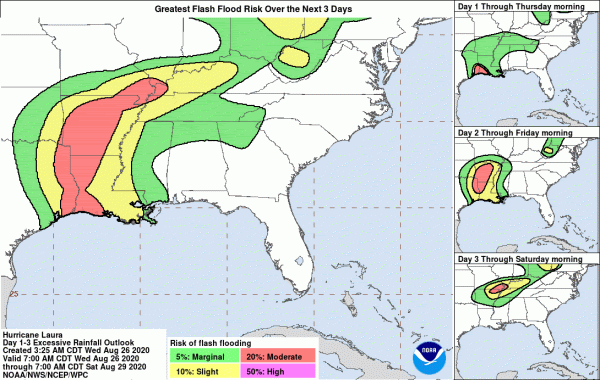 Flood Potential. The highest potential of flooding through Thursday morning will be along the Gulf Coast and across portions of southwestern Louisiana and southeastern Texas. The highest potential Thursday/Thursday Night will be from northwestern Louisiana and eastern Texas across a good portion of Arkansas. On Friday, the greatest potential will be across portions of the mid-Mississippi Valley and western Ohio River Valley.
Flash Flood Watches. Due to the heavy rain expected, Flash Flood Watches extend from the Gulf Coast to central Arkansas.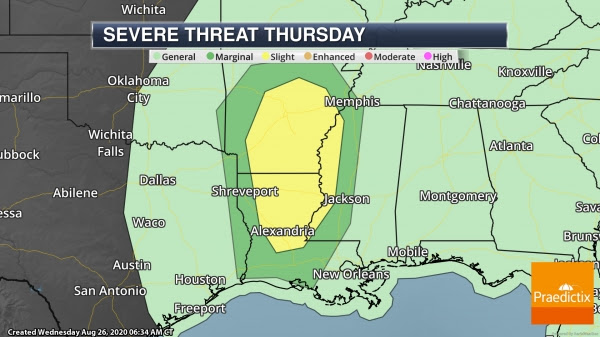 Tornado Threat. Landfalling tropical systems also contain the threat of tornadoes. The threat exists near the Gulf Coast today, extending north into portions of Arkansas as we go through Thursday.
Western Wildfires
Western Fires Continue. Numerous wildfires continue to burn across the western United States, with evacuations in place and poor air quality due to the smoke. In Colorado, the Pine Gulch fire, burning 18 miles north of Grand Junction, has burned 135,903 acres and is 47% contained. The Grizzly Creek Fire, burning near Glenwood Springs, has burned 32,060 acres and is 61% contained. Out in California, about two dozen major incidents/complexes continue to burn. Some of the worst fires can be found in the Bay Area. Highlighting some of those fires:
The SCU Lightning Complex Fire is burning in several locations across five counties: Santa Clara, Alameda, Contra Costa, San Joaquin, and Stanislaus. This complex is compiled of about 20 fires in three zones which have merged into one major fire. This complex of fires has burned 365,772 acres and is 20% contained. This would place this fire at the second largest in California history. Numerous evacuation orders are in place across the region, but some evacuation order warnings have been lifted. More information from Cal Fire: https://www.fire.ca.gov/incidents/2020/8/18/scu-lightning-complex/
The LNU Lightning Complex fires (including the Hennessey, Wallbridge and Myers fires) has burned 356,326 acres and is 27% contained. This would place this fire as the third largest in California history. Numerous evacuation orders and warnings remain in place. Extreme fire behavior continues to challenge firefighting efforts. The largest fire of this complex is the Hennessey, which contains multiple merged fires, burning in Napa and Lake Counties. That fire alone has burned 299,463 acres and is 29% contained. More information from Cal Fire: https://www.fire.ca.gov/incidents/2020/8/17/lnu-lightning-complex-includes-hennessey-gamble-15-10-spanish-markley-13-4-11-16-walbridge/
The CZU Lightning Complex Fire in southern San Mateo and northern Santa Cruz counties consists of multiple large fires that have merged. The complex has burned 79,640 acres and is 19% contained. The fire continues to actively burn above the marine layer. Evacuation orders are in place, but evacuation warnings in Santa Clara County have been lifted. More information from Cal Fire: https://www.fire.ca.gov/incidents/2020/8/16/czu-lightning-complex-including-warnella-fire/
More information on fires in California can be found from Cal Fire: https://www.fire.ca.gov/incidents/
More information on Colorado and other western wildfires can be found from InciWeb: https://inciweb.nwcg.gov/?state=6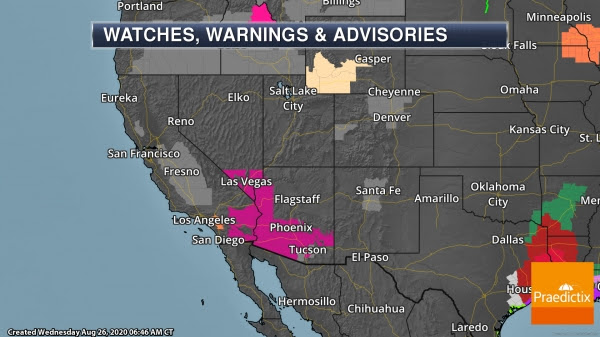 Fire Weather And Air Quality Concerns. Fire Weather Warnings (pink) are still in place today across portions of Idaho due to the potential of scattered storms with lightning and gusty storm outflow. The smoke from wildfires are also causing air quality concerns, with Air Quality Alerts (gray) in place. Excessive Heat Warnings are in place for Phoenix through Friday, where highs of 107-113F are expected daily, and in Las Vegas through Thursday with highs in the upper 100s.
Typhoon Bavi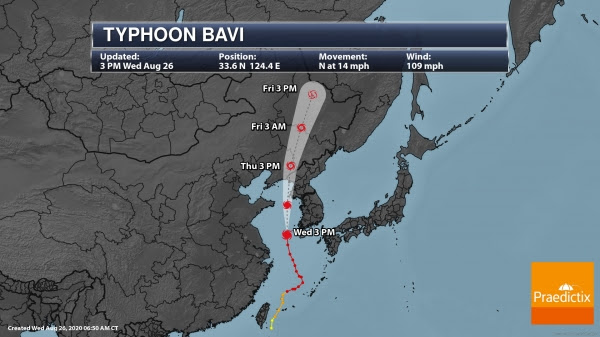 Typhoon Bavi. We are also watching Typhoon Bavi moving through the Yellow Sea. This storm will stay off the west coast of South Korea but strong winds are expected to be felt in areas like Seoul, where wind speeds of 33-55 mph will be possible as Bavi moves past. The strongest winds are expected in the early morning hours of Thursday. Heavy rain will also impact South Korea, with an additional 3-5" of rain possible in Seoul through Thursday. Bavi is expected to make landfall in North Korea Thursday.
D.J. Kayser, Meteorologist, Praedictix