After 70s Time for a Slushy Reality Check
Live long enough and you'll see everything. Well, almost everything. Last week's stretch of record 70s may have been historic. According to the Minnesota DNR, November 2020 was the first time the Twin Cities has seen Cooling Degree Day Temperatures in November. Meaning the need for A/C. Almost as meteorologically-bizarre as 10 inches of snow in mid-October.
Memories of last week's euphoric outbreak of shorts and T-shirts will give way to slushy resolve today. Weather models have been consistent, pushing a weak wave of low pressure along an eastbound cold front. The resulting burst of snow may drop 3 to 6 inches of slushy, March-like snow by late Tuesday night. Ground temperatures are still mild; there will be some melting at first, but the drive in Wednesday morning will be snowy and slow.
Skies clear Wednesday and nothing arctic is looming, just a run of temperatures close to normal. GFS hints at 60F a week from Wednesday.
After soaking Florida "Eta" may reach Louisiana, the 6th strike there in 2020. Unreal.
---
Plowable. Hard to believe it was in the 70s two days ago. The weather always changes fast at this latitude but…good grief. ECMWF (above two graphics) shows 5-7″ for the metro – there may be a little melting as the snow begins to fall later today, but some spots will wind up with 4-6″. Maps: WeatherBell.
---
---
---
---
---
---
---
---
---
---
Snowy Tuesday, Then Quieting Down. Today will look and feel like late December, but temperatures mellow somewhat as the week goes on with slow melting of whatever snow falls. Map sequence: Praedictix and AerisWeather.
---
Nothing Polar – Temperatures Rebound Close to Normal. It would be nice to be normal again, in any capacity. ECMWF shows a few mid to upper 40s next week. GFS (below) is more aggressive with next week's warming.
---
GFS Temperature Trends for MSP. 60F a week from Wednesday? The way 2020 is going I sure wouldn't rule it out, but a run of 50s should feel good next week, assuming GFS verifies. Graphics: WeatherBell.
---
Moderate Pacific Flow Leading Up to Thanksgiving. I see continued troughing in the western USA, suggesting more of a Pacific breeze for Minnesota the week leading up to Thanksgiving, with temperatures are few degrees above average. In spite of today's snow, I see no extended spells of abnormally cold weather through late November.
---
---
A Very Warm Start to November.
Dr. Mark Seeley breaks it down in
Minnesota WeatherTalk
; here's an excerpt: "
After recording mostly cooler than normal temperatures on the first day of the month, temperatures have averaged 12 to 18 degrees F warmer than normal under mostly bright, sunny skies. The expected persistence of these warm temperatures through Sunday, November 8th may produce one of the warmest November weeks in state history, rivaling 1975 and 2016. Many climate stations reported setting new record warm daily maximum temperatures and record warm daily minimum temperatures. On November 3rd over 20 new daily record high temperatures were reported within the long-term state climate network. On the 4th this number rose to over 40 stations, and on November 5 it was over 30 stations
…"
---
---
Praedictix Briefing: Issued Monday, November 9th, 2020:
Tropical Storm Eta:
---
Eta In The Southeastern Gulf Of Mexico. Around 11 PM last night, Eta made landfall on Lower Matecumbe Key, Florida, and the system continued to move westward through the overnight hours. Gusty winds and heavy rain are still occurring across southern Florida, with over 8" reported in Fort Lauderdale over the past 72 hours. As of 7 AM ET, Eta was located over the southeastern Gulf of Mexico, about 55 miles west-northwest of Dry Tortugas, FL, or 80 miles west-northwest of Key West, FL, and moving west at 13 mph. Eta was a strong tropical storm with winds of 65 mph.
---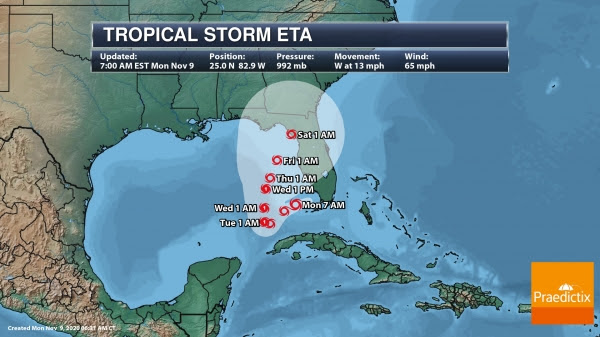 Eta Track. Eta will continue to move westward through the morning, followed by a move west-southwest later today and tonight with a decrease in forward speed. Little movement is then expected tomorrow before it starts to slowly move north Wednesday. As we head late in the week, we should see a northeast movement, and Eta could approach the Big Bend of Florida late this week into the weekend. Some slight strengthening is expected in the next couple of days, and there's the chance that Eta could reach hurricane strength in the Gulf of Mexico. However, upper level winds should increase mid/late week, which, along with dry air, will allow weakening to occur.
---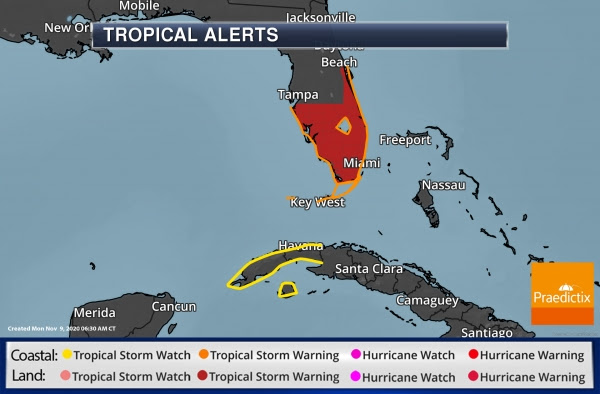 Tropical Storm Alerts. Tropical Storm Warnings remain in place across portions of Florida this morning, including from Brevard/Volusia County line to Anna Maria Island, the Florida Keys, and Lake Okeechobee. Tropical Storm Watches are in place across western Cuba including La Habana, Artemisa, Mayabeque, Pinar del Rio, and the Isle of Youth.
---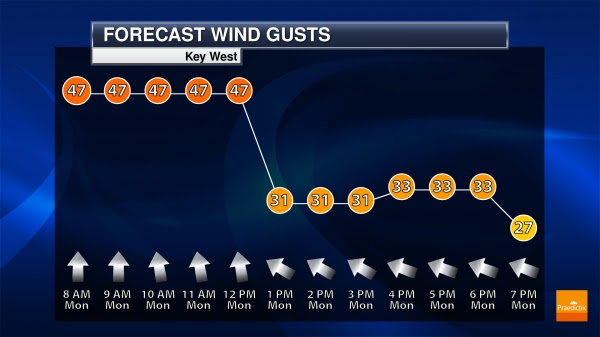 Key West Wind Gusts. Strong winds are expected to continue through the morning hours in Key West, but as Eta continues to move away today those wind gusts should decrease later in the day.
---
---
Heavy Rain And Flooding. Heavy rain will continue to impact portions of southern Florida and the western Caribbean over the next few days. Due to the heavy rain threat, Flood Watches continue to be in place in southern Florida. Here's a look at the potential rainfall amounts over the next few days according to the National Hurricane Center:
Jamaica and The Bahamas: An additional 2 to 4 inches (25 to 75 mm), with isolated maximum storm totals of 15 inches (380 mm).
Portions of Cuba: an additional 3 to 5 inches (75 to 125 mm), isolated maximum storm total accumulations of 25 inches (635 mm).
Portions of the central and southern Florida peninsula, including the Keys: an additional 2 to 4 inches (50 to 100 mm), with isolated maximum storm totals of 18 inches (450 mm) in South Florida.
---
Storm Surge Concerns. While Storm Surge Watches and Warnings have been cancelled, there is still the potential for a 1-2 foot storm surge from Bonita Beach, FL to Golden Beach, FL including the Florida Keys today.
---
Other Atlantic Concerns
Other Concerns. Yes, tropical season just continues to roll on in the Atlantic, with the official end of the season not until November 30th. Besides Eta, there are two other areas of concern:
A currently non-tropical low several hundred miles southwest of the Azores is becoming better organized this morning. This system could become a tropical or subtropical storm in the next few days, with a 50% chance of doing so in the next two days and 70% in the next five days.
A tropical wave is expected to move into the central Caribbean Sea over the next few days with an area of low pressure expected to form. There's the chance that a tropical depression could form in this area late this week or this weekend. There currently a 50% chance of formation in the next five days.
---
Vamco In The Western Pacific
Tropical Depression Vamco. We're also keeping an eye on Vamco which looks to impact portions of the Philippines, including Manila, later this week. Vamco is expected to strengthen into a typhoon with winds of 125 mph by Wednesday evening when the storm will be sitting east of the Philippines. It is expected to weaken as it moves across the country Wednesday Night and Thursday, but it still could have winds of 75 mph by Thursday evening as it sits just west of the Philippines. This storm looks to bring another round of damage in areas recently hit by tropical systems, including Goni. Heavy rain of at least 6-12" could lead to flash flooding, including in Manila.
D.J. Kayser, Meteorologist, Praedictix
---
What is a "Super-Typhoon" and Why Are They So Dangerous? WIRED.com (paywall) has a good explainer; here's an excerpt: "…Meteorologically, typhoons and hurricanes are the same phenomenon; it's just traditional to call them typhoons in the western Pacific or hurricanes in the eastern Pacific or Atlantic. They start as storms that pass over hot surface water, at least 80 degrees Fahrenheit, down to 150 feet deep. These storms suck up water from the ocean's surface, which evaporates into the air. As they rise, the water vapor condenses to form droplets, releasing more energy, while low pressure beneath the rising air masses brings in a rush of more air. A tropical storm officially turns into a hurricane when these counter­clockwise winds reach 74 miles per hour. Meteorologists applied the "super" designation to Typhoon Goni after it reached wind speeds of 150 miles per hour..."
---
There May be 300 Million Habitable Planets in our Galaxy. Somedays I wonder why intelligent lifeforms aren't reaching out. Oh wait. Never mind. Here's a clip from Mental Floss: "Throughout its nine-year tour of duty that concluded in 2018, NASA's Kepler Space Telescope produced a massive amount of observational data. Scientists are still going through it all. Among its revelations were now-confirmed 2,800 exoplanets, with thousands more still being analyzed. A new study of its data suggests that there may be as many as 300 million inhabitable planets in our galaxy. It finds that several of these could be relatively close by, within 30 light years from here..."
Image credit: Kepler-186f illustration. Credit: NASA Ames/JPL-Caltech/T. Pyle.
---
Kentucky Town Elects Dog as Mayor. He's "All Ears". I get it. Actually, I don't – but Fox News tries to explain: "The small community of Rabbit Hash, Ky., has elected a dog as its mayor. Wilbur Beast, a French bulldog, won the race with 13,143 votes, according to the Rabbit Hash Historical Society. That was the highest winning total ever for the position. He's not the first "canine in chief" for Rabbit Hash. The Ohio River community of just a few hundred people has been electing dogs as its mayors for fundraisers since the 1990s…"
Photo credit: "Wilbur Beast the French bulldog was elected major of Rabbit Hash, Kentucky." (Amy Noland).
---
---
66 F. high in the Twin Cities Monday.
45 F. average high at MSP on November 9.
45 F. maximum temperature on November 9, 2019.
November 10, 1999: Late season hail falls in Eden Prairie. Pea size hail (0.25 inch. in diameter) up to one foot deep collected near storm drains near Hennepin Technical College and Hwy 212. Pea size hail about 4 inches deep was also reported on grass near Hwy 5 and Mitchell Rd. The hail and torrential rains forced drivers off the road in Bloomington.
November 10, 1998: A potent storm nicknamed a 'land hurricane' sets a new all-time record low pressure for Minnesota around noon at Albert Lea and Austin as it passes overhead. The automated weather observing equipment at both airports measured a barometric pressure of 28.43 inches, which broke the previous record of 28.55 inches set on 11 January 1975 in Duluth. The new record for the Twin Cities was set with a reading of 28.55 inches. The previous record was 28.77 inches, set on April 13th of 1964. 10 inches of snow fell at Madison, MN and St. Cloud State University had a wind gust to 64 mph.
November 10, 1975: The Edmund Fitzgerald sinks off Whitefish Bay, causing 29 fatalities.
November 10, 1913: A severe windstorm occurs on Lake Superior. Three ships were lost. Winds were clocked at 62 mph at Duluth.
---
---
---
TUESDAY: Rain changes over to wet snow. Winds: N 10-20. High: 34
TUESDAY NIGHT: A burst of wet snow, 2-4″ possible. Low: 28
WEDNESDAY: Sunshine returns, snow melts. Winds: SW 10-15. High: 42
THURSDAY: Showers of rain and snow. Winds: NW 8-13. Wake-up: 30. High: 37
FRIDAY: Intervals of sun, not bad. Winds: S 8-13. Wake-up: 25. High: near 40
SATURDAY: Light morning mix? Clouds linger. Winds: SE 10-20. Wake-up: 30. High: 39
SUNDAY: Milder with clouds, few sprinkles. Winds: W 15-25. Wake-up: 35. High: 45
MONDAY: Patchy clouds, seasonably cool. Winds: NW 15-25. Wake-up: 30. High: 39
---
Climate Stories…
A Bipartisan Climate Policy? It Could Happen Under a Biden Administration, Washington Veterans Say. Here's a clip from InsideClimate News: "…But industry and environmental advocates alike say that Biden, who spent more than 40 years in the Senate, is uniquely suited to the challenge of dealing with McConnell—and with former colleagues of both parties. They are anticipating that Biden will be able to do more in the face of a hostile Congress than did President Barack Obama, who relied on a series of executive actions on climate that President Donald Trump has spent the past four years overturning. Climate policy watchers expect Biden to engage Capitol Hill on green stimulus and Covid relief, including measures that already enjoy bipartisan support like infrastructure, farm aid and support for renewable energy and carbon capture and storage. And perhaps, packaged with the right incentives, that might even include economy-wide legislation that puts a price on carbon. At least one Capitol Hill veteran argues that partisan disadvantage may be an advantage in the long run, for the stability of climate policy…"
---
Joe Biden Will Be President – But There Will Be No Green New Deal. So says writers at Vox; here's an excerpt that caught my eye: "…But there is an enormous amount that Biden can do with the presidency alone. He can immediately begin reversing Trump's massive deregulatory moves, restoring the more than 125 rules Trump has reversed or weakened.  He can instruct the Environmental Protection Agency to develop a more ambitious version of Obama's Clean Power Plan for the electricity sector, to work toward his goal of net-zero emissions electricity by 2035, and the Department of Transportation to develop, as his plan promises, "rigorous new fuel economy standards aimed at ensuring 100% of new sales for light- and medium-duty vehicles will be electrified." He can grant California the waiver it needs (which Trump is now in court trying to block) to pursue its own ambitious vehicle standards..."
---
Biden Shift on Climate Change Welcomed by World Leaders. Financial Times reports: "…However, Mr Biden's domestic climate agenda could be challenged if the Republican party retains control of the Senate, which will be decided by two run-off elections in Georgia in January. Paul Bledsoe, strategic adviser at the Progressive Policy Institute, and a former climate adviser in the Clinton White House, said Mr Biden could lean more on regulatory measures to enact his environmental agenda, if he were unable to pass climate legislation. "Trump overturned over 100 major environmental regulations. Many of those will be reinstated," said Mr Bledsoe. Vehicle emissions standards, which were watered down under the Trump administration, could be one of the first areas to be revived…"
---
---
The Climate Technologies Venture Capitalists are Backing. Yes, there will be plenty of money to be made cleaning things up; here's the intro to analysis at Quartz: "The world needs to invest about $3.5 trillion per year to keep global average temperatures from rising to dangerous levels, according to the Intergovernmental Panel on Climate Change. So far, we're not even close. Despite a record $370 billion investment in wind and solar last year, that's just a fraction of what's necessary to decarbonize the energy sector. Most of the trillions needed will go toward scaling up known technologies—solar, wind, batteries, smart grids, transmission lines, and energy efficiency—but those fixes have their limits…"
---
Wall Street Braces for Climate Change Scrutiny Under Biden. POLITICO reports: "Big Wall Street banks, facing the prospect that Democrats will impose new rules to force lenders to deal with natural disasters and rising sea levels, are positioning themselves as eager allies with a Joe Biden administration in fighting climate change. Banks are accelerating efforts to get ahead of the issue and make clear to Biden's team that they want a place at the table when decisions are made. JPMorgan Chase, Bank of America, Citigroup and Goldman Sachs are among the firms that have committed to hundreds of billions of dollars' in investments that they say will reduce carbon emissions. The head of the Institute of International Finance, which represents global financial firms, pledged to Biden economic adviser Jared Bernstein that the industry would be "a willing and active partner" on climate…"
---
U.S. Exits Paris Climate Pact with Election Outcome Uncertain. Bloomberg Green reports: "The U.S. has officially become the first nation to quit the Paris climate agreement, even as the outcome of the country's presidential race remains undetermined. President Donald Trump, who's fighting for re-election, moved to withdraw from the landmark environmental accord exactly one year ago, abandoning a global effort to curb carbon emissions and slow global warming. The U.S. exit formally took effect Wednesday, the day after the vote. The fate of the global climate now rests, in part, on who ends up in the White House. Former Vice President Joe Biden has said he will rejoin the Paris pact immediately if he wins…"
---
---
Species More Likely to Die Out with Rapid Climate Change. A post at phys.org caught my eye; here's an excerpt: "...Several bird species depend on the abundance of larvae while their young are small. If the larvae supply peaks earlier in the spring than normal, there may simply be too little food for the hatchlings. A warming climate can bring about changes like this. An earlier spring causes trees to leaf out earlier, which in turn causes the larvae that feed on the plants to hatch out earlier. "When the climate changes, the interactions between different species changes too," Simmonds says. She and a team of researchers at the University of Oxford used population models to calculate the consequences of different climate scenarios..."