This is a sample of the briefing we sent to our clients the morning of Wednesday, December 15, 2021, on the volatile weather expected across the Central United States, including unprecedented upper Midwest severe severe storms, high wind threats, and extreme fire danger concerns.
Widespread Volatile Weather In The Central U.S. Including Severe Storms, High Winds, And Extreme Fire Danger
Praedictix Briefing: Wednesday, December 15th, 2021
As a rapidly strengthening storm moves from the Central Plains into the Upper Midwest today into tonight, a plethora of hazardous weather is expected to occur across the central U.S., including severe storms, high winds, and extreme fire danger.
High Wind Warnings are in place from New Mexico to the Great Lakes, as wind gusts to at least 70 mph are expected. These strong winds will likely cause power outages and blowing dust. High-profile vehicles will be vulnerable to tipping due to these strong winds, and travel delays are possible.
These high winds will combine with low humidity across the central and southern Plains to cause an extremely critical fire danger today in which any fires that spark would spread uncontrolled easily.
One part of this system that has the potential to make it historic is its severe weather component, with a MODERATE risk of severe weather across western/central/northern Iowa, southeastern Minnesota, and west-central Wisconsin. Already strong winds could be enhanced by these storms, with wind gusts in storms of 80-100 mph possible. A few strong tornadoes will also be possible, and in many of these areas there has never been a tornado recorded in December.
Widespread Wind Alerts. With a strong system moving from the Central Plains to the Upper Midwest today and tonight, very strong and potentially destructive winds are expected across the central United States today into early Wednesday. In some of these areas, wind gusts of 70 mph or higher are possible. High Wind Warnings are in place as of this morning for areas like Amarillo, Denver, Cheyenne, Dodge City, Kansas City, North Platte, Omaha, Rapid City, Sioux Falls, Des Moines, Minneapolis, Marquette, Milwaukee, and Chicago. These strong, potentially destructive winds are likely to lead to impacts including power outages and blowing dust. High-profile vehicles will be vulnerable to these strong winds.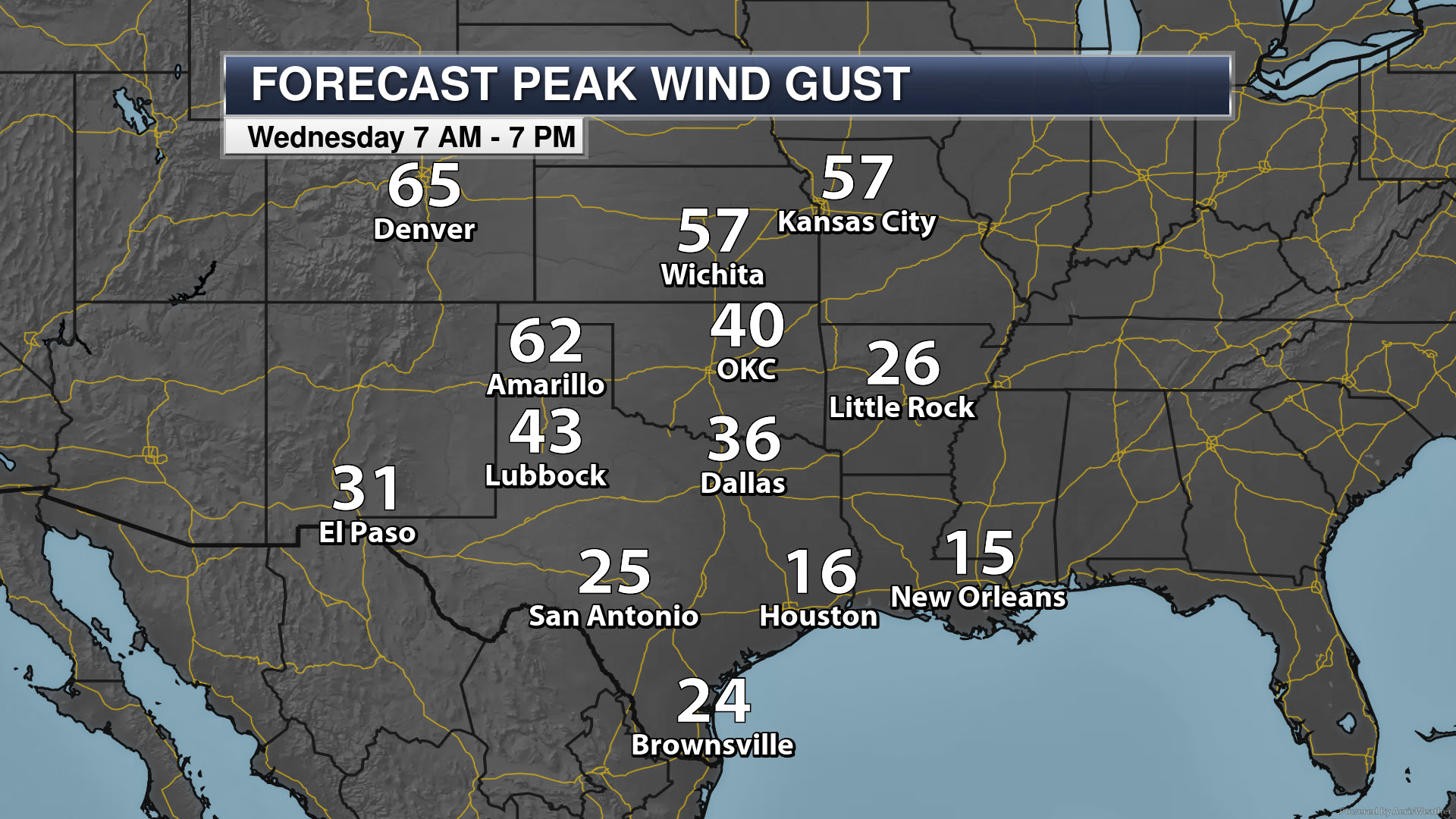 South Central Wind Gusts. Strong winds are expected to occur across portions of the South Central region as we head through the day, with the strongest winds expected in the following timeframes for these cities:
Denver: late morning to early afternoon
Amarillo: late morning to early afternoon
Wichita: afternoon hours
Kansas City: mid/late afternoon to early evening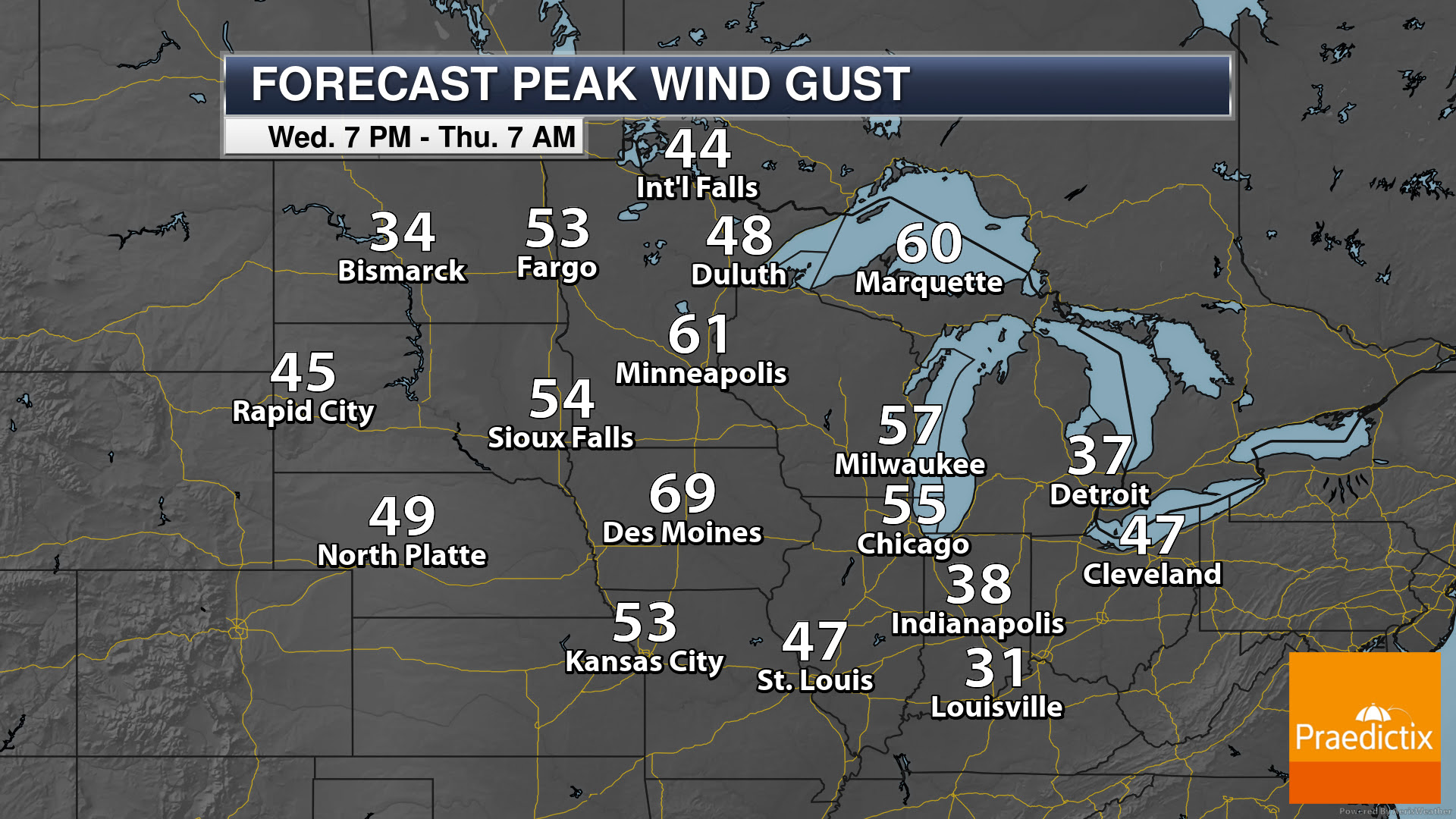 North Central Wind Gusts. Moving northward, you can see these strong winds spread across the region as we head through today into tonight. Here are when peak wind gusts are expected:
Rapid City: during the midday hours
North Platte: during the afternoon hours
Sioux Falls: from the evening hours to around Midnight
Twin Cities: from the evening hours in the early hours Thursday
Des Moines: during the evening hours
Milwaukee and Chicago: from the evening through the overnight hours
Marquette: overnight hours tonight through first half of Thursday
Extreme Fire Danger. Due to those strong winds and low humidity values, today will be an extremely critical fire danger day across portions of the Plains, particularly from the Texas Panhandle to central Kansas. These areas have the greatest potential for at least three hours of very windy and dry conditions, including potentially sustained 40+ mph winds. This type of weather environment will create very dangerous wildfire-spreading conditions. Red Flag Warnings are in place from Texas and New Mexico to southwestern Iowa.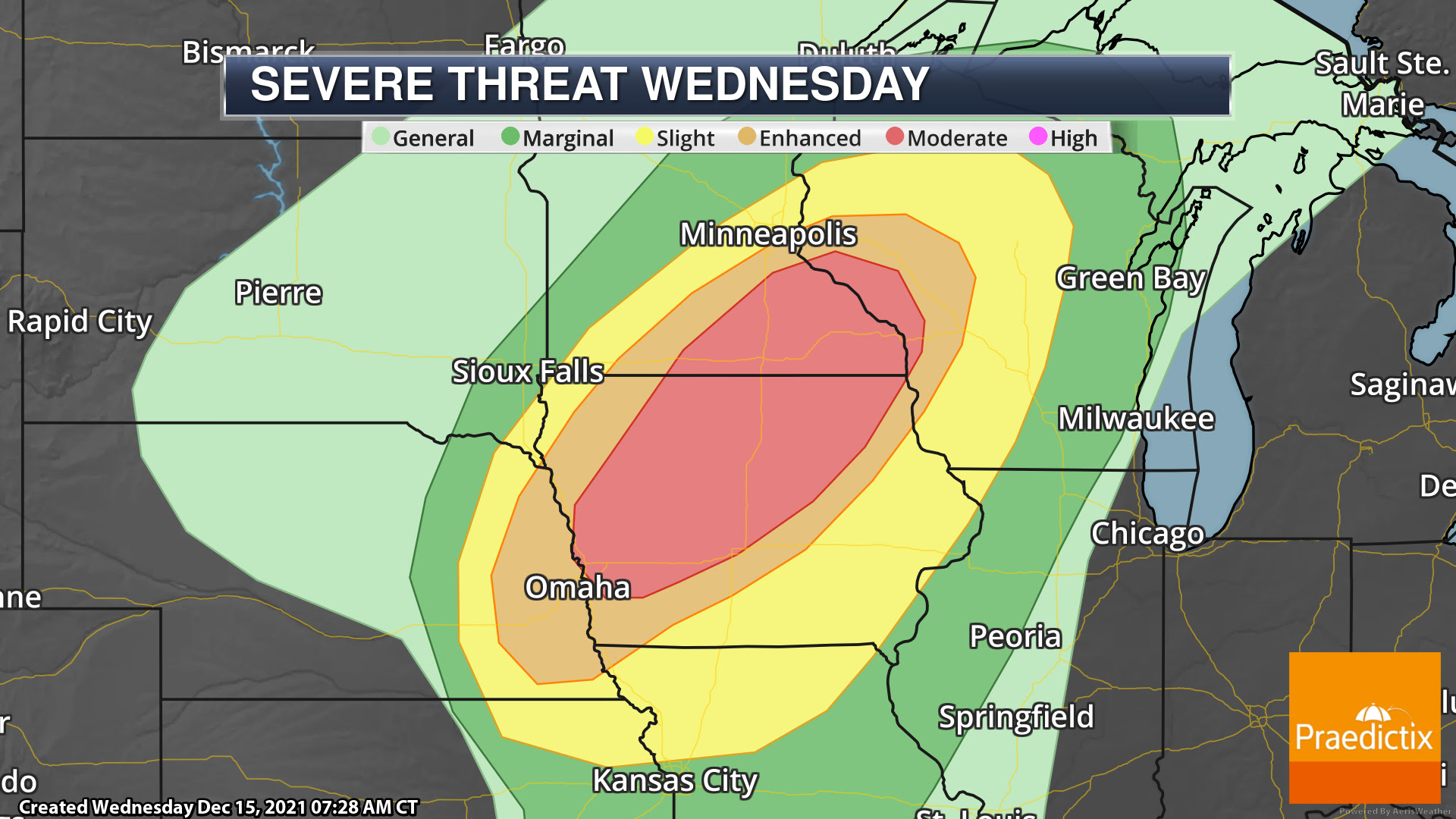 MODERATE Severe Risk. This system looks to also bring an unprecedented late-season severe weather threat to the upper Midwest later today into tonight. A MODERATE risk of severe weather is in place across western/central/northern Iowa, southeastern Minnesota, and west-central Wisconsin, including Rochester (MN), Waterloo, Ames, and Cedar Falls (IA), and La Crosse (WI). Damaging winds (possibly a derecho event) and a few tornadoes (some strong) are the primary threats. Storm movement will be very quick off to the east and northeast (likely 60-70 mph), and NWS Des Moines says that these storms "could move through a typical Iowa county in only 20 minutes." According to the Storm Prediction Center, this is the farthest north Moderate Risk ever issued in December.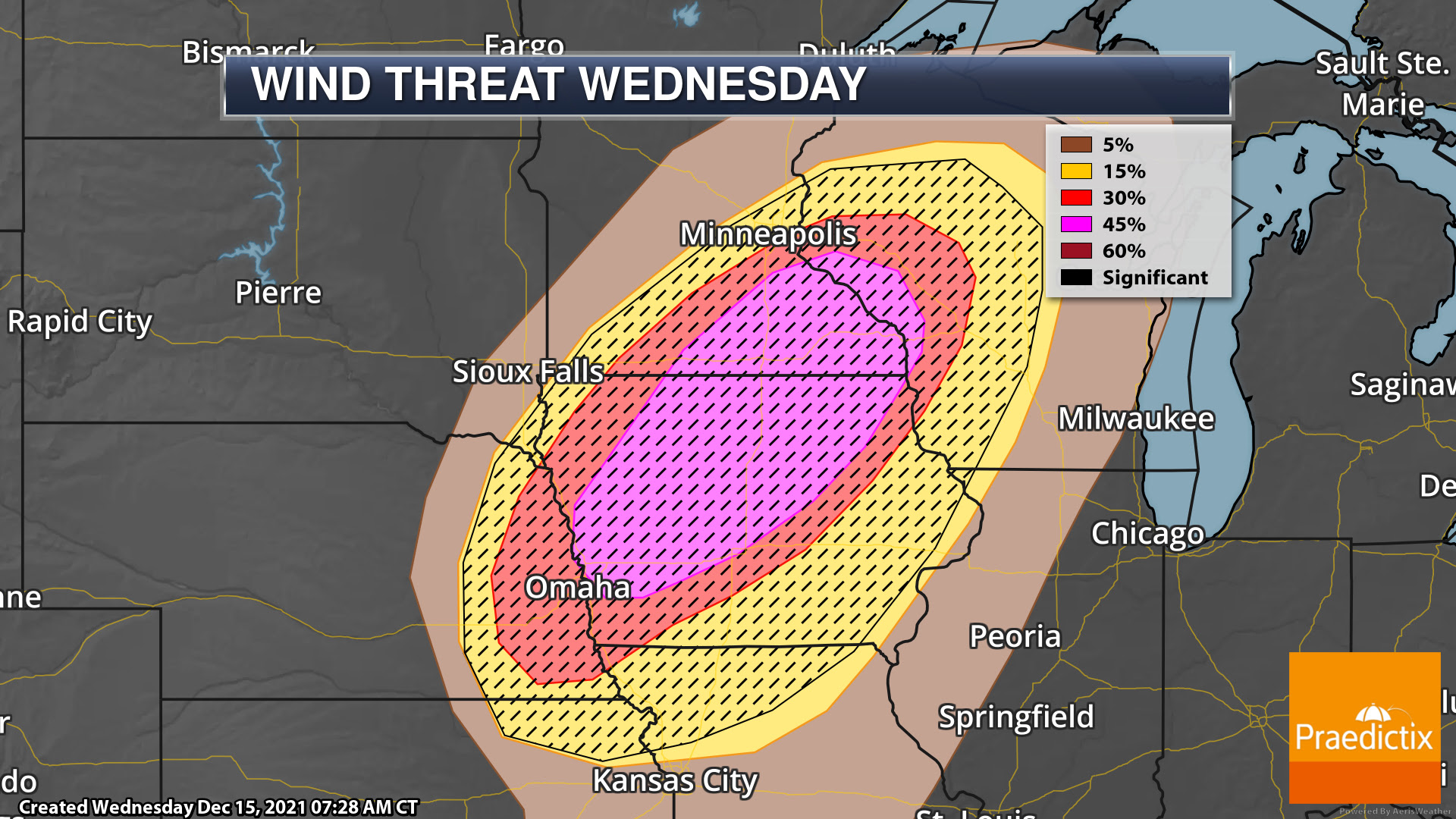 Damaging Wind Threat. As noted above, winds will already be strong across this region with High Wind Warnings in place, and within storms as they move through those winds could be enhanced. Widespread winds of 60-75 mph with embedded gusts of 80-100 mph will be possible within these storms. The Storm Prediction Center notes that there will be the potential of a derecho across this region this evening – a widespread (at least 250 miles), long-lived windstorm with at least 58 mph winds along most of its length and several separated 75+ mph wind gusts.
Tornado Threat. These storms will also feature a tornado threat across the region, which also is very atypical of December as most of these areas have never seen a tornado during the month of December. Due to the environment and set-up, at least a few tornadoes are possible – particularly after sunset – and a few of these could be strong from western Iowa to southeastern Minnesota.
Potential Evolution Of Storms. Storms look to form across portions of eastern Nebraska and western Iowa in the mid to late afternoon hours, quickly moving east and northeast through the evening hours. Storms are likely to reach Des Moines in the 6-8 PM timeframe and the Twin Cities in the 7-9 PM timeframe.
D.J. Kayser, Meteorologist, Praedictix
Follow Praedictix On Social Media:
Who is Praedictix?
We are a weather company that focuses on delivering credible weather forecasts to our clients. We have three main offerings: media, weather graphics, and weather consulting.
Weather Videos: With two HD studios, we're able to create professional weather forecast videos for use in television, social media, apps, and websites. Our forecasts are tailored to our clients' brand. Our content ranges from national to hyperlocal forecasts and air all over the country.
Weather Graphics: We have access to a robust weather dataset which allows us to create high customizable, HD weather maps and graphics for use in television, digital signage, social media, and websites. Our white-label graphics allow our clients to push their own brands and sponsors.
Weather Consulting: We lend our weather expertise to our clients to help with risk mitigation and business optimization by way of conference calls, emails, and briefings. We also have a forensic meteorology team that specializes in forensic weather analysis and expert testimony.