Super Full Moon Coming to A Sky Near You
People name things. The moon is no exception. 2021 will feature not one but two of what is called a Super Full Moon. This Super Full Moon is coming to a sky near you. These take place April 26/27 and again May 26.
Our orbiting satellite responsible for the tides, many beautiful night skies, various folklore over the years of human existence, etc is known by many names, technically, officially and unofficially. Not all moons wear capes. Let us talk about this Super Moon. I vote we call it the 'Super Duper Moon'.
The Full Moon in April is also known as Pink Moon.
What Is a Super Full Moon?
Supermoon is actually an unofficial term that an astrologer came up with. The name stuck and is hashtagged on social media more times than a supermoon actually occurs now. Put simply, the astronomical event that many like to call a Supermoon is when a full Moon coincides with a Perigee Moon… or a Full Moon that occurs when the center of the Moon is less than 223,694 miles from Earth's center.
There are different definitions of this optical phenomenon, depending on where you go. But basically, the Full Moon is closer to Earth's surface. Hence it appears 'bigger'. That is it.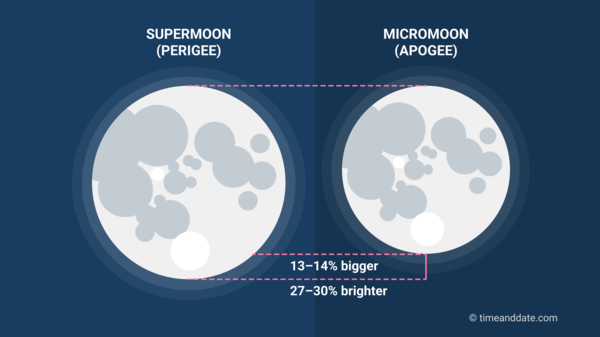 Perigee and Apogee… Gee-whiz.
A New Moon at perigee, The point on the Moon's orbit closest to Earth, is also often referred to as a supermoon. The point it is farthest away is the apogee.
The Moon's orbit around Earth is elliptical, with one side closer to Earth than the other. As a result, the distance between the Moon and Earth varies. The average distance is about 382,900 kilometers (238,000 miles).
Let Us Get Technical: Perigee-syzygy
The technical term for a Supermoon is perigee-syzygy. In astronomy, the term syzygy refers to the straight-line configuration of three celestial bodies. I just got you some easy points for your next Scrabble game.
Looks Bigger and Brighter
Because it is so close to Earth, a Super Full Moon also looks about 30% brighter than a Micro Full Moon and about 16% brighter than an average Full Moon. That is some celestial optical illusion. Here are some tips and tricks on taking pictures of the Moon, whether it is 'super' or not.
The moon is not actually bigger. The moon size, diameter, and circumference do not change. It simply looks bigger or smaller when closer or farther away.
Who is Praedictix? We are a weather company that focuses on delivering credible weather forecasts to our clients. We have three main offerings: media, weather graphics, and weather consulting.
Media: With two HD studios, we're able to create professional weather forecast videos for use in television, social media, apps, and websites. Our forecasts are tailored to our clients' brand. Our content ranges from national to hyperlocal forecasts and air all over the country.
Weather Graphics: We have access to a robust weather dataset which allows us to create high customizable, HD weather maps and graphics for use in television, digital signage, social media, and websites. Our white-label graphics allow our clients to push their own brands and sponsors.
Consulting: We lend our weather expertise to our clients to help with risk mitigation and business optimization by way of conference calls, emails, and briefings. We also have a forensic meteorology team that specializes in forensic weather analysis and expert testimony.
Click right HERE to learn more about us or contact us for your weather needs.
Joe Hansel
Lead Broadcast Meteorologist
Joe graduated with a bachelor's in meteorology with a minor in mathematics from the University of North Dakota in Grand Forks. He also interned at Studio One in UND while earning awards as a student broadcaster and teaching assistant along the way. During summers off from college, Joe was the weather intern for the KSTP weather team based in the Twin Cities. Joe then worked as the morning meteorologist for 2 years at KCWY in Casper, Wyoming; then 4 years as the morning meteorologist at WSJV in South Bend-Elkhart, IN. There, Joe became a Certified Broadcast Meteorologist (CBM) through the American Meteorological Society and still owns the earned seal.