Fine Fall Weather Into The Weekend
"October was always the least dependable of months, full of ghosts and shadows" wrote Canadian novelist Joy Fielding. True, October can be a dark, turbulent, windblown month, but if you're not a fan of freezes and flakes I have a sneaky suspicion you're going to like this month more than usual.
NOAA is calling for a La Nina winter, which often favors more snow for Minnesota. But the latest January forecast from ECMWF (European model) predicts record warmth for the lower 48 states in January 2021. Place your bets, but it may not be business as usual this winter. Then again, it rarely is.
Hope you didn't hurl your shorts into cold storage. I see 70s today and a very good chance of 80 degrees this weekend, with little chance of rain until Monday. This weekend will be perfect for lounging on the deck or aggressive leaf-raking.
Meanwhile over 4 million acres have burned across California (roughly the size of Connecticut) and models predict Hurricane Delta will strike coastal Louisiana Friday. 24 named storms so far in 2020. What a year.
---
Photo credit above: Pete Schenck, who snapped this picture from the top of the fire tower in Pequot Lakes.
---
How Might La Nina Cooling Phase Impact Our Winter? Good luck with that one – models are literally all over the map. Every La Nina cold phase of the Pacific is different, but I found some interesting nuggets in a post at severe-weather.eu: "…The temperature forecast below shows much of North America in above-normal temperatures. But this might not be the best solution, also considering what the model showed on the previous image with the pressure systems. Alaska and Western Canada will be colder than normal, with a high chance of the colder air extending towards the parts of the northern United States and also with a few storms into the northeast. Europe also features higher than normal temperatures, but not to a high value. Tho a more westerly dominant scenario is likely, the pressure pattern does allow for a break in the flow, and occasional cold flow from the north into Europe, dependant on the positioning of the Atlantic high-pressure system…"
Map credit: NOAA Climate.gov.
---
On The Other Hand. Here is ECMWF's latest seasonal model for January, 2021. La Nina? La Schmina! We'll see if this actually verifies.
---
What a Difference a Year Makes. Dr. Mark Seeley contrasts 2019 and 2020 in the latest edition of Minnesota WeatherTalk: "Last year (2019) was the wettest year in history for Minnesota with a statewide average precipitation of 35.66 inches, about 28 percent higher than the long-term annual mean for the state of 27.92 inches. I thought for perspective we could look at statistics for the first nine months (Jan-Sep) of 2020 and examine the values of precipitation. On a statewide basis the first 9 months of 2020 delivered an average of 21.21 inches, down from the first 9-months of last year which was 28.45 inches. For the year so far most climate stations in the state are reporting less than average precipitation, and some places are exceptionally dry. These include: Duluth with 15.04 inches for Jan-Sep, the 3rd driest all-time (trailing 1918 and 1934)…"
---
---
---
---
---
---
September Flashback. In spite of the first frost and freeze for most of the metro area Sunday morning, temperatures will outperform averages into the weekend with readings as much as 15-25F above average. I have a hunch much of central and southern Minnesota will come close to 80F by Friday. Map sequence above: Praedictix and AerisWeather.
---
---
Mellow Into Mid-October. Both ECMWF (top) and NOAA's GFS model (below) predict temperatures above average for the next 10-12 days, followed by a reality check the third week of October. MSP Meteograms: WeatherBell.
---
Trending Cooler Latter Half of October. I can make one forecast with relative confidence: cool fronts will outnumber warm frontal passages by the latter half of October. A return to average or below-average temperatures is likely within 2 weeks, give or take.
---
---
Praedictix Briefing: Issued Monday morning, October 5th, 2020: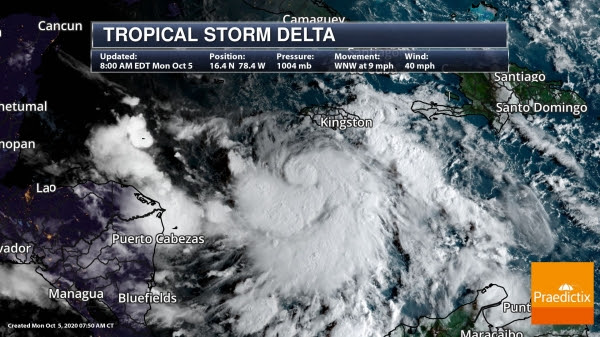 Tropical Storm Delta. NOAA's NHC started issuing advisories on Tropical Storm Delta at 7AM CDT Monday. Delta has become the 25th named storm of the 2020 Atlantic Hurricane Season. Keep in mind that we've only had one other year that we've entered the Greek Alphabet when naming Atlantic systems and that was back in 2005. This year, Delta has developed 6 weeks earlier than that of Delta in 2005 (old record: November 15th, 2005). At present, Tropical Storm Delta has sustained winds of 40mph and is drifting WNW at 9mph. If Delta does in fact make landfall with the U.S., it will be the 10th U.S. landfalling tropical system this year, which would break the record of 9 U.S. landfalling tropical systems set back in 1916.
---
Tropical Watches & Warnings. According to NOAA's NHC, Tropical Storm Warnings are currently in place for the Cayman Islands, while Hurricane Watches & Tropical Storm Watches have been issued for western Cuba. The National Weather Service from the Cayman Islands Government warns of heavy rainfall both Monday and Tuesday with gusty winds up to 30 knots. Offshore swells could reach 10ft. – 15ft., which could result in a dangerous storm surge and rip current potential for the Cayman Islands. As of AM Monday, there haven't been any tropical watches or warnings that have been issued along the U.S. Gulf Coast, but it will likely happen as Delta drifts WNW over the coming days.
---
Tracking Delta. According to NOAA's NHC, Delta will remain at Tropical Storm status through Tuesday, but could become a hurricane as earlier as Wednesday morning. By Thursday morning, Delta is expected to become a Cateogry 2 Storm with winds near 105mph. By AM Friday, Delta could still be a Category 2 storm with sustained winds near 100mph as it nears the U.S. Gulf Coast. Keep in mind that the Cone of Uncertainty stretches from Louisiana to the Florida Panhandle, so facilities in these areas should remain on high alert.
---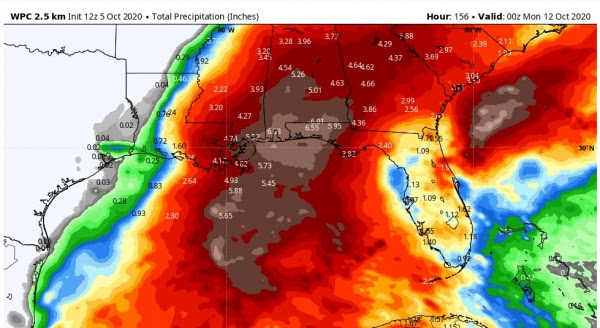 Heavy Rainfall & Flood Potential. NOAA's WPC preciptation forecast through PM Sunday shows very heavy rainfall potential once again for parts of the Gulf Coast States. Early estimates suggest 6″ of rain or more. With that said, strong (hurricane-force) winds, storm surge and flash flooding will all be possible later this week and weekend as Delta approaches from the south. We will keep you updated as more information becomes available.
---
Tropical Storm Gamma. Tropical Storm Gamma became the 24th named storm of the 2020 Atlantic Hurricane Season over the weekend and made landfall near Tulum, Mexico at 11:45AM CT Saturday. Areas of heavy rainfall and life-threatening flash flooding has been an ongoing threat along the Yucatan Peninsula. At present, Gamma is located north of Cancun, Mexico with sustained winds of 45mph and is moving SSW at 2mph.
---
Tropical Storm Watches and Warnings. Tropical Storm Watches and Warnings continue along the northern coast of the Yucatan Peninsula as strong winds, storm surge and heavy rainfall continue there.
---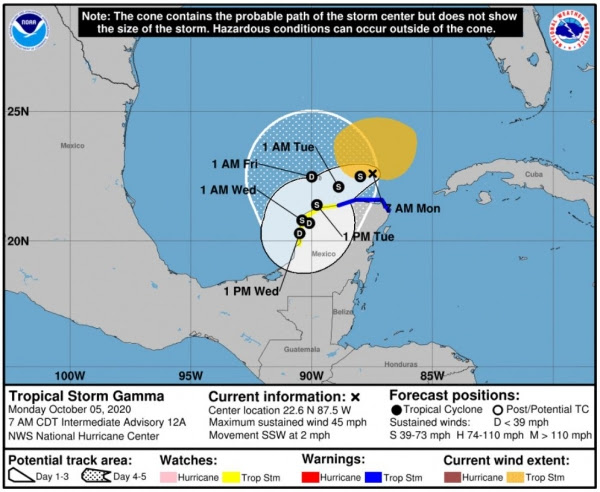 Tracking Tropical Storm Gamma. According to NOAA's NHC, Tropical Storm Gamma will continue to meander along the northern coast of the Yucatan Peninsula before weakening to a Tropical Depression at some point Tuesday or Wednesday. Gamma could then drift north back into the open waters of the Gulf late week, so we'll have to continue to watch this system for any further intensification beyond Friday.
Todd Nelson, Meteorologist, Praedictix
---
---
NOAA Landfall Predictions. Where will Hurricane Delta come ashore? NOAA's HMON hurricane model (above) suggests landfall closer to Biloxi or Mobile, while NOAA's HWRF model (below) shows "Delta" hitting the central Louisiana coastline. Graphics: WeatherBell.
---
---
Minnesota DNR Expecting Good Pheasant Season Thanks to Good Weather. WCCO Radio has the story: "Pheasant numbers are booming this year, thanks to excellent spring nesting weather with no major snow storms or flooding rains. The southwestern part of the state is particularly fruitful according to the DNR's latest roadside survey. "They get out there right at sunrise on days when it's not windy and ideally when there's a lot of dew," says Upland Game Research Scientist Tim Lyons.  "That tends to make a lot of the animals in particular pheasants more visible.  They drive 25 mile routes at anywhere from like 10 to 20 miles an hour targeting pheasants.  But they also keep an eye out for things like deer, jackrabbits, cotton tails, morning doves..."
---
Repeatedly Flooded Properties Will Continue to Cost Taxpaers Billions of Dollars. Some interesting statistics courtesy of The Pew Charitable Trusts: "…Among the NFIP's flaws is the way it treats repetitive loss properties (RLPs)—those that have flooded and received insurance claim payments multiple times. Unlike private insurers, the NFIP lacks the legal authority to manage costs by refusing coverage to or dramatically increasing rates for properties with excessive claims. Today, there are more than 5 million NFIP policies. Historically, RLPs comprise around 1 percent of NFIP insured properties, but over time they have accounted for more than 30% of claim payments.  The NFIP has paid a cumulative $22.2 billion in claims to RLPs, an amount that surpasses the program's total debt, according to the Government Accounting Office (GAO)..."
File photo: NOAA.
---
Floodgates in Venice Work in First Major Test. The New York Times (paywall) reports: "After decades of bureaucratic delays, corruption and resistance from environmental groups, sea walls designed to defend Venice from "acqua alta," or high water, went up on Saturday, testing their ability to battle the city's increasingly menacing floods. By 10 a.m., all 78 floodgates barricading three inlets to the Venetian lagoon had been raised, and even when the tide reached as high as four feet, water levels inside the lagoon remained steady, officials said. "There wasn't even a puddle in St. Mark's Square," said Alvise Papa, the director of the Venice department that monitors high tides..."
Image credit here.
---
As the "Clock Starts Ticking" After Coronavirus Infection, Trump Faces an Uncertain Road. Some additional analysis on what may lay ahead from Stat: "…The critical time to know whether Trump will remain in the former group or progress to more serious disease is a window of between about eight to 12 days after symptoms begin, experts say. "For anybody who gets infected, the clock starts ticking," said Lakshman Swamy, an intensive care physician with Cambridge Health Alliance, in Cambridge, Mass. "No matter what it is that he feels today, what all of us are going to be watching for is how he's doing in about a week," agreed Megan Ranney, an emergency physician at Lifespan Health Systems in Providence, R.I…"
Graphic credit: Alex Hogan/STAT.
---
Honda Lauches All-Electric Honda e. Top Gear has details: "…Honda clearly isn't going Tesla chasing with this one, the dimensions are Fiat 500-plus-a-bit, wider than a Jazz but actually narrower when you take into account it has no wing mirrors. This is very much an urban runaround. A range of 137-miles means you won't want to stray too far from town, but a choice of 134bhp and 152bhp versions, both with decent performance especially up to 30mph, a chassis that's been shown some of Honda's handling love and a configurable driving experience mean it's not out of its depth if you fancy a 'proper' drive… and have the battery to spare..."
---
Pope Francis Says Capitalism Has Failed During the Pandemic. CNN Business has the story: "Pope Francis disparaged so-called trickle-down economic theory, saying the pandemic has shown that free-market policies cannot solve all of humanity's most dire needs. In a 70-page encyclical, the highest form of papal teaching, Pope Francis outlined his vision for a post-pandemic world. "The marketplace by itself cannot resolve every problem, however much we are asked to believe this dogma of neoliberal faith," the pope wrote. He added that free-market capitalism "reproduces itself" by resorting to the magic theories of "spillover" or "trickle" as the only solution to societal problems…"
File image: Associated Press.
---
70 F. maximum temperature in the Twin Cities yesterday.
63 F. average high on October 5.
58 F. MSP metro high on October 5, 2019.
October 6, 1997: Hail, wind, and an F0 tornado are reported in the early morning hours in several counties in west central Minnesota. Near Canby in Yellow Medicine County, hail combined with wind gusts nearing 60 mph damage the roof of a bus garage, elementary school windows and a school vehicle. Renville, McLeod, Carver, Scott, and Dakota counties also receive hail and strong winds. Widespread pea to marble size hail accumulates to three inches deep in several areas, and crops are severely damaged over a large part of Renville county. Many power lines and trees are blown down. Southeast of Bird Island, a barn collapses and kills over 100 pigs. Near Brownton in McLeod County, hail accumulates to a depth of 3 inches with one foot drifts. A brief tornado touches down near Stewart in McLeod County, damaging a few trees.
October 6, 1987: Snow falls over the Arrowhead region.
---
---
TUESDAY: Sunny, stiff breeze. Winds: SW 15-30. High: 74
WEDNESDAY: Blue sky, slightly cooler. Winds: NW 10-20. Wake-up: 54. High: 67
THURSDAY: Plenty of sun, light winds. Winds: SE 7-12. Wake-up: 48. High: 68
FRIDAY: August flashback: warm sunshine. Winds: SW 10-15. Wake-up: 56. High: 81
SATURDAY: Lukewarm sun, still stunning. Winds: S 10-15. Wake-up: 60. High: 80
SUNDAY: Dim sun through increasing clouds. Winds: SE 10-15. Wake-up: 61. High: 78
MONDAY: Growing opportunity for rain, storms. Winds: SE 15-25. Wake-up: 64. High: 76
---
Climate Stories…
2020: The Year of the Converging Crises. Is it our collective imaginations or has something truly changed? Here's an excerpt from Rolling Stone: "…I'll never unsee the images I've seen coming out of the West the past few months: hellish skies over major cities like San Francisco and Portland, people stranded in rings of fire and rescued by airlift. I can't imagine what it must do to your psyche to not just see the images, but to breathe the air, to lose your voice to the smoke and the ash. To know the fires are far too close and not know if there's anywhere to run to. At the same time that California burns, the Gulf Coast drowns — battered with so much rain and wind that it barely registers as news. Hurricane Laura devastated Louisiana and Texas in early September as a massive Category 4 storm nearly 15 years to the date after Katrina scarred our collective psyche. About two weeks later, Hurricane Sally sauntered onto shore, which means we skipped from the middle of the alphabet to near the end in just two weeks…"
File photo credit: Noah Berger, AP.
---
The Climate Science Behind This Year's Wildfires and Powerful Storms. If you missed it, the 60 Minutes episode from last Sunday examined the impact of warming on this year's weather extremes: "At least 31 have died in the largest wildfires in California history. The east is defending itself against twice the usual number of tropical cyclones. And what may be the highest temperature ever recorded on Earth came in August in the United States. It's a torrid 2020 and it was forecast 32 years ago. In the 1980's, a NASA scientist named James Hansen discovered that climate change, driven by carbon emissions, was upon us. His graphs, of three decades ago, accurately traced the global rise in temperature to the year 2020. Last week, we had a lot of questions for Hansen. Are these disasters climate change? Do things get worse? Is it too late to do anything? But before we get to the causes, let us show you the effects…"
---
Trump Team Delaying Work on Major Climate Report. E&E News has the story: "The Trump administration is slow-walking a mandatory climate report by not seeking out scientists to work on it, says one of the authors of the last National Climate Assessment. Donald Wuebbles, a climate scientist at the University of Illinois who co-led the first volume of the fourth National Climate Assessment, said the Trump administration is late in putting out a call in the Federal Register for researchers to produce the fifth version. "It's not being approved to go out, so therefore they're just sitting on it. And I don't know if it's NOAA or the White House, but somebody's sitting on it, so that's just holding up getting up the NCA 5 going," Wuebbles said. By law, Congress and the White House are supposed to receive a report no less than every four years on the state of climate change and its impacts on humanity and the natural world..."
File image: Will Brown, Union of Concerned Scientists.
---
Exxon's Plan for Surging Carbon Emissions Revealed in Leaked Document. Bloomberg Green reports: "Exxon Mobil Corp. has been planning to increase annual carbon-dioxide emissions by as much as the output of the entire nation of Greece, an analysis of internal documents reviewed by Bloomberg shows, setting one of the largest corporate emitters against international efforts to slow the pace of warming. The drive to expand both fossil-fuel production and planet-warming pollution comes at a time when some of Exxon's rivals, such as BP Plc and Royal Dutch Shell Plc, are moving to curb oil and zero-out emissions. Exxon's own assessment of its $210 billion investment strategy shows yearly emissions rising 17% by 2025, according to the internal documents…"
---
---
Which Places Should We Protect First to Stop Climate Change. This Interactive Map Tells You. The only way to reduce warming is to reduce emissions, slow deforestation, create new ways for agriculture to sequester carbon, etc. That said, here's an excerpt of an interesting post at Mental Floss: "Right now, a little over 15 percent of the world's land comprises national parks and other protected areas that people aren't allowed to develop. In order to save the planet from the progressively devastating effects of climate change and habitat loss, that number will have to be a lot higher—around 50 percent, according to a new analysis published in Science Advances. Researchers from RESOLVE, the University of Minnesota, Arizona State University, and Globaïa spent the past two years pinpointing a "Global Safety Net" of the most important regions we must preserve not only to slow climate change, but also to safeguard Earth's plant and animal species…"
Map credit: "A look at the Global Safety Net's online map application." RESOLVE.
---
Tuesday's Debate: A Milestone in the History of Climate Politics. Kudos to Chris Wallace (who has gotten beaten up by the left and the right for his moderating skills) for at least bringing up the topic. Here's an excerpt from a Politico Analysis: "…But while Trump's 90-minute tornado of unfiltered insults and right-wing red meat suggested that he's happy to run as an enemy of cities, the news media and racial sensitivity, he clearly would prefer not to be seen as an enemy of the climate. That is a milestone in the history of climate politics. Global warming has been dismissed for years as a niche concern for the tree-hugging fringe, but not only has it become the kind of mainstream issue that even a moderator from Fox News deemed worthy of prime time, it has become the kind of hot-button issue that even a Republican president who used to call it a hoax manufactured in China feels the need to dissemble about. If hypocrisy is the tribute that vice pays to virtue, political lies are the tribute that unpopularity pays to popularity—and 2020 polling has found that climate science and climate action are both popular…"
---
Getting Warmer: Trump Concedes Human Role in Climate Change. Details via Associated Press: "President Donald Trump publicly acknowledged that humans bear some blame for climate change, but scientists say the president still isn't dealing with the reality of our primary role. Pressed repeatedly in Tuesday night's debate, Trump gave one of his fullest accountings yet of what scientists say is an escalating climate crisis threatening every aspect of life. Pushed by moderator Chris Wallace, and at one point by rival Joe Biden, Trump also pushed back on scientific findings that his environmental rollbacks would increase climate-damaging pollution..."
Graphic credit: Westerhold et al CENOGRID.
---
---
Climate Change Receives Unexpected Attention at First Presidential Debate. Scientific American weighs in: "…Trump still denied the impacts of global warming, but he dropped his mockery of climate science, and he aimed his attacks about the Green New Deal at a conventional target: its cost. Trump also wove climate into his recurring critique of Biden as a career politician who talks about problems but doesn't fix them. "So why didn't he do it for 47 years? You were vice president. Why didn't you get the world—China sends up real dirt into the air. Russia does, India does, they all do," Trump said, shortly after disparaging the Paris climate agreement between China, India, Russia and more than 190 other countries…"
---
Three Out of Four Americans Want to Know More About Presidential Candidates' Plans to Tackle Global Warming: Poll. The Independent has details: "Three in four Americans want to know more about presidential candidates' plans to fight global warming, according to data compiled by Yale University. With just over a month to go until election day, an average of 76 per cent of US adults expressed interest in news stories about the plans that President Donald Trump and Democratic nominee Joe Biden intend to deploy in response to the climate crisis.Maps were published last week based on a survey gauging Americans' interest in climate news by the Yale Program on Climate Change Communication. The data was compiled from a national survey of more than 5,700 respondents this summer…"
Map credit: George Mason University Center for Climate Change Communication, Yale Program on Climate Change Communication.